In Nigeria, there are numerous universities, polytechnics, colleges, and other postsecondary institutions. The Joint Admission and Matriculation Board, or JAMB, is an organization with legal authority to conduct entrance exams for each of these schools. All about how to check jamb result when it is out.
The results of the 2023 Unified Tertiary Matriculation Examination (UTME), which was administered from Saturday, May 6 to Sunday, May 15th, are now available online or through SMS.
How To Check JAMB Results
If you are the types that always worry about how to check jamb result do not any more.
How to check  JAMB result in two distinct methods. Candidates can access the JAMB portal to view their results online, and they can also receive a text message with their results (using JAMB shortcodes).
You will need a device that can connect to the internet in order to use the online option to verify your results, but doing so is free of charge. Candidates should think about choosing the SMS option if they don't have access to the internet or if they live in a bad network region. However, in order to use the SMS option, consumers would need to pay a fee to their network operator.
The results of the UTME for 2023 have not yet been posted online as of the time of this publishing. The Board has not yet released the 2023 UTME results on its website for obvious reasons, thus candidates can only currently check their results by SMS.
Read Also: Free College Application Week 2023 | See all you need to know
Recommended
How To Check JAMB Result 2023: Offline (via SMS)
Here are the way on how to check jamb result offline below.
With the same phone number they used to register, all candidates can now transmit the word "UTMERESULT" (without any spaces) through SMS to the numbers 55019 or 66019. (you must have a credit balance of at least N50 on your line). In a little while, you will receive the result as an SMS.
The replies to be anticipated are as follows:
If a candidate calls a phone number that was not used to register, a notice reading "This phone number was not used for registration" will be given to him.
Messages like "Dear Mr/Miss X, your result is as follows…" will be sent to candidates who have results. (And I'll give you the details, too.)
If a result is being held back, a notification stating "Result Withheld" will be displayed to the candidate.
Consider a scenario in which a candidate falls into the category receiving the benefit of the doubt. Then the person will receive the notification, "Result withheld pending the submission of clarifications/document necessary from you."
A candidate would receive "CANDIDATE ABSENT" as feedback if they were not present.
A candidate who was unable to attend and had their registration cancelled will be informed of this.
A applicant who entered the exam room illegally will receive a message that reads, "Invalid Entrance into the Exam Hall."
Read Also: 15 Affordable Nursing Schools in USA and Their Tuition Fees

JAMB UTME Result Portal: How To Check JAMB Result in 2023
How To Check JAMB Result Online For UTME Results in 2023 (on JAMB portal – jamb.gov.ng)
Observe: This choice isn't active right now. When the online gateway for verifying the 2023 UTME results is activated by JAMB, this post will be updated.
STEP 1: Go to the Joint Admissions and Matriculations Board (JAMB) result checking website at https://efacility.jamb.gov.ng/CheckUTMEResults
STEP 2: In the required column, enter your Registration Number/Phone Number.
STEP 3: Finally, press the 'Check My Results' button to view your UTME results notification.
In the event that your results are ready, the portal will send you a JAMB Notification of Result. Following that, you can start printing the outcome.
The best way to print original JAMB result slips for all years with a passport photo
All candidates who took part in the UTME in the past, including the 2023 exam, can now print their original results slip along with their passport photo. Access to the result slip will require a N1,000 deposit. For more information, go to the directions on the page for printing JAMB result slips.
Read Also: 10 Best country to study abroad for international students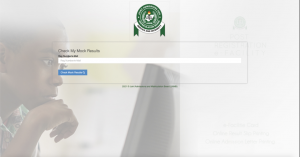 Question And Answers Regarding On How To Check JAMB Result
JAMB candidates usually ask the questions (FAQ) listed below. In an effort to give the most precise responses, we have done our best.
How long will it be until I can view my exam results?
A few hours after the exam, candidates who took the 2023 UTME would be able to examine their results, according to JAMB. Candidates are urged to use the above-described process to confirm their findings.
Will a scratch card be required for me to view my UTME results?
A scratch card is not required to check the JAMB 2023 result. The JAMB NOTIFICATION OF RESULTS can be checked for FREE!
How often am I allowed to how to check jamb result 2023 ?
It is entirely up to you how frequently you check your JAMB notification of results.
Can I use my phone to check my result for 2023?
Yes. The above-mentioned actions can also be completed using the browser or SMS on your phone.
We thus warn all JAMB participants not to fall for con artists who promise to [improve JAMB scores]. After you must have checked through SMS or online, changing the findings is completely impossible.
The 2023 results have yet to be made publicly available online, as was originally stated. By using JAMB shortcodes, candidates can only check by SMS. Once they are accessible for online inspection, we will update this page.
Share your results with other JAMBites in the comments section below, and don't forget to look at our 'Post-UTME Updates Page' for a list of the institutions that are now selling their application forms.
Read Also: Best Study Abroad Consultants with Contact Information 2023
SEE ALSO:
Trust you found our article on JAMB UTME Result Portal: How To Check JAMB Result in 2023 helpful. follow our website for more interesting articles.