Welcome to scholarshipshall.com, in this article on how to apply for university in Canada step by step guide, we will be feeding you with all you really need to know about Canadian Student visa applications and the necessary things you need to get equipped with.
Bonus: Certain things like works to do in order not to run out of cash during your period of studies.
Canada is one of the most popular foreign student destinations, and studying in Canada is always an interesting experience.
However, If you don't know where to start, the process of becoming a student can be complicated.
In Canada, for example, English and French are the two official languages. As a result, you may want to think about studying in the country.
The majority of Canada is an English-speaking country. The province of Quebec has a large French-speaking population.
If you want to study there, you'll need to demonstrate French proficiency as part of your application.
Despite the fact that we have supplied all of the relevant information for every prospective student in this post.
Read Also: Discover 15 Cheapest Universities In Europe For International Students
How to Apply for University in Canada Step by Step Guide
The following are how to apply for university in canada, viz;
1. Ensure you understand all requirements
Understanding the varied prerequisites for schools and the courses they provide is necessary for successful application to Canadian universities.
Students must also do a thorough examination of the rules and regulations governing the study permit application process. Only government-authorized schools and approved study periods will be required.
Preparing for your Canadian study visa should begin at least a year — if not more – in advance.
An up-to-date passport, an English language proficiency test, such as the TOEFL or IELTS, and proof of how you intend to fund your studies as well as the cost of living in Canada are all mandatory prerequisites for all colleges and universities.
Of course, criteria may differ significantly between provinces, so make sure to check the school's needs and follow the instructions carefully and methodically.
2. Choose your Preferred Course of study and Institution
The next step in successful application to Canadian universities is to confirm its designation as a Designated Learning Institution. International students can only be admitted to DLIs.
Please keep in mind that when applying to study in Canada, you will be required to complete a certain main course.
The academic framework in Canada is flexible when it comes to changing courses, but it's vital to weigh your alternatives carefully and select a degree that you're truly passionate about.
3. Take the Language Proficiency Test
For successful application to Canadian universities, every international student must demonstrate competency in English or French in order to be accepted. The IELTS exam is the most widely accepted test for English competence, while some colleges also accept the TOEFL exam or the Advance Cambridge English exam.
You can take the DELF, DALF, or TCF examinations in French, though the TEF exams are the most popular. Choose the exam you must take, pay the money, and schedule your appointment well in advance. To ensure successful application to Canadian universities,  and not being rejected, you may need to brush up on your language skills (reading, listening, speaking, and writing).
Read Also: 6 Best Universities for International Law
4. Apply to Universities
Now is the time to begin applying to the institutions of your choosing, to collect their application forms, and to submit them ahead of time, in order to ensure a successful application to Canadian universities.
Having the option of applying to a variety of higher education institutions might be beneficial, but you must consider the application fee, which can range from $100 to $250.
Make an informed decision about the college you want to attend. Compare your possibilities, decide on your favorite path of study, and pick one or two backup options.
You should take care when filling out the application packets and make sure you include accurate and verifiable information. After you've completed this process, you'll have to endure the torturous wait for your approval. When you confirm your interest, the school will usually send you an acceptance letter, which is crucial in the procedures that follow.
5. Apply for a Study Permit
Now that you've found a school that will accept you, it's time to apply for a Canada Study Permit. You can apply for a visa at a local visa application center in your country or online. The following items must be included in your application:
Your acceptance letter
Your Passport
And documentary confirmation that you have the money to study in Canada.
If you applied to a school in the province of Quebec, you will also receive a "Certificat d'acceptation du Québec" along with your acceptance letter (CAQ). Make sure to include this important document in your application for a study visa.
6. Travel Time
Following the processing of your application and, if necessary, an interview, the visa officer will determine if you are qualified for your study permit application. If you've been approved, it's time to start planning your trip to Canada.
A research permit typically has a start date, which is the date the permit became effective. Keep in mind that you will not be permitted to enter Canada prior to this day. Make thorough preparations for your trip.
7. Study Time
Before granting you permission to enter Canada, the visa officer will review your permit and other documentation at the port of entry (POE). This is the final step in the immigration process, and it's here that your experience as an international student studying in Canada begins.
Financial Requirements for International Students to Study in Canada
For international students seeking a high-quality education, Canada is a popular choice. How to apply for university in Canada step by step guide have been clearly emphasized above. However, your financial statement documents are an important document to have if you want to study in Canada.
You must show proof of unrestricted financial resources sufficient to cover tuition, living expenses, and other obligations.
The following documents can be used to establish proof of funds:
Your bank statements for the previous six (6) months, indicating that you have adequate money to cover your studies and (if necessary) confirmation that you have paid your tuition and living expenses;
Bank documents from a family member or close relative confirming sufficient cash to cover your studies, as well as a financial assistance confirmation letter from the close relative (if required);
You must present proof of money paid from within Canada if you have scholarship support or are enrolled in a Canadian-funded educational program.
You should be aware that the tuition charge for the academic year is projected to be $15,000. This cost, however, fluctuates depending on the higher education institution and study program.
You must have a suitable money for living expenses in addition to the tuition fee, which is determined as follows:
Persons coming to Canada
Amount of funds needed per year (in addition to the tuition)
Yourself (1)
$10,000
With a family member (spouse or common-law partner)
+$4,000
Any additional family member
+$3,000
How do you figure out how much proof of funds you need?
Example: $15,000 tuition + $10,000 (student) + $4,000 (spouse)
$29,000 in total proof of money is required.
What are the options for international students seeking scholarships in Canada?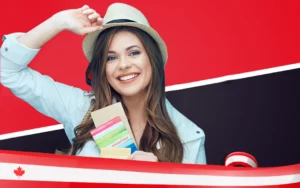 Read Also: 9 Government Scholarships For Studying Abroad With Free Application
How Can International Students Get Scholarships In Canada?
Studying in Canada can be costly, particularly if you do not come from a wealthy household. However, it is not the end of the world; international students can assist fund their education in Canada by applying for private or government scholarships, which are non-repayable cash rewards.
These scholarships are usually given to students who have excelled academically, but some also consider individuals who are in financial need. Other criteria considered when awarding scholarships to international students include community development, volunteering, and work experience.
These scholarships need applicants to apply, although others are awarded automatically.
Scholarship funding for international students wishing to study in Canada is restricted, difficult, and reserved primarily for graduate students.
Nonetheless, here are some helpful hints and resources to assist you in exploring this option.
Begin applying for scholarships in your country of origin.
For a successful application to Canadian university, Candidates should look into scholarships and other financing options in their own nation first. You can get in touch with your country's education department.
Make contact with the university of your choice.
Request information on international student scholarships and any applicable guidelines from the financial aid office of the university where you desire to pursue your studies.
Look into other possibilities.
Learn about private foundations, the Canadian government, provincial governments, and not-for-profit organizations that offer scholarships.
To get you started, here are some scholarship resources:
Read Also: 5 Top Online University Maths Courses for Students
1. Government of Canada International Scholarship Programs
Looking forward on how an international student can apply for scholarship in Canada is considering the Government of Canada International Scholarship Programs.
Global Affairs Canada is in charge of the Canadian government's participation in major international scholarship programs. This website allows users to search for study and research scholarships by nation of origin.
The number of scholarship awards you may be eligible for varies based on your academic level and the length of time you want to study in Canada, but this scholarship typically gives between CAD$7,200 (US$5,600) and CAD$14,700 (US$11,400) in scholarship funds.
2. Vanier Canada Graduate Scholarships
Canadian and international PhD candidates studying at Canadian universities are eligible for this grant. The Vanier CGS program provides CAD$50,000 (US$39,000) each year to postgraduate students for three years of doctoral studies.
Each year, up to 167 new Vanier CGS scholarship recipients are chosen by the Canadian government.
On your PhD-level program, you must, however, demonstrate academic distinction as well as strong leadership qualities and be chosen by your institution.
3. Fonds de recherche du Quebec Scholarship and Grant
The Quebec government supports postdoctoral fellowships, doctorate studies, and short-term research or professional development through its research grants programs FRQs (santé), FRQNT (nature et technologies), and FRQSC (société et culture).
4. Pierre Elliott Trudeau Foundation Doctoral scholarships
The Trudeau Foundation annually recognizes up to fifteen (15) excellent PhD students enrolled or about to enroll in a humanities or social sciences program. This award is worth up to $60,000 per student every year for up to four years.
5. Ontario Graduate Scholarship (OGS)
You might be in luck if you wish to study in the Canadian province of Ontario. The OGS is supported by the provincial government of Ontario and the institution where you will be enrolled.
Graduate international students receive CAD$10,000 (US$7,750) or CAD$15,000 (US$11,650) based on the number of terms in their program.
Ontario spends roughly CAD$30 million (US$23 million) per year to fund the program. Your research ability, academic abilities, and volunteer and leadership experience will all be considered.
You must be enrolled in a Master's or Doctoral program at a participating Ontario post-secondary school on a valid study permit and studying full-time for a minimum of two semesters.
Read Also: 6 Scholarships without IELTS Requirement Abroad
What Happens After Your Studies are Completed In Canada?
To meet its labor needs, Canada's federal government is looking for international graduates who have completed their education in the country.
International graduates are young people who are fluent in the country's languages, have a good understanding of the culture, have Canadian credentials, and sometimes professional experience.
There are already immigration procedures in place to accommodate these young and brilliant individuals, and the government is prepared to grant them permanent status in Canada.
After completing their studies, international graduates can work in Canada under the Post-Graduation Work Permit (PGWP). Depending on the length of their studies and their eligibility, the PGWP allows graduate students to stay in Canada and work for a Canadian company.
In addition, there are a number of provincial immigration programs aimed exclusively at overseas students. The recent changes to the Express Entry system have also made the move to permanent residence easier for overseas students.
How To Apply For A Post-graduation Work Permit In Canada
Obtaining a PGWP is primarily motivated by the desire to gain skilled Canadian job experience. This aids international graduates in meeting the Canadian experience class requirement for permanent residence in Canada. Students, on the other hand, can only apply if they match the prerequisites.
To be eligible for the PGWP, you must meet these standards, or you will be unable to stay in Canada after graduation and will be required to return to your home country ninety (90) days after graduation. You must meet the following requirements to be eligible for the PGWP:
You must be at least 18 years old to participate;
You must have studied full-time in Canada for at least two years;
You must show that you completed your studies in a designated learning institution (DLI).
You must apply for a PGWP within ninety (90) days following graduation,
You must have a valid study permit at the time of application.
Read Also: Discover 11 Scholarships For Mature Students In Canada
How To Apply
The post-graduation work permit application process is straightforward and can be completed in person by submitting a paper application, online using your Government of Canada login, or at a Port of Entry (Airport or Terrestrial/Land Border).
Because online applications are typically processed faster than paper applications, we recommend that you apply online if you are qualified.
After you've submitted all of the required documents, you'll be instructed to pay the PGWP application fees. After that, you must wait for processing, after which the Canadian government will send you an email informing you of their decision.
If your work permit application is approved, you may begin working right away for the period of time you have been granted.
Trust you found our article on How to Apply for University in Canada Step by Step Guide helpful. Follow our website for more interesting articles.