Even though the subject of vehicle engineering is rapidly developing, more people nowadays wish to work in this industry. But a lot of them are frequently undecided about which school to attend.
You are undoubtedly in the right place if you fit this description. The best automotive engineering in Canada and how to obtain it will be covered in full in this article.
The automotive business has been around for a while and is still expanding. Industry-wide technology is evolving and getting better as it responds to consumer expectations.
Despite the automotive industry's tremendous technical advancements, the sector appears significantly different now than it did 20 or 30 years ago.
As a result, this article will provide you with comprehensive information on best automotive engineering in Canada. You'll also discover more about what an automotive engineer actually does, how to become one, what they make, and what their future employment prospects are.
Why Canada?
Canada has been named one of the finest countries to live in the world by the UN due to its excellent ratings in terms of both quality of life and education. It is a developed nation with a prosperous economy and effective governance, making it a great destination to live and pursue education!
You may experience both a world-class education and culture in Canada. Each year, more than 350,000 foreign students choose to study in Canada, increasing the variety of universities and colleges there. You can pursue degrees at the conventional three levels of study. Bachelor's, Master's, and Doctorate degrees are these. Your chosen institution will determine the length of your course.
What Is Automotive Engineering?
Mechanical engineering has a branch called automotive engineering. Like naval architecture and aerospace engineering, it is a subfield of vehicle engineering. It covers the development, production, and operation of the corresponding engineering systems found in trucks, cars, and motorbikes.
The production, development, and manufacturing of automobiles using components from mechanical, electrical, electronic, software, and safety engineering is the bulk of the automotive engineering field.
Who Is An Automotive Engineer?
System and mechanism design for automobiles is done by automotive engineers. Automotive engineers are experts who make sure that designs and systems for automobiles adhere to the quality and price requirements set forth in the budget.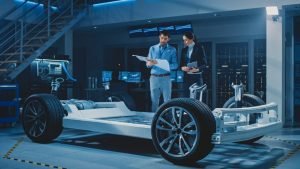 What Are The Qualities Of Automotive Engineers?
Creativity
Communication skills
Mechanical skills
Mathematical skills
Problem-solving skills
Automotive engineers basically create the systems and workings of a car. You must have a creative mind in order to do this position well.
Teamwork is a key component of the automobile engineering process overall. As a result, effective teamwork depends on effective communication.
In order to achieve the task at hand, you must also pay attention to your team members' and other specialists' various approaches and assess them.
You can use this ability to apply fundamental mechanical principles and engineering principles to the design of autos.
Like other engineers, automotive engineers analyze, design, and troubleshoot problems in their job using the concepts of calculus, statistics, and other complex mathematical fields.
To develop and construct automobiles using scientific theories and findings, automotive engineers need to have strong problem-solving abilities.
Recommended
What Does An Automotive Engineer Do?
An automotive engineer has other responsibilities in addition to the fundamental one of overseeing the development of passenger cars, trucks, buses, motorbikes, or off-road vehicles.
Any of the following could be considered additional duties for an automobile engineer:
Vehicle and component research, development, and production.
creating design specs and cost estimates.
Create drawings and plans.
analysis of the project's energy, environmental, and safety factors.
Utilize computer models to forecast the behavior of a vehicle or component under various circumstances.
creation of test protocols.
Examine product malfunctions.
technological data analysis, interpretation, and condensing in reports or presentations
Control the technical team.
collaborate closely with engineers who specialize in the civil, electrical, aeronautical, chemical, and industrial fields.
Work with experts from various professions, such as law and marketing.
Read Also: 13 Best Animation Schools in Japan | Latest update
How Can I Become An Automotive Engineer
The stages listed below must be taken in order to become an automobile engineer:
Sign up for a bachelor's degree program
Engage in an Internship
Investigate Job Opportunities
Engage in Opportunities for Continuing Education
Obtain a License
Think about getting your master's.
Sign up for a bachelor's degree program
A bachelor's degree in automotive engineering is currently only offered by a small number of universities. But if you want to be an automotive engineer, you need a mechanical engineering bachelor's degree from a university that focuses on the field.
Read Also: 9 free online courses with certificates in Canada
Engage in an Internship
In essence, an internship in automotive engineering gives students work experience. It also gives them a chance to use what they have learned in the classroom in real-world settings.
Internships are frequently provided by automotive manufacturers or suppliers, and they can present chances for students to specialize in a particular field.
Infrastructure, simulation software, and robotics are a few of these expertise.
Investigate Job Opportunities
You can contribute to all facets of an automobile's performance and design as an automotive engineer.
For instance, certain engineers in the automobile industry are in charge of creating prototype vehicles. On the other side, others may be in charge of increasing the efficiency of the fuel system or identifying more affordable materials to employ.
Using computer-aided design software to review projects and test features may be part of daily tasks.
Engage in Opportunities for Continuing Education
For automotive engineers, there are numerous alternatives for continuing education. For instance, the Society of Automotive Engineers (SAE) provides chances for professionals in the industry to pursue continuing education. They can be found in a classroom or online.
Most chances for continuing education in the subject of automotive engineering often encompass a wide range of topics, including:
structures and body parts
sources of energy and fuels
cars, their performance, and their safety
Obtain a License
Consider getting a professional license if you're serious about moving further in the automotive engineering field. In essence, obtaining a license distinguishes one from unlicensed engineers You are able to perform advisory work, bid on government contracts, and provide the general public services.
The process for becoming licensed is a little different, even though most states have their own regulations. It usually entails the following:
Completing a program with ABET accreditation
Two tests given by the National Council of Examiners for Engineering and Surveying have been passed
Additionally to accumulating the necessary volume of job experience.
Think About Getting A Master's
There are numerous universities that offer master's degrees in automotive engineering, unlike the bachelor's degree.
Students who complete a master's degree in automotive engineering have additional knowledge and expertise in the subject. In spite of this, a bachelor's degree is sufficient to begin a career in the sector.
However, in a master's degree program, students study about cutting-edge designs and systems. Additionally, the program offers them chances for study and may help them enhance their careers.
Read Also: List Of Top 13 Best Economics Universities in Europe
Why Are The Educational Requirements For Automotive Engineers? | Automotive Engineering Degrees
Basically, a bachelor's degree is the entry prerequisite for a profession in automotive engineering. A master's degree, however, can help you advance or provide you an advantage over others.
Bachelor of Science in Automotive Engineering
As previously stated, the majority of universities don't offer bachelor's programs in automotive engineering. Consequently, a sizable percentage of automotive students enroll in mechanical engineering programs with a focus in the industry.
A typical course of study for a bachelor's degree in automotive engineering will include:
Automobile dynamics
Automotive electronics
Fuel cell systems
Powertrain dynamics
Engine parts
Diesel engine theory
Alternative energy sources
Generally speaking, a 4-year automotive engineering bachelor's program can be finished.
The majority of curricula also feature senior design projects and internships for automotive industry experience during the final semester. The ability to find a full-time job soon after graduating is a result of these curricula.
Master of Science in Automotive Engineering
Students have the chance to concentrate on a particular area of automotive engineering through master's degree programs. Manufacturing processes, electrical and computer systems, mechanical systems, and materials science are typical specialized tracks.
Typical master's degrees in automotive engineering include:
Design and manufacturing
Energy and environment
Materials
Noise and vibration
Electronics and computer software
Ergonomics
Powertrain
Dynamics and control
Generally speaking, a master's degree in automotive engineering can be earned in around two years.
In order to earn their degree, students must also submit a final project or thesis paper.
Why Do I Need To Attend An Automotive Engineering School?
For the most part, engineering students must select a college or university that has earned accreditation from the Accreditation Board for Engineering and Technology (ABET).
The reason for this is that certain firms give more weight to the applicant's engineering school's reputation when evaluating candidates for positions as automotive engineers.
How Much Does It Cost To Earn An Automotive Engineering Degree?
The average annual out-of-state cost for a bachelor's degree in Automotive Engineering Technology/Technician is $31,798 according to CollegeCalc.
In other words, it will cost a total of $127,192 to complete the program in the expected average time of four years.
Read Also: 10 Cheapest Dental Schools in California for International Students
What Are The best automotive engineering in Canada?
We will take into account a number of aspects while choosing our top automotive engineering colleges. They consist of:
Accreditation
Number of programs
Acceptance Rate
Accreditation
This demonstrates whether the appropriate accrediting organization has accepted the program. Additionally, it informs the student of their eligibility to continue with the program at the school.
Number of Programs
Here, the student learns how many degree programs the university provides.
Acceptance Rate
The school's acceptance rate reveals to the applicant how competitive the institution is for admission.
The likelihood that a student will be admitted increases with the acceptance rate. However, the likelihood of admission is decreased the lower the acceptance rate.
For instance, due of their high ranking globally, universities like MIT have an extremely low admittance rate.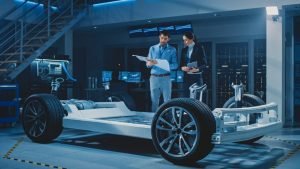 List of The Best Automotive Engineering in Canada
Here are the top 13 best automotive engineering in Canada. listed in no particular order:
Fanshawe College
Ontario Tech University
Mohawk College
Saskatchewan Polytechnic
Northern College
Centennial College
Northern Alberta Institute of Technology
Southern Alberta Institute of Technology (SAIT)
Sault College
Coast Mountain College
1. Fanshawe College
Fanshawe college is one of the best automotive engineering in Canada. Just two hours separate Toronto, Niagara Falls, and Detroit in the United States from London, Ontario, Canada, where Fanshawe College is situated. London, often known as "Forrest City," is a bustling business and cultural hub that is encircled by lovely gardens and lakes.
Fanshawe College has 21,000 full-time students, including 6,500 from abroad, representing 100 different nations.
Fanshawe is one of Ontario's biggest schools and provides more than 200 degree, diploma, and certificate programs. It also has satellite campuses in Simcoe, St. Thomas, and Woodstock in addition to campuses in downtown London and London South.
2. Ontario Tech University
This is another automotive engineering in Canada on the list of best automotive engineering in Canada.  A wide range of undergraduate programs are taught at Ontario Tech, including those in business, engineering, science, education, information technology, the humanities, energy systems, and more.
It was established in 2002 with fewer than 1,000 students and today has more than 10,000 students, 600 of whom are international.
All programs are career-focused, helping students acquire the information and abilities needed to excel in the working world.
3. Mohawk College
Another automotive engineering in Canada in the list of best automotive engineering in Canada is Mohawk college. One of the biggest public universities in Ontario, Canada, Mohawk College boasts a sizable international student body.
Mohawk College, which is based in the picturesque city of Hamilton on the banks of Lake Ontario, enrolls about 13,000 new students each year, including more than 4,000 from other countries.
With more than 100 programs, including certifications, diplomas, undergraduate degrees, and apprenticeships, available to foreign students, students receive a vibrant and stimulating learning experience just 45 minutes from Toronto.
Link To Automotive Engineering Website
4. Saskatchewan Polytechnic
This is one of the best automotive engineering in Canada. The Land of Living Skies, also known as Saskatchewan, is where Saskatchewan Polytechnic is situated. At Saskatchewan Polytechnic, international students from all around the world pursue their academic interests either on-campus or online.
The university has campuses in Regina, Moose Jaw, Saskatoon, and Prince Albert. It is a member of Polytechnics Canada, together with 12 other research-intensive, industry-responsive schools, and has an Indigenous Student Success Strategy.
5. Northern College
Another automotive engineering in Canada on the list of best automotive engineering in Canada is northern college. In Ontario, the largest province in Canada, Northern College is one of the top public colleges for applied arts and technology.
The key to Northern College's success in providing post-secondary education is its awareness of the various paths that might lead to both academic and professional success.
Using this strategy, the college offers a wide selection of distinctive academic and applied programs of study and training that suit the interests and needs of every student, regardless of lifestyle.
Read Also: 12 Tips to Get Success in Student Life
6. Centennial College
Centennial college is one of the best automotive engineering in Canada. Since its founding in 1966, Centennial College has developed significantly, evolving from a small community college to a globally renowned organization that accepts students from all over the world.
Students who are based in Toronto can use the campuses and the magnificent student housing, Centennial Place, as a platform from which to explore the country's largest metropolis. International advisors are on hand to allay any worries students may have about their study abroad experience if they are having trouble adjusting to their new surroundings.
7. Northern Alberta Institute of Technology
This is one of the best automotive engineering in Canada. One of the biggest and best polytechnic universities in Canada is the Northern Alberta Institute of Technology (NAIT), which is situated in Edmonton, Alberta.
In the fields of business, science and technology, health and life sciences, and skilled crafts, NAIT provides degree, diploma, and certificate programs.
Employers value graduates who have the information and skills they need because of the institution's emphasis on applied teaching and learning that is tailored to match industry demands.
Students walk away feeling assured, prepared, and prepared to work. 86% of NAIT graduates who complete their education within a few months get a job.
8. Southern Alberta Institute of Technology (SAIT)
Another automotive engineering in Canada on the list of best automotive engineering in Canada is southern Alberta institute. The third-largest provider of post-secondary education in the province of Alberta is Southern Alberta Institute of Technology (SAIT), a preeminent polytechnic institution in Canada.
SAIT is famous for offering exceptional hands-on, industry-focused education and practical learning that equips students with the abilities they need to succeed in a changing job market.
SAIT is a worldwide college that annually welcomes students from over 97 different nations. The main goal of SAIT is to offer the best possible education from a beautiful campus in Calgary, Canada, which is furnished with top-notch amenities and a supporting faculty.
9. Sault College
Sault college is one of the best automotive engineering in Canada. In Sault Ste. Marie, Ontario, Salt College is a public university. It started out as the Ontario Vocational Center in 1965.
For students interested in post-secondary, apprenticeship, adult retraining, continuing education, and contract training programs, Sault College now provides full-time and part-time opportunities. The combined full-time and part-time enrollment at Sault College comes to roughly 4,500 students per year.
Read Also: How to Answer 'What are Your Hobbies & Interests?
10. Coast Mountain College
This is one of the best automotive engineering in Canada. Terrace, British Columbia, Canada is home to Northwest Community College (NWCC), now known as Coast Mountain College.
It is a post-secondary institution that provides associate degree, certificate, university transfer, and diploma programs.
It serves 34 distinct communities and has nine campuses in British Columbia, with a concentration on providing higher education for Aboriginal people.
What Do Automotive Engineers Earn?
A nationwide average income for an automotive engineer is $76,430, according to Glassdoor. On the other side, according to Payscale, an Automotive Engineer typically earns $76,513.
Below are some well-known employers of automotive engineers along with their salaries, all taken from payscale:
91k from Ford Motor Company
$85k – General Motors Corporation
FCA Corp. – $77,000
$88k Chrysler Group LLC
Job Outlook Of Automotive Engineers
Chron predicts that between now and 2026, there will be a 9% increase in the employment of automotive engineers.
Additionally, it predicts that Texas, Michigan, and California will have the greatest number of automotive engineering jobs in the USA.
Automotive Engineering Resources
The resources listed below will be helpful to a future automobile engineer. These resources include associations and accrediting bodies. You'd be wise to click on any of them to learn more.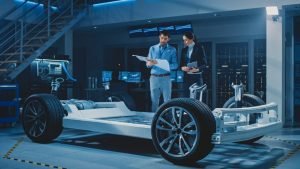 FAQs On Best Automotive Engineering in Canada
How long does it take to complete an automotive engineering bachelor's degree?
An automotive engineering bachelor's degree is typically obtained in about 4 years. On the other hand, a master's degree in automotive engineering takes two years to complete.
What organization certifies engineering programs?
The organization responsible for approving engineering programs around the world is called the Accreditation Board of Engineering and Technology (ABET).
What exactly does a car engineer do?
As a member of a team responsible for the design, development, production, and testing of vehicles, automotive engineers do these tasks.
How much money does a car engineer make?
The average annual wage for an automotive engineer is $76,430. On the other side, according to Payscale, an Automotive Engineer typically earns $76,513.
Read Also: Cheapest Universities in Kuwait for International Students
SEE ALSO:
Trust you found our article on 10 Best Automotive Engineering in Canada | 2023 Rankings helpful. follow our website for more interesting articles.