Every job profile includes the interview question, "what are your hobbies & interests?" What are your favorite interests, for example, can be a question that is asked during your interview. ,
"How would you characterize your pastimes?" or "What do you prefer to do in your spare time?" So, even if you may have a list of interests prepared, picking the proper what are your hobbies & interests and responding to the interviewer's questions wisely will help you make an impression.
Read this blog to learn how to respond to the question, "what are your hobbies & interests?" as well as examples of responses, writing tips, and more!
What are your Hobbies Examples
In order to assist you with your response to the question "what are your hobbies & interests ?" we have included some popular pastimes and interests below.
Volunteering

Painting/Sketching
Blogging
Photography
Arts and crafts
Journalling
Any sport like Cricket, Football, Basketball, etc.
Cooking/Baking
Making your own DIY: Crafts, calligraphy, etc.
Home decor
Reading
Listening to a particular music genre like Rock, Pop, Indie, etc.
Read Also: List Of 10 Hardest Exams in the US
Podcasting
Dancing
Travelling and outdoor activities
Social work
Gardening
Learning a new language
Playing music like guitar, violin, piano, etc.
Yoga
What are your Hobbies Example Answers
The following are the top examples of "what are your hobbies & interests" responses:
Reading and working out are two of my interests. I enjoy cooking in addition to all of this. I learned about the on-site gym while doing research on the company. Employees can get to know one another better in a more relaxed setting away from their formal jobs by having a gym at work, which is a terrific concept.
"I typically read novels or play badminton during my free time. My favorite genres of literature are suspense, horror, and thrillers, and I enjoy reading new and popular books. I consider myself to have a solid vocabulary and a solid understanding of language because I read a lot. My enthusiasm for reading books fuels my enthusiasm for writing.
"I have a dog that I keep as a pet, and playing with him is one of my favorite things to do. I also enjoy going on vacation, and I frequently arrange family vacations. But I find the joy I seek when I travel alone. I eagerly anticipate traveling to new locations each year and revisiting old ones.
"I enjoy giving my time to charitable causes, especially mentoring poor children. I've been involved with a few non-profit organizations since my undergraduate days, and I enjoy volunteering my time on the weekends to these organizations to help with a variety of tasks, including organizing entertaining games and activities for kids to learn via.
"I enjoy picking up new abilities, and recently, learning about other languages has caught my attention because they enable me to discover various cultures from around the world. Spanish is my second language, and I've already mastered the fundamentals. For the most part, I use my weekends to develop my command of the language by learning new vocabulary and viewing Spanish-language films.
"I have been a member of my college team's leadership staff and have played football since high school. I enjoy playing football in my spare time because it allows me to unwind and relax and fosters my creativity and critical thinking abilities.
"I love to travel because I enjoy learning about new towns and locations around the world. I frequently put off planning a trip for months. I enjoy going on excursions with friends and going on family vacations, but I find that traveling alone gives me the actual adventure and thrill of seeing new areas on my own.
"I enjoy being outside and using my camera to record all the beautiful moments of nature. Since I was in school, I have been taking pictures of nature, and it is the best hobby I can think of.
"Meditating and spending my free time at retreats is my greatest pastime. I believe it has significantly aided in both assuring improved mental wellbeing and helping me comprehend my mind and its intricacies.
Since I was a senior in high school, I have loved writing songs and composing music. With a couple of my high school friends, I play in a garage band. During the weekends and holidays, we write new songs and play live in public venues.
Read Also: How To Use Moneygram with No ID card in 2022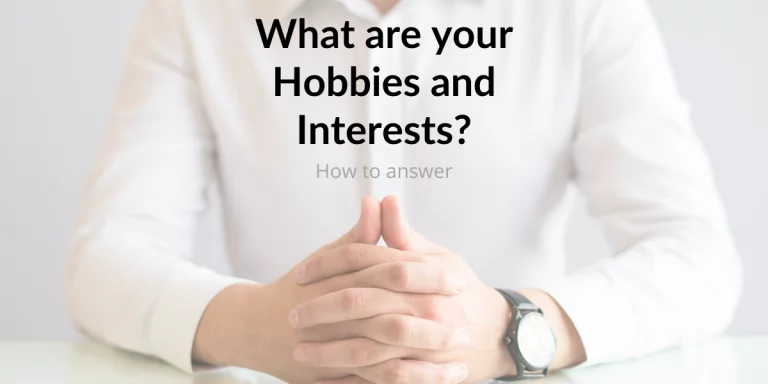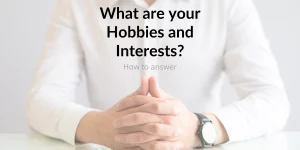 How to Answer "what are your hobbies & interests?" for Cabin Crew Interview?
When asked "what are your hobbies & interests" during a cabin crew interview, you should respond with interests and hobbies related to the position, such as volunteering (which helps people), participating in team sports (which promotes teamwork), running a particular club (which demonstrates leadership skills), and similar hobbies.
It can be challenging to choose the ideal response to the question "What are your hobbies?" because you need to take a lot of factors into account.
First and foremost, you should always integrate your what are your hobbies & interests. These can range from more niche pastimes like playing an instrument or collecting stamps and coins to more mainstream pursuits like playing a specific sport.
Here's how you respond to the question, "what are your hobbies & interests":
Tell us about your passions!
Add anecdotes or history to make it interesting after enthusiastically mentioning your favorite hobbies or interests.
Your personality may lie in your pastimes.
One of the key purposes of the hobby question is to get to know you better and identify your natural interests. Choose your interest carefully because it may reflect your personality.
 Keep your response succinct and to the point.
Make sure to keep your conversation about your pastime brief and to the point. If reading is one of your hobbies, for instance, describe that as well as any recent books you've read or the background of how you first became interested in reading. The interviewer will get more intrigued by your resume as a result.
Your interests and work should be related.
By tying your passions and professions together, you can get another major brownie point. For instance, as a manager of business development, describe how you like volunteering and how it has helped you grow your people skills, learn about individuals from different backgrounds, and stay on your toes.
 Describe the ways in which your interests improve you as a person.
You may always point out how a certain hobby enhances a particular skill in your life, even though hobbies are more often associated with relaxation and rejuvenation. In contrast to how playing sports teaches us about teamwork, the value of fitness, and other things, reading can improve your writing and storytelling skills.
Don't bring up anything political or contentious.
This is a definite no-no in response to the question, "What are your hobbies?" Political ideas vary widely across individuals and organizations, and anything contentious might further leave a negative impression on the interviewer. Don't mention any controversial hobbies or political interests, then.
Never claim to have no interests.
A negative impression will also be made on your interviewer if you claim that you have no interests. Instead, you may explain something you are currently learning or an interest you have developed. You could discuss even the most basic interests with an interesting tale, such as learning to cook or becoming interested in watching psychological thrillers.
Read Also: 9 Top Business Certification Worth Getting
Questions the Interviewer Is Trying to Answer
What it really means when an interviewer asks, "what are your hobbies & interests?" is that they are curious about you and want to learn more about you as a person who fits their business culture and is well-rounded. When a question about your interests and hobbies is posed in an interview, the following are the main points that an assessor will look for:
To be aware of your hobbies outside of work and the things you are enthusiastic about.
How your interests and activities fit with your obligations at work;
What you do for fun, whether it's the same things you do every day, learning something new, or creating something.
To gain some insight into your personal life and who you are outside of your duties at work.
Tips for Preparing for Interview Questions About Hobbies and Interests
Let's start by talking about the greatest pointers and techniques to employ while coming up with a response to the question, "what are your hobbies & interests?"
Think on your qualities or skills.
Before you start writing your response to the question, "what are your hobbies & interests?" take some time to sit down and think about what most fascinates you, what makes you the happiest, and what you enjoy doing the most. You can learn about your interests, likes, and dislikes by responding to such questions.
Read Also: Top 15 Tuition Free Universities in Germany
Describe your favorite hobby and why you enjoy it.
In response to the question, "What are your Hobbies?," explain why you have each interest or activity you list. Discuss the origins of a pastime, how it got you interested, how it helps you relax and have fun in your spare time. You can also relate a hobby to your upbringing.
Select your hobbies carefully
It's possible that you have interests in a variety of extracurricular activities, but you must be careful how you discuss them in a personal interview. In order to lighten the mood, the question "What are your hobbies?" is frequently asked. However, when responding, remember to maintain your professionalism. As a result, you should choose your pastimes carefully. Examples include traveling, playing a favorite sport, reading, cooking, and so on.
Particulars of Work-Life Balance
You may simply tie some aspects of your present profile or the position you are interviewing for to whatever role you are looking for. This makes it simple for you to connect your interests, hobbies, and abilities. For instance, if you are applying for a job as a content writer, you can talk about how you enjoy reading books and how doing so has increased your vocabulary and sparked an interest in creative writing.
Recommended
What Not To Say
No matter how well-prepared we are, the words we choose also count a lot during an interview. As a result, you must pay equal attention to what to say and what not to say. When addressing the question, "what are your hobbies & interests?" take a look at the following advice:
Do not bring up any contentious hobbies.
Don't go into too much detail about your personal life. Answer in a clear, concise manner.
Make sure the interests you mention benefit you and do not conflict with your obligations at work.
Never respond with "no," as this may leave a bad impression on the interviewer and affect their choice.
What to Do In the event that you have no hobbies, what are they?
When asked this question by a candidate who does not have a pastime, some applicants become perplexed. When this occurs, you should take your time and plan out what you enjoy doing on a regular basis rather than reacting in a hurry and uncomfortably saying "no."
In essence, the interviewer is interested in learning about your interests, which may be anything. Never say "no" when being asked a question during an interview because you can be evaluated more on how well you respond to it than on how well you analyze what you enjoy doing in your spare time.
There will likely be something you enjoy doing in addition to your normal work, even if you can't classify it as a hobby.
It might be anything as straightforward as gardening, walking your pet, journaling, etc.
Think on what makes you happy and at peace during the day as you reflect. We are confident that you will be able to determine what you have been seeking for.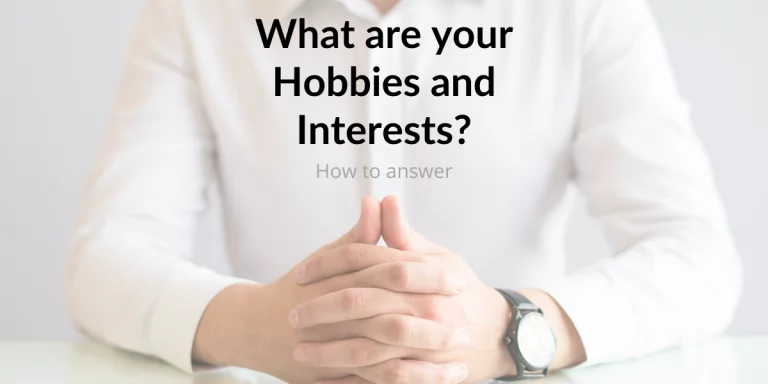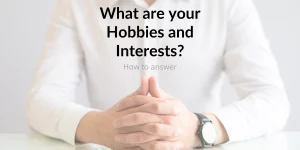 How Do You Write About Your Interests?
You might add a unique section on Hobbies and Interests to your resume for this purpose. Hobbies are frequently listed in a resume or CV. You may include as many as seven hobbies on your resume, but do so with caution. Don't describe activities that are very general, such as watching TV or listening to music; instead, be more particular about the genres of music you enjoy or the TV shows and series you prefer.
Read Also: Essay on Pollution: Elements, Types, Format & Sample.
what interests you? Funny Responses
Now that we are aware of the important topics to discuss in the "What are your hobbies" interview question, here are some amusing responses and memes you shouldn't take seriously!
See also:
A COMPLETE GUIDE ON HOW TO TRANSFER COLLEGES

Trust you found our article on How to Answer "What are Your Hobbies & Interests? helpful. follow our website for more interesting articles.