Undergraduate courses come in a variety of forms at colleges and universities in the USA. For international students who desire to pursue a degree in the USA, the abundance of options can be confusing.
Undergraduate Education System Two-Year Programs | Four-Year Programs
Undergraduate Education System For Two-Year Programs
In the US, there are more than 1,000 two-year institutions. These institutions are also referred to as community or junior colleges. In the majority of states, local special districts or a division of the state university, under the direction of a state agency, run community colleges.
When choosing a two-year program in higher education, students work for an associate's degree, commonly referred to as an intermediate degree. A community, junior, or technical college will provide an associate degree to you if you successfully finish a program of study with a strong foundation in general education and a concentration in a particular field.
You must complete 60 semester credits, which usually takes two years, to acquire an associate degree. The three main components of a program are the general education requirements, the requirements for your major (or concentrated field of study), and the electives, which are the courses you choose on the basis of your preferences.
Read Also: Seoul National University Scholarships for International Students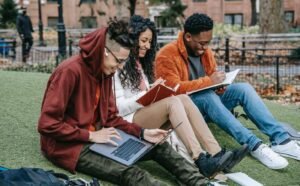 Undergraduate Degrees of Two Years
Associate degrees come in a variety of forms. The Associate of Arts (A.A.) and Associate of Science (A.S.) degrees are both created to prepare students to transition into a 4-year institution or university. You may obtain an A.A. in early childhood education, for instance, and then transfer to a 4-year college.
You can pursue additional coursework at the institution to obtain a degree that will allow you to work as an elementary or preschool teacher.
The first two years of study will be provided by the community college, and the remaining years will be provided by the university, sometimes all on the same campus, in accordance with automatic enrollment arrangements that certain community colleges have with nearby schools.
Other associate degrees, like an A.A.S. degree (Associate of Applied Science degree), are created to equip students with the skills they need to enter the workforce right after completing two years of study. Employers in sectors related to science and technology, commonly known as occupational or vocational fields, may favor these degrees for mid-level positions.
Undergraduate Education System 4-Year Courses
A bachelor's degree can be obtained through four-year programs at more than 2,000 schools and universities. In the United States, more than 1.3 million people received this degree in the previous year. The undergraduate bachelor's degree, also known as a "college degree," usually requires four years to finish and consists of 120–128 semester credits (60 of which may be transferred from an associate degree at a community college; see the section above on two-year programs).
The freshman, sophomore, junior, and senior years at a university are the four years that undergraduate students spend there.
Numerous undergraduate programs base their curricula on the "liberal arts" school of thought, which calls for students to take classes in a variety of areas to build a broad foundation in learning. These general education courses cover topics in English composition, history, math, the social sciences, humanities, and physical and natural sciences.
Students at most universities are required to select a particular topic of study, commonly known as the major, once they have completed the requirements of the core curriculum. Your academic major should be in a field that greatly interests you and is likely where you will pursue a profession in the future.
More courses that are more closely related to your major are taken during the final two years. Other four-year institutions place a strong emphasis on preparing students for careers in specific sectors including computer technology, the fine arts, pharmacy, engineering, business, and agriculture.
Degrees in law and medicine are not available at the undergraduate level in the US, in contrast to other undergraduate models. Rather, they are finished as professional study once you have a bachelor's degree. The necessary courses for the medical school must be completed before enrollment, however neither law nor medical schools mandate or favor a particular undergraduate major. Pre-medical undergraduate students are those who intend to pursue medical degrees after finishing their undergraduate degrees.
Read Also: Chronic Illness Scholarships for Students | Scholarship for any Medical Condition
Recommended

Undergraduate Education System Degrees that Last Four Years
The two forms of bachelor's degrees that are frequently provided are the B.A. and B.S. degrees (Bachelor of Arts and Bachelor of Science, respectively). Most of your coursework toward a B.A. will likely be in the humanities, social sciences, or fine arts, as well as some other arts. The bulk of courses taken by students pursuing a B.S. degree are in the biological, physical, or mathematics sciences.
The curriculum is frequently more rigidly structured than it is in the humanities or social sciences, which is a problem for students who study particular subjects like business, engineering, or science. Majors in business, science, and engineering may be required to take more courses directly linked to their subject and may have fewer electives.
Read Also: About International Institute for Management Development (IMD)
SEE ALSO:
Trust you found our article on Undergraduate Education System | Study in the USA follow our website for more interesting articles.