On another day fresh topic, we are discussing the Australia's Melbourne-based Swinburne University of Technology today. This is a prestigious university known for its dedication to quality in teaching, research, and industry interaction. The university, which was founded in 1908, has a long history and has developed into a thriving and forward-thinking organization.
Swinburne University is renowned for its creative teaching methods that provide students with useful information and skills that are highly desired by companies. The institution provides students with a variety of chances to pursue their academic and professional goals through its extensive undergraduate and graduate programs, which span a variety of fields including business, engineering, design, and health sciences.
Strong industry ties are one of the university's primary advantages. Swinburne is renowned for its cooperative alliances with top businesses, both locally and internationally, allowing students to get practical experience and improving their chances of finding employment. Furthermore, the university's cutting-edge infrastructure and research hubs promote an innovative environment that inspires teachers and students to push the boundaries of knowledge and make significant contributions to their subjects.
Swinburne University of Technology is dedicated to academic achievement, industrial relevance, and innovation. By empowering its students and making a difference in the community, it continues to create the future.
Still On The: Review Of Swinburne University of Technology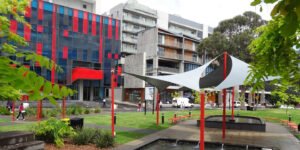 What academic offerings does Swinburne University have?
The Swinburne University of Technology offers a comprehensive selection of courses and programs in numerous academic fields. Business, engineering, design, health sciences, computer technology, the arts, media, and social sciences are just a few examples of the undergraduate degrees that fall under this category.
Swinburne provides master's degrees, doctorate programs, and graduate certifications at the postgraduate level in a variety of subjects, including business administration, data science, engineering, cybersecurity, psychology, and marketing. To meet the needs of various students, the institution also offers flexible study choices, such as part-time and online programs.
It is advised to check Swinburne University's official website or get in touch with their admissions department for the most recent information if you want a complete list of the courses and programs offered there.
What is the process for applying to Swinburne University?
You can submit an online application for admission to Swinburne University using their official website. Typically, there are multiple steps involved in the application process:
a. To find your favorite field of study, do some research on the Swinburne University programs and courses available.
b. Review the entry requirements for your selected program, since they may change depending on your level of education and your chosen discipline.
c. Online application: Fill out the form, making sure to include all necessary personal and academic data.
d. Supporting Documents: Submit all necessary supporting documents, including transcripts from your academic work, the results of your English language test (if applicable), proof of your identity, and letters of recommendation.
e. Application Fee: If necessary, provide the required application fee.
f. Submit and Follow: Utilize the online application site to submit your application and follow its development.
It is crucial to confirm the application dates and make sure the required paperwork is completed by the due date. It is advised to consult the Swinburne University admissions page for further instructions and criteria.
What qualifications must you meet to enroll in undergraduate and graduate programs?
Depending on the particular program, level of study, and discipline, Swinburne University's entry requirements for undergraduate and postgraduate programs may change. The following are typical admission requirements:
a. Undergraduate Programs: Applicants typically need to have finished their secondary education or have an equivalent qualification for undergraduate programs. For some programs, there may be specific subject prerequisites or minimal academic standards. For non-native English speakers, competency in the English language may also be necessary.
b. Postgraduate Programs: In order to be considered for postgraduate programs, candidates must normally possess a bachelor's degree or a comparable credential in a related subject. Some programs could have further specifications, including a minimal grade point average (GPA) or appropriate work experience. There can also be criteria for English language proficiency.
It's vital to keep in mind that admittance requirements can differ between programs and can alter. For the most precise and recent prerequisites, check out the program-specific information on Swinburne University's website or get in touch with their admissions office.
Still On The: Review Of Swinburne University of Technology
Read Also: 60+ Sorry For Hurting You Quotes That Amends Every Relationships
Can I transfer credits to Swinburne from another institution?
Yes, credit transfers from other universities are permitted by Swinburne University. You could be qualified to gain credit for the comparable units or courses at Swinburne if you have already finished your studies at another university or educational institution.
You must submit an application and supporting materials, such as academic transcripts and course descriptions from your prior institution, in order to request credit transfer. Swinburne's credit transfer policy takes into account things like the topic matter and difficulty level of the coursework, the previous school's accreditation status, and the similarity of the learning results.
The amount of credit granted will depend on how closely your prior studies correlate with the program you are enrolled in, and credit transfer evaluations are done on a case-by-case basis.
requesting a job at Swinburne. It is crucial to remember that the maximum amount of credit that can be transferred for a specific program might be subject to restrictions.
It is advised to visit Swinburne University's website or get in touch with their admissions or credit transfer office if you want more specific information regarding the credit transfer procedure, particular prerequisites, and any restrictions.
How much does Swinburne University's tuition cost?
The cost of attending Swinburne University of Technology varies depending on a number of variables, including the student's residency status (domestic or foreign), the degree they are enrolled in, and their level of study (undergraduate or postgraduate). For the most precise and recent information on tuition costs, please see the university's official website or get in touch with their admissions office.
For instance, the projected yearly tuition charge for the majority of bachelor's degree programs at Swinburne in 2023 ranges from about AUD 7,000 to AUD 10,000 for domestic undergraduate students. However, depending on the program selected and unique conditions, this may change.
Undergraduate program expenses for overseas students normally range between AUD 25,000 and AUD 45,000 per year, while postgraduate program fees might range between AUD 25,000 and AUD 50,000 per year. These numbers are approximations and may vary depending on the program and the individual.
It's vital to remember that tuition payments could not cover extra expenses like books, supplies, lodging, and living costs. In order to lower the cost of tuition, students should also take into account any prospective scholarship opportunities or financial aid programs.
Still On The: Review Of Swinburne University of Technology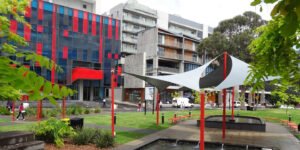 Are there any financial aid or scholarship opportunities available?
Yes, a variety of scholarships and financial aid programs are available to students at Swinburne University to help them further their study. These scholarships are intended to reward academic excellence, help students in need, and open doors for particular demographics or academic specializations.
The scholarships that are offered could include:
a. Academic Scholarships: These may cover tuition costs or living expenses and are given out based on academic merit.
b. Equity Scholarships: These are designed to aid students from underprivileged origins or those who are struggling financially.
c. International Scholarships: These awards may be based on academic standing, nationality, or other factors. They are intended specifically for international students.
d. Research Scholarships: Swinburne provides a range of research scholarships, some of which come with stipends and money to help students with their research projects.
e. business Scholarships: Swinburne works with business partners to create scholarships that give students in particular fields financial help and industry experience.
The qualifying requirements, application procedures, and deadlines for scholarships can change. For comprehensive information on available scholarships, eligibility conditions, and application processes, prospective students should visit Swinburne University's official website or get in touch with their scholarships office.
In order to support their studies, students may also look into additional financial aid options like grants, loans, and part-time jobs from the government. The student support services at Swinburne can advise students on their choices for financial aid and help them to access these opportunities.
Does Swinburne help students find housing or offer on-campus housing?
Yes, students at Swinburne University have access to on-campus housing alternatives. Apartments and dormitory-style housing are available for students at Melbourne's Hawthorn campus. These lodging alternatives provide students with a welcoming community setting and are conveniently close to campus amenities.
Swinburne helps students find off-campus housing in addition to on-campus accommodations. The university's housing services team can offer guidance, materials, and assistance in identifying suitable housing possibilities in the neighborhood.
It is significant to remember that on-campus housing is in high demand, and availability may be restricted. Students are thus urged to apply for housing as soon as possible and, if necessary, to look into alternate off-campus housing choices. On Swinburne University's website or by getting in touch with their housing services staff, you may get comprehensive information on the various lodging options, fees, and the application procedure.
Still On The: Review Of Swinburne University of Technology
Read Also: Curtin University Total Review – Tuition Ranking And Acceptance Rate
What kind of assistance is offered to students from other countries?
A variety of support services are provided by Swinburne University of Technology to help overseas students adjust to studying in Australia and succeed in their academic endeavors. These assistance services consist of:
a. International Student advisers: Committed advisers offer direction and assistance with regard to issues like visas, health insurance, housing, and general wellbeing.
b. Comprehensive orientation programs are set up to assist overseas students with adjusting to the university, learning about Australian culture, and locating necessary resources.
c. Academic Support: Swinburne offers study skills classes, writing assistance, and access to learning resources, among other academic support services.
d. Services for health and wellbeing: To promote students' physical and mental wellbeing, the university provides counseling services, health clinics, and access to medical professionals.
e. Clubs and Activities for International Students: Swinburne has active clubs and societies for international students that plan social and cultural activities to help students get to know their classmates and participate in campus life.
f. English Language Support: The university provides non-native English speakers with programs and services to help them improve their language skills.
g. Swinburne helps international students get ready for the labor market by offering career services, workshops, and job placement aid.
These are only a few illustrations of the support services that are offered. International students at Swinburne University are given every opportunity to enjoy a rewarding time while studying abroad in Australia. International students can visit Swinburne's international student assistance webpage or get in touch with their knowledgeable support staff for further details on the various support services offered.
How does Swinburne interact with business and offer possibilities for work-integrated learning?
The Swinburne University of Technology is dedicated to giving students real-world experience and opportunities for work-integrated learning, and it has close relationships to the business community. In order to provide practical training, internships, and industry projects, the university works in partnership with a number of groups and enterprises. Among the important initiatives are:
a. Partnerships in the sector: Swinburne has forged alliances with a variety of groups in the sector, including businesses, governmental agencies, and nonprofits. These alliances make it easier for students to collaborate on research projects, internships, and job placements.
b. Swinburne University offers cooperative education programs that combine academic study with practical practice. Through these programs, students can switch between periods of study and paid internships in the sector of their choice.
c. Professional Placements: Many programmes at Swinburne feature required or elective industrial placements, providing students with the chance to put their knowledge and abilities to use in practical situations. The length of these internships can vary, and they offer beneficial networking opportunities.
d. Industry Projects and Collaborations: Swinburne participates in industry-focused research projects and collaborations, giving students the chance to interact with professionals in the field on cutting-edge projects and tackle real-world problems.
e. Services for Career Development: Students can get advice, attend workshops, and access materials from Swinburne's career development services to help them be ready for job opportunities, network with employers, and hone their professional abilities.
These industry involvement activities are designed to increase students' employability, develop skills that are applicable to the workplace, and create solid networks in their chosen industries. For additional information on the specific work-integrated learning possibilities offered in their degrees, students can visit the website of Swinburne University or speak with a representative at the career services office.
Still On The: Review Of Swinburne University of Technology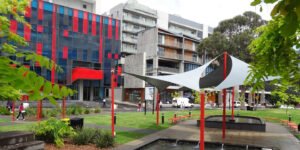 What fields of research is Swinburne recognized for, and what facilities are there for doing those studies?
In many domains, Swinburne University of Technology is famous for its outstanding research. The institution concentrates on multidisciplinary research and possesses knowledge in a number of important fields, including:
a.
Data science and artificial intelligence: Swinburne undertakes cutting-edge research in these areas, addressing issues and possibilities in industries like technology, finance, and healthcare.
b. Advanced Manufacturing and Materials Science: The university's research focuses on engineering advances, materials science, and advanced manufacturing technologies.
c. Astrophysics and astronomy: Swinburne is renowned throughout the world for its astrophysics and astronomy research, working together on initiatives including the discovery of gravitational waves, the study of exoplanets, and galaxy evolution.
d. Swinburne undertakes research in a number of health-related fields, including biomedical engineering, neurology, mental health, and digital health technologies.
e. Design & Innovation: To promote innovation across industries, the institution focuses on design-led innovation, human-centered design, and entrepreneurship.
Modern research facilities and centers are available at Swinburne to support these study fields. Specialized labs, observatories, cutting-edge manufacturing facilities, high-performance computer tools, and collaboration spaces are a few of them. These resources are available to researchers and students so they may run experiments, analyze data, and come up with new ideas.
Interested parties can look through the university's research webpages or get in touch with the relevant faculty or research centers for further details about specific Swinburne research areas and resources.
Exist any opportunities for study abroad or student exchange programs?
Yes, Swinburne University of Technology offers options for student exchange and study abroad programs, letting students get a taste of what it's like to live and learn in a different nation. Through connections with several universities and educational institutions throughout the world, Swinburne is able to provide study abroad and student exchange opportunities.
Through these programs, Swinburne students can get credit toward their degree by spending a semester or an entire academic year studying at partner institutions. International students also have the opportunity to enroll at Swinburne as part of exchange or study abroad programs offered by their home universities.
Students have the chance to widen their academic horizons, acquire international experience, hone their cross-cultural communication skills, and form worldwide relationships by taking part in student exchange or study abroad programs. Information about the available exchange programs, partner institutions, application procedures, and eligibility requirements can be obtained via Swinburne's international office or student mobility services.
Still On The: Review Of Swinburne University of Technology
Read Also: Australian Catholic University Acceptance Rate Tuition And Ranking 2024
How can I use the academic assistance services and library resources?
The rich library resources and academic support services offered by Swinburne University help students in their studies. Both on-campus and off-campus users can access these tools and services. Here's how to get to them:
a. Swinburne University's library houses a sizable collection of printed books, electronic books, journals, databases, and multimedia resources. On the library's website, students can perform searches for items, check out e-books, view journal articles, and use research databases. Access to specialized subject guides, citation tools, and research aid are all available at the library.
b. Academic Support: Swinburne University provides academic support services to help students improve their writing, study, and general academic performance. There are workshops, one-on-one sessions, and online resources available for these services, which address subjects including academic writing, referencing, time management, and exam preparation.
c. Learning Management Systems: To give students access to course materials, lecture recordings, discussion forums, and portals for submitting assessments, Swinburne uses learning management systems like Canvas. Through their student portal or by logging in with their Swinburne credentials, students can access these systems.
d. Online learning resources are offered by Swinburne to help students learn and comprehend the course materials. These resources include interactive tutorials, video lectures, and practice exams. The learning management systems or particular online platforms that instructors utilize frequently allow access to these resources.
Students can log into the university's online platforms or visit the library in person to use the library's materials and academic assistance services. The student portal and the library's website both offer comprehensive instructions on how to use these tools.
What clubs and extracurricular activities are offered at Swinburne?
The campus life at Swinburne University of Technology is active, with many organizations and extracurricular activities to suit a variety of interests. Students have the chance to engage with like-minded people, pursue their passions, and learn new skills through these extracurricular activities and clubs. Clubs and extracurricular activities at Swinburne include, for instance:
a. Sports & Fitness Clubs: Swinburne has a number of clubs that focus on sports like swimming, tennis, basketball, netball, and martial arts. These organizations plan frequent practice sessions, contests, and social gatherings.
b. Cultural and Interest-Based groups: There are several groups that arrange events and festivals that focus on cultural diversity, such the Asian Students Association or the African Students Association. Numerous topics are covered by interest-based groups, such as sustainability, music, art, and photography.
c. Swinburne promotes community involvement and volunteering. Students can join organizations or clubs that prioritize fundraising, social impact projects, and community involvement.
d. Academic and professional societies are available at Swinburne, and many of them are dedicated to particular subjects or fields of study. These organizations put on gatherings, lectures, and workshops to promote networking and educational opportunities.
e. Programs for leadership and personal development are available at Swinburne, allowing students to develop their leadership abilities, get real-world experience, and give back to the campus community.
These are but a few examples, and Swinburne's selection of clubs and extracurricular activities is constantly changing in response to student interests. The student association, club, and society directories at the university include comprehensive details on the groups that are offered, their activities, and how to join involved.
Still On The: Review Of Swinburne University of Technology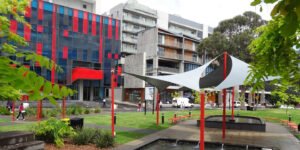 What assistance does the university provide for job placement and career services?
Swinburne University offers thorough career services and assistance with job placement to facilitate students in making a smooth transition from their academic careers to the working world. The career services office of the institution provides a variety of tools and support, such as:
a. Career counseling and guidance: Qualified career counselors offer one-on-one support to students, guiding them as they consider their alternatives, pinpoint their talents and passions, and create solid future goals.
b. Support for Writing Cover Letters and Resumes: Career counselors help students write cover letters and resumes that are tailored to certain job openings.
c. Interview Preparation: To help students improve their interviewing abilities and feel more confident during job interviews, the institution offers courses and practice interviews.
d. Resources for Job Search: Swinburne provides students with access to job search portals and databases where they can research graduate programs, internships, and career prospects.
e. Industry Connections & Networking Events: To link students with possible employers and promote networking possibilities, Swinburne arranges industry networking events, career fairs, and company presentations.
f. Workshops and skill-development programs are available at Swinburne to assist students in acquiring crucial employability skills like leadership, teamwork, communication, and problem-solving.
g. Alumni Networks: Swinburne's vast alumni network offers students the chance to get in touch with successful alumni and learn about career options and market trends.
The career services at Swinburne are open to both current students and graduates. To improve their employment prospects, students are advised to use these services as soon as possible in their academic careers. The website or student portal for the university's career services office offers comprehensive details on the resources that are available, forthcoming events, and contact information.
Still On The: Review Of Swinburne University of Technology
Recommended
How do I get in touch with particular Swinburne departments or faculty members?
There are a number of ways to get in touch with particular departments or professors at Swinburne University of Technology:
a. Departmental Websites: At Swinburne, each faculty or department normally has a website with a contact page. To obtain the contact information for the pertinent staff people, go to the university's website and navigate to the departmental or faculty pages in question.
b. Email: The department's or faculty's general email address, which is frequently listed on such pages, can be used to send an email. In your email, be sure to mention your exact question and any pertinent facts.
c. Phone: If you call Swinburne University's main switchboard at their general phone number, they can provide you the contact information for certain departments or faculty members. The webpage of the university has this number.
d. Visits in person: You are welcome to drop by the department's or faculty member's office during business hours if you value face-to-face communication. The location information for each faculty or department can usually be found on the university website.
e. Online communication tools: For virtual meetings or consultations, certain departments or faculty members may use tools like Microsoft Teams or Zoom. You can plan appointments or meetings using those platforms if you have been given relevant contact information.
It's helpful to include your full name, student ID (if relevant), and a thorough explanation of your query or issue when contacting departments or faculty members. By doing this, you can be sure that your question will be addressed as soon as possible and by the proper party.
Note that based on the availability and workload of the people you are contacting, response times may change.
SEE ALSO:
Trust you found our article on Swinburne University of Technology | Total Review, Rankings, Fees, Tuition, Scholarships helpful. Follow our website for more interesting articles.