The Royal Melbourne Institute of Technology, or RMIT University, is a notable university that is situated in Melbourne, Australia. It was founded in 1887 and has a long history of offering possibilities for cutting-edge research and top-notch education. One of the oldest and biggest universities in Australia, RMIT has constantly been named among the best universities in the world.
RMIT has a large selection of degrees in a variety of fields, including business, engineering, science, and technology. It also has a diverse and lively campus. The institution takes pride in its dedication to offering instruction that is relevant to industry, giving students the knowledge and abilities they need to succeed in their chosen industries.
RMIT stands out because it places a major emphasis on experiential learning. Because of the university's tight relationships with business partners, it can provide students with priceless chances to participate in internships, work placements, and practical projects. With this hands-on approach, graduates are made ready for the needs of the constantly changing labor market.
Furthermore, RMIT's commitment to research and innovation is demonstrated by its cutting-edge facilities and top-tier research institutes. The university aggressively promotes academic, student, and professional collaboration, creating a vibrant climate that is conducive to ground-breaking discoveries and improvements.
Royal Melbourne Institute of Technology is renowned for its global perspective and relationships with other universities across the world, giving students the chance to interact with people from different cultural backgrounds through study abroad possibilities. This global perspective enhances students' educational experiences and equips them to succeed in a world that is becoming more interconnected.
In conclusion, Royal Melbourne Institute of Technology is a renowned university that is renowned for its expertise in research, education, and industry interaction. It is a top option for students looking for a thorough and significant education due to its dedication to offering a practical and globally relevant learning experience.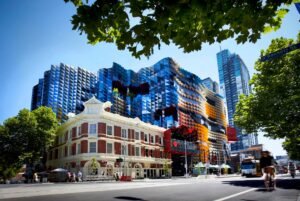 What values does RMIT University uphold?
The Royal Melbourne Institute of Technology is referred to as RMIT. The institution was established in 1887 as the Working Men's College, and in 1954 it changed its name to Melbourne Technical College. It received university status in 1992 and changed its name to RMIT University.
RMIT University was founded when?
As the Working Men's College, Royal Melbourne Institute of Technology was founded in 1887, making it one of the country's first colleges. It changed and broadened its courses over time, becoming RMIT University in 1992.
What city is RMIT University in?
Australian state of Victoria is home to Royal Melbourne Institute of Technology. It has numerous campuses dispersed over the metropolis, including the City campus in the CBD of Melbourne, the Brunswick campus, the Bundoora campus, and the Vietnam school in Ho Chi Minh City.
Read Also: Expanding Horizons through the Open Doors Russian Scholarship Project
What are the most sought-after programs that RMIT University offers?
RMIT University provides a comprehensive selection of programs in numerous academic fields. Popular programs that are available include:
1. Business and Management: RMIT is well known for its business programs, which include courses in entrepreneurship, accounting, finance, and marketing.
2. Engineering: Mechanical, electrical, civil, chemical, and aerospace engineering are just a few of the engineering specialties that RMIT offers in-depth studies in.
3. The university's offerings in industrial design, interior design, architecture, fashion design, and visual communication are well-known.
4. Information Technology and Computing: RMIT offers courses in information technology, software engineering, data science, and computer science.
5. In the areas of fine arts, photography, animation, cinema and television, journalism, and communication, RMIT provides creative programs.
6. Science: RMIT offers courses in subjects like environmental science, biotechnology, chemistry, physics, and mathematics.
These are only a few instances; to meet the interests of a wide range of students, RMIT provides a large number of additional programs in different fields.
How many students are there at RMIT University?
According to the most recent information, RMIT University has a sizable student body. On its campuses, there are more than 80,000 students enrolled, both domestic and foreign. RMIT is now among Australia's biggest universities as a result.
What is the national and international standing of RMIT University?
Both domestically and globally, Royal Melbourne Institute of Technology constantly holds a position of prominence. RMIT is often recognized as one of the top universities in Australia and the entire world, despite the fact that rankings for institutions can vary between publications and techniques.
RMIT routinely ranks among the top 250 universities in the world according to the QS World University Rankings. Additionally, it enjoys a high level of respect in specialized fields including art and design, architecture, business, engineering, and computer science.
RMIT is a well-known university in Australia and frequently ranks in the top 10 universities in a variety of national polls, such as the Times Higher Education and the Academic Ranking of World Universities (ARWU).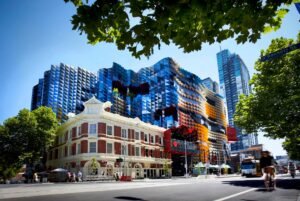 Does RMIT University provide remote learning or online programs?
Yes, RMIT University provides distance learning options and online programs to meet the demands of students who desire flexible study schedules. The university's specialized online learning platform, RMIT Online, provides a variety of programs and courses that can be taken online.
Numerous academic disciplines are covered by the online programs, including business, technology, design, and others. These programs offer the same high-quality education as those offered on-campus, along with interactive learning tools, committed support, and chances for networking and teamwork.
What criteria does RMIT University have for admission?
Depending on the program and level of study (undergraduate or postgraduate), RMIT University's admission criteria can change. Academic credentials, English language proficiency, and any unique degree prerequisites are all things that the university takes into account for college students.
Typically, to be considered for programs, candidates must have finished their secondary education, or the equivalent, and achieve the minimal academic standards outlined for the program. Typically, a suitable bachelor's degree or an equivalent qualification is required for postgraduate studies.
International students may be required to submit supplementary documentation, such as their IELTS or TOEFL test results, to prove their language proficiency.
It is crucial to note that admission requirements are subject to change, thus it is advised to check the official website of Royal Melbourne Institute of Technology or get in touch with their admissions office for the most recent details regarding particular program needs.
How much does attending RMIT University cost?
Several variables, such as the program of study, the level of study (undergraduate or postgraduate), the student's residency status (local or abroad), and any available scholarships or financial aid, can affect the cost of attending Royal Melbourne Institute of Technology.
International students' tuition for undergraduate programs might, on average, cost between AUD 30,000 and AUD 40,000 per year. The annual expenses for postgraduate studies can range from about AUD 33,000 to AUD 45,000.
Domestic students may be qualified for Commonwealth-sponsored spots, which could result in a large tuition fee reduction. Government rules and program structures may have an impact on the specific costs for domestic students.
It is crucial to remember that tuition costs are subject to change, so it is advised to check the university's official website or get in touch with their admissions office for the most precise and recent information.
Read Also: AAPG Grants-In-Aid 2023 | Details
Do students have access to financial help or scholarships?
Yes, Royal Melbourne Institute of Technology provides a variety of financial aid programs and scholarships to help students succeed in their academic endeavors. These include awards for academic distinction, equity awards for underprivileged students, awards for particular fields of study, and scholarships for international students.
Royal Melbourne Institute of Technology also offers financial assistance through government programs, including the Higher Education Loan Program (HELP) of the Australian Government for domestic students and several international student scholarships.
For specific information on available alternatives and how to apply, it is advised to check RMIT University's official website or get in touch with their scholarships office. The eligibility requirements, application procedures, and deadlines for scholarships and financial aid can vary.
How long are Royal Melbourne Institute of Technology's undergraduate and graduate programs?
Depending on the particular program and level of study, the length of RMIT University's undergraduate and graduate programs can change. Generally speaking:
1. Undergraduate programs: RMIT's undergraduate degrees typically take three to four years to complete when studied full-time. Due to additional requirements for professional accreditation, some programs, such as specific engineering or architecture degrees, may last longer.
2. Postgraduate programs: Master's degrees, graduate diplomas, and graduate certificates are all postgraduate programs that typically require one to two years of full-time study. However, certain programs can be finished in a shorter amount of time by enrolling in them part-time.
It is significant to remember that program lengths can actually change based on things like study load, credit for prior learning, and particular program criteria. For accurate and current information on program lengths, students should reference the official Royal Melbourne Institute of Technology website or get in touch with the appropriate faculty.
At RMIT University, what is the student-to-faculty ratio?
The ratio of students to faculty members at a university is known as the student-to-faculty ratio and can be used to gauge how much individualized attention and support are provided to students.
While the specific student-to-faculty ratio can vary across different programs and disciplines, RMIT University is devoted to offering students a high-quality educational experience. As such, it works to maintain a suitable ratio that fosters efficient teaching and learning.
To meet the needs of its students, the institution employs a variety of academic staff members, including full-time professors, associate professors, lecturers, and tutors.
to the requirements of its student body. Contact the appropriate school or department at RMIT University to learn the real student-to-faculty ratio.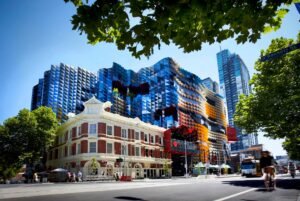 Are there any internship or job placement opportunities at RMIT University?
Yes, Royal Melbourne Institute of Technology places a high priority on giving its students chances for industry interaction and hands-on learning. Through internships, work placements, and industrial projects, students can obtain significant real-world experience thanks to the university's excellent relationships with business partners from a range of industries.
Depending on the curriculum, internships and work placements may be required or elective opportunities for students to develop their abilities and apply theoretical knowledge in a professional setting. These opportunities can give students useful contacts in the industry, useful skills, and a competitive edge in the employment market.
Students can secure internships and job placements that fit their career goals thanks to RMIT's committed career development programs and industry relationships.
Are there chances for students to conduct research at RMIT University?
Yes, Royal Melbourne Institute of Technology is a recognized research institution that offers both undergraduate and graduate students research opportunities. The university has a strong emphasis on research in many areas, including business, social sciences, engineering, and technology.
Undergraduate students can participate in research projects given in their particular area or through programs like the Bachelor of Applied Science (Research).
Royal Melbourne Institute of Technology provides research degrees at the postgraduate level, including the Master of Research and Doctor of Philosophy (Ph.D.), which give students the chance to conduct their own independent research while receiving expert mentoring.
Students have the chance to participate in cutting-edge research projects, work with business partners, and improve knowledge in their respective subjects at RMIT's research centers and institutes.
Read Also: What are the Ethics of Using Paper Writing Services?
What services and tools are offered to students at RMIT University?
In order to promote students' academic growth, independent study, and overall university experience, Royal Melbourne Institute of Technology offers a wide range of facilities and resources. These consist of:
1. Access to vast collections of books, journals, digital resources, and specialist databases is available through the libraries at RMIT. Additionally, they provide computer facilities, study rooms, and assistance with research.
2. Workshops and Laboratories: RMIT offers workshops and laboratories that are well-suited to particular fields, such as engineering, science, design, and technology. Students can conduct real-world experiments, work on research projects, and engage in experiential learning thanks to these resources.
3. Studios & Creative Spaces: RMIT provides purpose-built studios, workshops, and specialized equipment to assist creative and practical initiatives for students studying art, design, and media.
4. Technology & Computing Facilities: To support programs that call for digital and technological abilities, the university offers computer labs, software resources, and access to cutting-edge technology and equipment.
5. RMIT's campuses are equipped with cutting-edge classrooms, lecture halls, collaborative learning areas, and specialized facilities that are meant to improve the learning process.
6. Sports and Recreational Facilities: To encourage students to lead healthy, active lifestyles, RMIT provides sports and recreational facilities such gyms, sports courts, fitness centers, and outdoor areas.
7. The institution offers a variety of support services to help students with their academic, personal, and professional growth. Counseling, academic help, support for people with disabilities, career counselling, and multicultural support are among these services.
These are just a few of the numerous amenities and tools RMIT University offers students in an effort to foster a stimulating and encouraging learning environment.
Do students at RMIT University have housing options?
Yes, Royal Melbourne Institute of Technology has housing alternatives available for students, especially for those who are new to Melbourne or seeking out practical living close to the campuses. In addition to university-managed dormitories and linked private housing options, RMIT's Student Housing Services offers a variety of lodging options.
The specially constructed houses operated by the university are situated within easy driving distance of the universities. Along with numerous amenities like study rooms, public areas, and recreational facilities, these houses provide a welcoming and inclusive community setting.
Additionally, RMIT works with other suppliers to give a wider selection of off-campus housing choices, including as shared apartments, homestays, and private rental homes. Based on their interests and budget, the Student Housing Services team can help students discover suitable housing.
It is significant to remember that housing options may not always be available, thus applying early is advised to ensure desired housing options.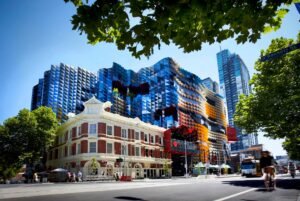 Can students from other countries apply to RMIT University?
International students are welcome to apply at RMIT University. The university's community is diverse and welcoming, and it includes a sizeable number of students from different international countries.
Under the condition that they fulfill the unique entrance requirements and English language competency standards, international students are eligible to apply to RMIT for both undergraduate and postgraduate programs.
For international students, RMIT offers specialized support services, such as orientation workshops, visa help, academic support, and cultural integration activities. The international student support staff may provide advice on things like finding housing, purchasing health insurance, and becoming accustomed to living in Melbourne.
It is advised to check the official website of RMIT University or get in touch with their international student office for comprehensive information on admissions and support for international students.
What kind of assistance is offered to students at RMIT University?
Royal Melbourne Institute of Technology provides a wide variety of support services to help students succeed in their academic endeavors. These programs are designed to help students succeed academically and build their careers. RMIT offers a variety of support services, some of which are:
1. Academic Support: RMIT provides academic support services such tutoring, training on study techniques, help with academic writing, and library research aid. These services support students in developing their capacity for learning and achieving academic success.
2. Services for counseling and wellbeing: The institution offers private therapy to promote the mental health and wellbeing of its students. Individual counseling, group therapy, courses, and referral services are all provided by qualified counselors.
3. Disability Support Services: To ensure equal access to education, RMIT provides support services for students with disabilities or medical problems. These services include exam accommodations, note-taking assistance, assistive technology, and reasonable adaptations.
4. Services for Career and Employability: RMIT offers specialized services for career development that help students discover their career interests, hone their job search techniques, and network with employers at career fairs, workshops, and industry events.
5. Support for Cultural Diversity: RMIT supports students from varied cultural and ethnic backgrounds and values diversity. These services include networking opportunities, language and cultural assistance, and orientation workshops.
6. RMIT provides advice and assistance on legal and financial issues, like as budgeting, student visa concerns, and access to emergency financial aid programs.
7. Student Leadership and Engagement: RMIT offers opportunities for students to participate in clubs and organizations, volunteer work, leadership development programs, and community engagement initiatives.
These are just a few illustrations of the assistance programs offered by RMIT University. The institution wants to foster a culture that is encouraging and inclusive so that students can succeed in their academic, personal, and professional endeavors.
Read Also: Babson College Acceptance Rate and How To Get In Easily
Is there a career services division at RMIT University?
Yes, Royal Melbourne Institute of Technology offers a specific department for career services that aids students in developing their careers and making the transition from school to the workforce. The RMIT Careers and Employability team provides students with a wide range of services and tools to aid in career exploration, the development of job search techniques, and networking with employers.
The team working on careers and employability offers a variety of services, such as:
1. Students can take advantage of one-on-one career consultations to talk about their goals, get tailored guidance, and create career plans.
2. Workshops and Events: To improve students' employability abilities, the department sponsors seminars, industry events, and workshops on topics like networking, interviewing, and resume writing, and methods for finding a job.
3. Opportunities for Employment and Internships: The career services team at RMIT keeps in touch with a large network of employers and posts employment and internship listings online. These chances are available to students, who may then apply for the appropriate jobs.
4. Industry Engagement: The institution supports activities that give students useful insights into the working world and networking possibilities, such as industry panels, guest lecturers, and mentoring programs.
5. Career Fairs and Expos: RMIT organizes career fairs and expos that bring together employees from different industry and college students. These occasions give students the chance to speak with prospective companies face-to-face, research career options, and look for employment or internship opportunities.
6. Online Resources: The university's website and career portal both offer access to RMIT's online resources, which include resume and cover letter templates, industry insights, career development guides, and recommendations for preparing for interviews.
Whether a student is considering a career path, looking for an internship, or getting ready for the job market after graduation, the Careers and Employability team wants to support them.
Do students have the option to study abroad or take part in exchange programs?
Yes, Royal Melbourne Institute of Technology gives students the chance to study abroad and take part in exchange programs with international partners. Students who participate in these programs have the opportunity to learn about many cultures, develop global perspectives, and widen their intellectual horizons.
RMIT has collaborations with colleges and universities across the globe, including those in the US, Europe, Asia, and beyond. Students can take part in semester- or year-long exchange programs through these agreements, where they can take courses related to their area of study while immersed in a foreign intellectual and cultural setting.
Additionally, RMIT provides semester breaks for students to participate in rigorous academic experiences and cultural immersion through short-term study abroad programs and international study tours.
A study abroad or exchange program can be a life-changing experience for students, promoting global perspectives, intercultural understanding, and personal growth.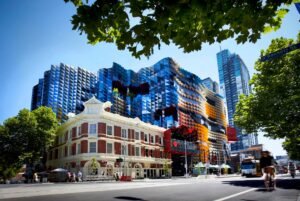 Has RMIT University built up a solid alumni base?
The alumni network of RMIT University is substantial and active. RMIT Alumni are former students who have graduated from the university's many academic fields and programs.
For graduates, the RMIT Alumni network provides a variety of advantages and possibilities, including:
1. Networking: Alumni can get in touch with fellow grads through social and professional networking events, online, and through associations for certain industries. Alumni can increase their employment prospects and forge vital professional relationships thanks to networking activities.
2. RMIT Alumni gives graduates access to professional development programs, quick courses, and workshops so they can keep learning and improving throughout their careers.
3. Career Support: The alumni network provides services for supporting one's career, such as job boards, career counseling, mentorship initiatives, and opportunities only available to alumni. These tools help recent grads navigate their career trajectories and look for new work opportunities.
4. Events and Reunions: RMIT Alumni plans events, reunions, and guest speaker series to give alumni the chance to interact with students, exchange stories, and maintain relationships.
5. Benefits and Services: Graduates are eligible for a variety of benefits and services, including access to campus amenities, library privileges, savings on additional education, and special offers from partner organizations.
With the help of the RMIT Alumni network, graduates can maintain links with the university community and other alumni for the rest of their lives. This helps the institution continue to succeed.
What percentage of RMIT University graduates are employed on average?
Graduates from Royal Melbourne Institute of Technology have a solid reputation for being highly employable in their disciplines. The institution places a strong emphasis on real-world learning experiences, industry interaction, and career development, all of which improve graduates' employability.
RMIT typically produces good graduate employment outcomes, despite the fact that precise employment rates can vary across different degrees and fields.
The university places a great emphasis on providing students with relevant information and skills, and these links with business partners help its alumni succeed in the labor market.
The Careers and Employability division at RMIT offers assistance to students and graduates in order to improve their employability, look into career options, and make connections with possible employers. These services, along with the university's solid industry connections, help RMIT graduates find work more easily.
It is crucial to remember that individual factors such as the state of the labor market, specific skills and qualifications, and career objectives can also have an impact on employment results.
Read Also: Avondale University Acceptance Rate Tuition And Ranking 2023
What clubs and organizations are offered for students at RMIT University?
To enrich students' university experience and offer chances for personal growth, social involvement, and pursuing shared interests, RMIT University provides a wide choice of extracurricular activities and student organizations. These initiatives and groups serve a variety of niches and comprise:
1. Student Clubs and Societies: RMIT boasts a thriving student club scene with a wide variety of clubs and societies that cater to a variety of passions and interests, including clubs for sports, academics, special hobbies, and the arts. For students, these groups include social gatherings, workshops, contests, and networking opportunities.
2. RMIT offers sports and fitness facilities where students can engage in extracurricular activities, sign up for sports teams, and access fitness programs and equipment. Through its sports and recreation initiatives, the institution promotes healthy living among its students.
3. RMIT encourages students' artistic and creative endeavors by offering events including art exhibits, musical concerts, theatrical shows, and movie screenings. For students interested in visual arts, music, theater, and other creative subjects, the institution maintains designated areas and programs.
4. Leadership and Volunteering: RMIT provides programs to help students develop their leadership abilities, become involved in the community, and have a good effect. These initiatives encourage students to assume leadership roles, engage in volunteer work, and support social concerns.
5. Media & Publications: RMIT has student-run media outlets and publications that give students interested in journalism, radio, writing, and graphic design a place to showcase their work. By contributing essays, images, and artwork to these periodicals, students can receive practical experience in media and communications.
These are only a few examples of the clubs and extracurricular activities offered at RMIT University. The institution actively encourages its students to get involved and make the most of their free time by taking part in pursuits that reflect their hobbies and areas of interest.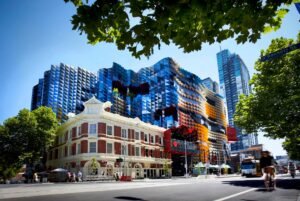 Can students use RMIT University to access research and industrial partnerships?
Yes, Royal Melbourne Institute of Technology gives students the chance to engage with research and industry partnerships, fostering fruitful alliances and real-world learning opportunities. Students can participate in projects, internships, and work-integrated learning experiences that bridge the gap between academia and the working world thanks to the university's excellent relationships with business partners and research institutions.
Students can work on cutting-edge research projects alongside top researchers, business professionals, and other stakeholders through research partnerships. These opportunities give students practical research skills, exposure to business procedures, and the chance to develop knowledge in their chosen subjects.
In order to give students access to practical job experiences, internships, and placements, RMIT actively promotes industry relationships. Through these collaborations, students are able to develop marketable skills, expand their professional networks, and improve their employability.
The university's research centers, institutes, and innovation hubs act as meeting places for academics, business partners, and governmental organizations. These platforms give students the chance to engage on interdisciplinary projects, collaborate with experts in the field, and generate ground-breaking responses to contemporary problems.
RMIT University wants to provide graduates with practical skills and industry knowledge by putting students in touch with research and industry partnerships, and research skills, setting them up for prosperous careers and significant contributions to their fields of specialization.
Recommended
What major accomplishments or awards has RMIT University received?
RMIT University has made a lot of noteworthy progress and has been praised for its innovative programs, industrial participation, research achievements, and academic excellence. RMIT has received praise for a number of important accomplishments, including:
1. RMIT routinely ranks among the best universities in the world according to the QS World University Rankings. RMIT is one of the top 300 universities in the world according to the QS World University Rankings.
2. Industry Engagement: RMIT is renowned for its solid ties to business partners and dedication to giving students hands-on learning opportunities. The university has won praise for its work-integrated learning programs and curriculum that is industry-engaged.
3. Excellence in Research: RMIT has significantly influenced a variety of subjects of study. The institution is renowned for its research prowess in fields including social sciences, advanced manufacturing, design, and information and communication technology.
4. Excellence in Design: RMIT's design programs have won praise on a global scale. Graduates in design from the university have won honorable mentions and distinction in exhibits and design competitions.
5. Leadership in Sustainability: RMIT has received praise for its dedication to environmental responsibility and sustainability. The institution has put in place a number of sustainability efforts, such as eco-friendly campus policies, studies on eco-friendly technologies, and campaigns to raise environmental awareness.
6. Innovation and entrepreneurship: RMIT promotes a culture of entrepreneurship and assists with student invention. The university has won praise for its entrepreneurship programs, business incubators, and campaigns encouraging students to adopt an entrepreneurial mindset and skill set.
7. Creative Arts and Media: RMIT's programs in the creative arts and media have won praise for their excellence and creativity. Graduates from the university have found success in a variety of creative fields, including digital media, animation, cinema, and television.
These are only a few of the important accomplishments and awards that RMIT University has received. The university is positioning itself as a top institution both domestically and abroad by pursuing excellence in research, education, industry engagement, and innovation.
SEE ALSO:
Trust you found our article on RMIT University Review | Rankings, Fees, Tuition, Scholarships & Courses 2023 helpful. Follow our website for more interesting articles.