The topic's tittle says "best music production schools in the world", yes that what we have got to discuss here in full detail. It takes enthusiasm and the right instruction to set out on a quest to learn the craft of music creation. The importance of talented music producers is growing as the global music market continues to change. In this situation, choosing the best educational setting can have a big impact on one's career path. The investigation that follows delves into a compiled list of the top 17 best music production schools in the world, providing a thorough assessment of each institution's unique attributes, curricula, professors, and connections to the industry.
This compilation seeks to help prospective music producers, sound engineers, and aficionados in making educated selections about their educational endeavors. It includes renowned institutions with decades of expertise as well as cutting-edge academies embracing the most recent technology breakthroughs. These institutes encourage students' creative development in addition to technical knowledge, allowing them to carve out niches for themselves in the always changing musical world.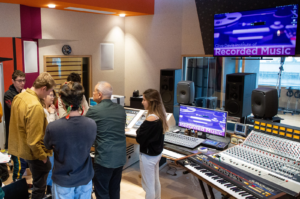 What Characterizes the Best Music Production Schools?
A great music production school is distinguished by a number of characteristics that together make for an extraordinary educational setting. These elements include highly qualified teachers, cutting-edge facilities, a thorough curriculum, connections to industry, and a track record of generating successful graduates.
Due to their esteemed staff, which includes producers who have won Grammy awards and members of the music industry, prestigious universities like Berklee College of Music and Full Sail University are frequently regarded as being among the best. Modern studios and tools, like those at Abbey Road Institute, encourage practical learning. It is crucial to have a thorough curriculum that combines theory and application, as well as strong industry linkages to offer networking opportunities and practical experiences.
What Courses and Specializations Are Offered by These Institutions?
The greatest music production colleges provide a wide range of specialities and programs designed to fulfill the various demands of students. Bachelor's and master's degrees are offered, as well as diplomas and certificates. A wide range of courses, including audio engineering, electronic music creation, and live sound, are offered at institutions like SAE Institute.
Icon Collective specializes in modern music production, sound design, and artist development, whereas Berklee College of Music is renowned for its music production and engineering degree. With the help of these specialized programs, students are certain to acquire a focused education in the sector of their choice, allowing them to excel in particular facets of music production.
How Do Alumni Success and Industry Connections Affect a School's Reputation?
A music production school's reputation is heavily influenced by alumni achievement and industry ties. Institutions having close ties to the music business provide students with exceptional chances for networking, mentorship, and internships. Students have access to real-world studios and professionals thanks to the London School of Sound's partnerships with important studios like Abbey Road Studios.
The reputation of alumni, their successes, and their contributions to the field indicate the quality of the institution. For instance, Full Sail University may point to a long list of accomplished alumni, such as Grammy-winning producer Mark Ronson and Oscar-winning sound mixer Gary Rizzo, as evidence of the high caliber of its programs.
Read Also: 10 Best Cosmetology Schools In The US
How Do Schools Incorporate Innovation and Technology?
Staying current with technological developments is essential in an industry that is always changing, like music creation. The best music production schools take pleasure in incorporating cutting-edge technology and creative instructional strategies into their programs. Schools like Point Blank Music School provide classes in Ableton Live music creation, reflecting the industry's penchant for cutting-edge software.
Additionally, universities like MIDI Institute place a strong emphasis on music technology and digital audio workstations (DAWs) as essential elements of their curricula. This integration makes sure that students graduate not just with creative abilities but also with knowledge of the tools that are now influencing the landscape of music production.
How Are These Schools Recognized and Ranked Around the World?
A music production school's position within the educational environment can be measured objectively by looking at its global rankings and recognition. The music technology degrees offered by universities like the Royal College of Music, which is frequently listed among the best conservatories worldwide, are well known.
The fact that Berklee College of Music consistently appears on lists of the top music colleges attests to the institution's reputation as a globally known one. The renown of New York University and its outstanding standing in the arts helps the Clive Davis Institute of Recorded Music at NYU Tisch School of the Arts. Prospective students looking for colleges with a track record of providing high-quality education might use these rankings as a guide.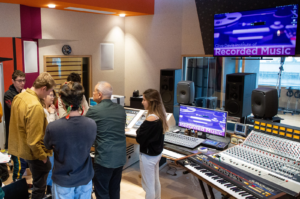 List Of 17 Best Music Production Schools in the World
From This Line Is The List Of Best Music Production Schools in the World
1. Berklee College of Music
One of the best music production schools in the world is Berklee College of Music. It is a private music school with a campus in Valencia, Spain, and is based in Boston, Massachusetts. It is well known throughout the world for being one of the top music production programs available. As a highly regarded music school, its graduates have won 310 Grammy Awards as well as other illustrious accolades in the music and entertainment fields, including 108 Latin Grammy Awards, 34 Emmy Awards, and 7 Tony Awards.
Rock, hip hop, reggae, salsa, and heavy metal bluegrass are among the many music programs available at Berklee College, which is primarily known for its jazz and modern American music classes. One of the greatest in the world, its bachelor's program in music production and engineering. Students will be given the greatest equipment to advance their knowledge in music engineering, production, editing, mixing, mastering, and recording, and the school will teach them the skills and procedures to adapt to new situations and overcome obstacles in the contemporary music and recording industry.
The school also provides a distinctive Master in Music Production, Technology, and Innovation degree for those looking for advanced study in music production. The depths of music technology, electronic musicianship, and music production will be explored by exposing students to more intensive training and project-based learning.
Read Also: Nanyang Technological University (NTU) – About, Tuition, Admission
2. SAE Institute
With about 54 linked campuses across 21 different countries, SAE Institute is one of the best music production schools in the world. Numerous music and creative media courses are available there, including those in audio engineering, 3D animation, multimedia, graphic design, game design, digital filmmaking, and music production.
Students who want to enroll in a full-degree program in music production must check to see if it is offered on the SAE Campus in their native country, or they may decide to study abroad. With the most up-to-date equipment and cutting-edge facilities, this great music production school ensures that it will educate and nurture people to become the best music producers in the business.
3. Full Sail University
Small-scale, for-profit Full Sail University is a music school located in Winter Park, Florida, it is one of the best music production schools in the world. It offers a wide range of academic degrees in business, sports, technology, media and communication, cinema and television, game development, music, art, and design. Both online and live sessions are available for music producing courses.
Along with providing them with the necessary information and abilities to fulfill the demands of the rapidly evolving modern music industry, the school will comprehensively expand students' understanding of music composition and production. Students who attend Full Sail University will receive a comprehensive education that covers digital audio fundamentals, digital workstation technologies, advanced audio production, and engineering methods.
4. BIMM Institute
Eight sites of the comprehensive music school known as the British and Irish Modern Music (BIMM) Institute are located throughout England, Ireland, and Germany. It provides interdisciplinary music programs with concentrations in songwriting, popular music performance, electronic music creation, and joint lessons in popular music performance and music business, making it top the list of best music production schools in the world.
A top-notch institution for music production, BIMM is dedicated to giving students real-world experiences as a method of learning. Students at BIMM will be on the correct track to building a special skill set and knowledge in music production to thrive in the industry because their staff and professors work with the greatest names in the music business.
Read Also: About The University of Limerick (UL), Acceptance Rate, Tuition, Admission
5. Point Blank School of Music
One more of the best music production schools in the world is Point Blank School of Music. For music production, sound engineering, DJing, singing and songwriting, as well as other relevant creative media courses, it is a top-leading music and creative media institution. The school started in London in 1994 before opening training centers there, as well as in Los Angeles, China, Ibiza, Mumbai, and online.
It provides numerous undergraduate music production degree programs with a focus on sound engineering, DJ performance, and vocal performance. The school guarantees complete instruction and intensive training for students in music production thanks to its cutting-edge facilities, cutting-edge equipment, and world-class teachers.
6. JMC Academy
A premier private school for music production and creative entertainment, the John Martin Cass Academy School of Creative Industries has campuses in Australia's thriving cities of Sydney, Melbourne, and Brisbane. The institution has long provided top-ranked national and international specialist courses in music production.
This top-notch school for music production offers students access to top-notch recording studios, post-production tools, and sound and TV studios. The academy also guarantees that its students will create original musical ideas, have a deeper comprehension of the fundamentals of music and recording production, learn how to use music technology, and hone their recording and music software skills. Students will receive individualized instruction from professionals in the field and engage in project-based learning by writing their own songs and productions.
7. Academy of Modern Music
In 1995, the Academy of Contemporary Music, or ACM, was established, and is know to be one of the best music production schools in the world. If you reside in the United Kingdom, you can select from their Birmingham, London, and Guildford sites.
In addition to helping you realize your full potential, ACM's music programs completely immerse you in the music business. It has state-of-the-art facilities, an outstanding faculty, and close ties to the music business. ACM takes pride in its links with the industry as one of the top music production schools in the world, which may be essential when looking for a music profession.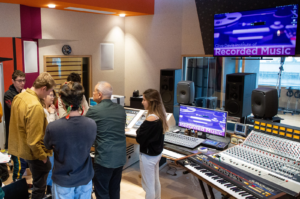 8. New York University-Steinhardt
New York University-Steinhardt is a renowned leader in the field in terms of technology, knowledge, and research. It is one of the best music production schools in the world. They offer more than 40 courses, including ones in audio engineering, multimedia creation, and sound engineering software development. The degree programs in music provided here are very competitive in terms of music production and technology.
Marketing and the music business are two topics covered by music students. Premier recording studios, music production firms, jazz clubs, theaters, and symphonies are all accessible to NYU students. The facilities include of thirteen studios, one of which is the 7,500 square foot James L. Dolan Music Music Studio.
9. American University, Washington, D.C.
One of the top universities in the nation for audio production, and of the best music production schools in the world is American University. If you're a musically inclined student, you may choose to focus on classical music, audio engineering, or audio production. You will have the chance to work with the right tools, regardless of the direction you take in content or audio production.
When you attend classes at American College, you'll have access to top-notch facilities and lectures from knowledgeable business professionals. American University is the place to be whether you're seeking a bachelor's, master's, or undergraduate credential. They offer several technical rooms for your use, including three mixing board control rooms that are completely furnished. A live recording area and a post-production editing room are also featured.
10. Liveschool in Sydney
Liveschool is an additional location dedicated completely to music production, known to be one of the best music production schools in the world. The first Ableton Approved Training Center is located in Sydney and specializes in teaching Ableton Live courses. They place a strong emphasis on using that production software in particular to build producers' skill sets.
Although this would appear to be a disadvantage, their specialist knowledge and work with Ableton provide them a clear advantage. Liveschool has honed its curriculum over the past 16+ years and grown to be a well renowned music production school. It provides students with the knowledge required to create commercially viable music through a variety of thorough training programs and Ableton-specific modules.
Produce Music is one of their main production courses; it can be taken on-campus or online, full- or part-time, and lasts 42 to 50 weeks. There is a 6-week long, rigorous parallel course as well. You should be informed that these classes can only hold a maximum of 9 students. Therefore, if Liveschool is your preferred choice, submit your application as soon as you can.
Read Also: Top 10 Universities in Vienna 2023
11. Pyramind
For good reason, Pyramind has consistently produced some of the best electronic music. They help you get ready for the workforce by offering top-notch DJing and music producing training. Your introduction to music composition is provided via their signature course, "The Complete Producer," which is both comprehensive and interdisciplinary. Among other things, you'll discover how to create music for both bands and films.
Additionally, the online edition, which costs about one-tenth as much, extends comparable concepts.
12. Point Blank School of Music
The Point Blank Music School, a renowned institution for teaching music creation, was founded in 1994 and has campuses in London, the US, China, Ibiza, and other locations. Both undergraduate and graduate levels can choose from a variety of music programs, this is yet another big players when it comes to the best music production schools in the world.
Here, students get access to a more contemporary method of instruction. They have excellent facilities that are geared to promote high-quality learning in the sector. Due to the fact that they provide courses to all students, they have recently developed a fantastic student community on a global scale.
13. Los Angeles' Icon Collective
Icon is one of the most prestigious schools for the creation of electronic dance music, and as well one of the best music production schools in the world, thus many people want to attend. The institution is firstly famous for its challenging curriculum. You won't waste time enrolling in classes that are useless because Icon Collective is primarily known for creating electronic music.
It is an online music school with a Los Angeles presence that develops your creative approach while teaching you the fundamentals of the craft. At ICON, there is a course for any music producer, whether they want to enroll full-time or just brush up on the basics. Mentorships with subject-matter experts also provide you with access to useful information and help you customize your musical education.
The length of the programs ranges from 12-hour per week, two-month introductory courses to 30-hour per week, 18-month courses.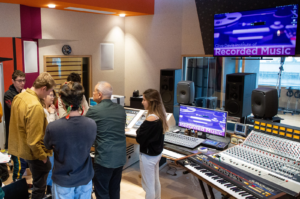 14. Carnegie Mellon University
The Department of Electrical and Computer Engineering, the School of Music, and the School of Computer Science have joined forces to offer Carnegie Mellon University's Bachelor of Music and Technology program. Pro-Tools, audio engineering, computer music, composition, performance, and recording technology courses are offered to undergraduates.
A Master's degree in music and technology is also available, allowing students to study computer music systems, instrument design, composition, or performance with the aid of technology. This music production school also offers a course in musical robotics, in which computers replace electromechanical instruments.
15. Middle Tennessee State College
Nashville, commonly known as "Music City," offers state-of-the-art facilities and access to the leading figures in the music business, which is advantageous for the Department of Recording Business at MTSU. The curriculum is consistently ranked among the top 10 U.S. institutions for sound engineering and the music business by Billboard Magazine.
In this highly regarded music institution, two of the most comprehensive audio engineering degrees in the country are offered. They provide an MSc in Fine Recording Arts and Technology in addition to a Bachelor of Science in Audio Production. Undergraduates who desire to major in audio production can potentially pursue careers in computer science, entrepreneurship, or video and film creation.
16. New York University
It almost seems obvious that the world's finest music production school is developing in a city that never sleeps. Both universities are thought to be among the best in the world, and they each have a distinct area of expertise. The Clive Davis Institute at New York University employs a method like this one that strikes a balance between entrepreneurship and creativity.
No of where they stand on the issue, education is the goal of our school. Because it understands that music production is a multifaceted beast with many moving parts, New York University directs you in a route that suits your skills and goals.
Recommended
17. Catalyst, Berlin
At Berlin's magnificent Funkhaus, take classes in electronic music composition and performance to uncover, nurture, and celebrate your creative musical self. Acting, sound design, filmmaking, special effects, and composition of sound and music. Catalyst is a fantastic music production school for personal growth as well, emphasizing development beyond only technical abilities.
High-end equipment is available to music students in their recording studios, which place a strong emphasis on practical instruction to help them develop their audio engineering skills.
SEE ALSO:
Trust you found our article on List Of 17 Best Music Production Schools in the World helpful. Follow our website for more interesting articles.