Here in this article we are going to deal with the top 8 Cheapest Universities in Slovenia, Admission, types of training and lot more. Slovenia isn't the type of country that often rates as a top study abroad destination for international students.
In fact, most people are unlikely to be able to locate it on a map. Slovenia/Universities in Slovenia, however, are excellent study abroad choices, as is the case with many European countries.
Slovenia offers students a wide range of perks in addition to low tuition universities, and the country has a wonderful blend of nature and urban areas, so everyone—tourists and students alike—will like living here.
More than 4,000 international students attended public tertiary institutions alone in 2018. These figures are increasing at the speed of light! Let's take a look at some of Slovenia's most affordable universities.
Academic education and professional or vocational education are the two types of Universities in Slovenia. The latter is substantially shorter, and its primary goal is to provide students with the tools and abilities they need to enter the job market sooner, based on the economy's specific demands.
All of these are available at both public and private universities.
for full-time students from Slovenia, the European Union, countries with which Slovenia has bilateral agreements, and those who are also protected by international law.
In all Universities in Slovenia, international students' tuition fees, on the other hand, are extremely low when compared to those imposed by colleges in other nations. Furthermore, regardless of nationality, education is paid for part-time and post-graduate students, and there is no difference in tuition costs for domestic and international students.
The low cost of living in Slovenia is another great reason to study there. Because the government subsidises their food, most restaurants offer discounts to students. Student dorms range in price from $100 to $170 per month, while a separate apartment would set you back $250.
In addition, Slovenia offers a diverse range of activities. Cultural events are held on a regular basis, and big cities have a thriving nightlife. You can go skiing or explore the large forests in the country's natural areas, or you can travel to other European countries nearby.
Because Slovenia is located in the heart of Europe, visiting other countries such as Germany will only take a few hours.
This article will cover the most relevant information for local and international students interested in enrolling in any of the Universities in Slovenia, including requirements, fees, and a list of the cheapest universities in Slovenia.
Read Also: CPR certification online free – Scholarship Hall
What do I need to study at a university in Slovenia as an international student?
Slovenia, as previously stated, has both public and private universities. Higher education institutes that are officially accredited but are not affiliated with any university are classified as private.
International students must fulfill important preliminary steps throughout the application process in order to enroll in any of these programmes.
The process begins on the "eV portal," regardless of whatever university you choose. You'll be able to fill out an application form with all of your personal information as well as the university and programme you want to attend.
You will also be able to submit all of the necessary criteria and papers. A video instruction is available to guide you through the procedure.
Another factor to consider is the language. Despite the fact that Slovenian is the country's official language, numerous Universities in Slovenia offer English-only courses.
You'll find several that allow you to choose from a variety of English courses. Most Universities in Slovenia offer language classes that you can take before starting your major if you want to take on a challenge and learn Slovenian.
If you are not a native speaker, you must present proof of language competency, whether it be English or Slovenian, once you have chosen a programme.
Read Also: 10 Free Homeschool curriculum with daily lesson plans 2022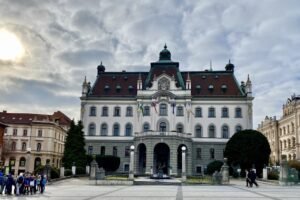 8 Cheapest Universities in Slovenia
1. University of Primorska (UP)
Tuition Fee: From USD 3,500 to USD 7,650 Per Year
In 2003, the University of Primorska, one of the newest Universities in Slovenia, was established in the southwestern city of Koper. This university has a library that is open to the public in addition to two research centers and student residences.
It has a website with a lot of digital books and a feature called "Ask a Librarian" where students can get quick and efficient answers to their questions.
Humanities, management, mathematics, natural sciences and information technology, pedagogy, tourism, and health sciences are the seven faculties that makeup one of the cheapest universities in Slovenia.
Tuition rates for full-time English-taught study programmes range from EUR 3,150 (USD 3,500) to EUR 4,500 (USD 4,950), with postgraduate degree programmes in the same language costing between EUR 3,255 (USD 3,550) and EUR 7,000. (USD 7,650 approx.), so the University of Primorska is indeed one of the top cheap Universities in Slovenia.
2. University of Nova Gorica (UNG)
Tuition Fees: From USD 3,000 to USD 6,500 Per Year
Second in our list of 8 cheapest universities in slovenia is the University of Nova Gorica (UNG), a low-cost university in Slovenia, is located in the cities of Nova Gorica (near the Italian border) and Gorizia in the western part of the country (an Italian northern town).
This feature distinguishes UNG as to of all intercultural universities in slovenia that allows students to learn about cultural centres in the surrounding country and to form or strengthen multicultural ties with international students.
Viticulture and enology, arts, engineering and management, humanities, sciences, environmental sciences, and graduate studies are the seven departments at UNG. It has 10 research institutes that focus on topics like as astrophysics and cosmology, wine, and information technology.
The flexible teaching technique known as E-UNG, which is a virtual tool for students to catch up on missed classes through videos, is an intriguing component of UNG. Students can also access the MiTeam site, where they can get relevant materials, lectures, and participate in video conferencing.
3. University of Ljubljana (UL)
Tuition Fee: From USD 3,300 to USD 16,500 Per Year
In 1919, the University of Ljubljana (UL) was established. It is the country's most major university, with 23 faculties and three academies spread around Ljubljana. Fine arts and design, architecture, law, mathematics and physics, medicine, social sciences, social work, theology, and many other fields are represented.
Every year, around 38,000 graduate and postgraduate students are educated at this low-cost institution in Slovenia.
The National and University Library of Slovenia, as well as the Library of the University of Ljubljana, are both general academic libraries at UL. Additionally, each faculty has roughly 50 libraries and Specialized Information Centers available to students.
Annual tuition prices for bachelor's degree programmes taught in English range from EUR 3,000 (about USD 3,300) to EUR 5,500. (USD 6,000 approx.). Medical programmes are more expensive, costing EUR 15,000 each (USD 16,500 approx.).
Master's degree programmes taught in English, on the other hand, range in price from EUR 3,000 (about USD 3,300) to EUR 11,000 (approximately USD 11,000). (USD 12,000 approx.). So with all this qualities you see that this institution is ofcourse among top cheapest universities in slovenia
Read Also: 10 Free Homeschool curriculum with daily lesson plans 2022
4. GEA College
Tuition Fee: From USD 6,000 to USD 8,500 Per Year
GEA College comes in fourth on our ranking of cheapest universities in Slovenia. A consortium of enterprises and private companies decided to establish a higher education institution in 1989 to provide education and training to future professionals. GEA College was founded at this time.
Two-year degrees in economics, accounting, catering and tourism, computer and information sciences, business administration, and social network organising are available at GEA College. It also provides a master's degree in business administration in addition to these degrees.
Tuition expenses for EU nationals range from EUR 5,550 (about USD 6,000) to EUR 6,450 (approximately USD 7,050) each year. Non-EU citizens will pay between EUR 6,850 and EUR 7,750 per year (about USD 7,500). (USD 8,500 approx.). They provide scholarships that pay the tuition fees to the tune of EUR 1,400 (about USD 1,550).
5. University of Novo Mesto (UNM)
Estimated Tuition Fees: From USD 2,200 to USD 4,500
The University of Novo Mesto (UNM) in our list of top cheapest universities in Slovenia comes the fifth. The institution was completely approved in 2017, making it one of Slovenia's newest higher education institutions. As a result, it still has a tiny student body of roughly 600 pupils.
This cheap university in Slovenia is divided into four faculties: health sciences, economics and informatics, mechanical engineering, and business and management sciences. It is located in the city of Novo Mesto. They award degrees at three different levels of study.
Read Also: Chronic Illness Scholarships for Students | Scholarship for any Medical Condition
6. Euro-Mediterranean University of Slovenia (EMUNI University)
Tuition Fee: USD 6,550 Per Year
The Euro-Mediterranean Institution of Slovenia (EMUNI University) was established in 2008 with the goal of becoming an international research university serving the Euro Mediterranean region. Four universities from Israel, Tunisia, Italy, and Slovenia collaborated to construct it.
All of this university's activities are geared on tackling issues related to the Union for the Mediterranean, which include human rights, culture, the environment, research, and migration.
Post-graduate education, short courses, and summer programmes are all available at EMUNI University.
7. Alma Mater Europaea – European Center Maribor
Tuition Fee: From USD 5,500 to USD 8,750 Per Year
Second to last in our list of top cheapest universities in Slovenia is the  Alma Mater Europaea – Europan Center Maribor. This  is a private university affiliated with Alma Mater Europaea, an international institution affiliated with the European Academy of Sciences and Arts. Its headquarters are in Maribor, although it also has buildings in other towns. It also has a branch office in Austria.
Humanities, business, ecology, social gerontology, project management, nursing, European studies, healthcare, and physical therapy are all available at this low-cost university in Slovenia. These are available at each of the three levels of higher education studies. There is also a Dance academy at this university that offers degrees and diplomas in dance.
The cost of an academic year of English-taught programmes ranges from EUR 5,000 to EUR 8,000. Slovenian and Italian versions of the programmes are also available.
Read Also: Best medical scholarships in canada for international students 2022
8. University of Maribor (UM)
Estimated Tuition Fee: From USD 2,000 to USD 4,500 Per Year
And the last in our list of cheapest universities in Slovenia here is The Institution of Maribor (UM), Slovenia's second-largest university after the University of Ljubljana, is the cheapest university in the country. It was created in Maribor, a city in eastern Slovenia recognised for its cultural and economic activity, in 1975. UM is ranked 49th on the list of the Best Central Eastern European Universities.
There are 17 faculties at this university, with programmes in the arts, tourism, organisational sciences, economics and business, civil engineering, transportation engineering, and architecture, among others.
The Maribor Library is the university's major library.
Furthermore, despite the fact that only Slovenian students are eligible to apply for a spot in the UM Student Dormitories, international students may be able to use them if they are awarded a scholarship by the Slovenian government or if their country of origin has signed a previous international agreement.
If they do, students will get access to a dormitory with furniture and internet access, as well as facilities such as laundry rooms and gyms.
The University of Maribor's Career Centre is an initiative that aims to organize activities, such as workshops and seminars, that allows students to familiarise themselves with the labor market in which they will work.
So when we talk of the top 8 cheapest universities in Slovenia, these institutions should be considered first then any other one can follow after.
Trust you found our article on 8 Cheapest Universities in Slovenia for International Students helpful. Follow our website for more interesting articles.