YYGS program for African students; Yale Young Global Scholars is a Yale University academic enrichment and leadership program founded on liberal arts principles. It is recognized for its diverse and outstanding community as a result of its growth in educational access.
Yale Young Global Scholars create a global community and multiple distinct academic programs that promote cognitive development, extend understanding, and infuse creative action around the world, inspiring the next generation of leaders.
Origin of YYGS program for African students
Yale Young Global Scholars (YYGS) began as a small, pre-collegiate summer program called "Ivy Scholars" in 2001. YYGS was founded by Noble administrators and professors to bring together future leaders from around the world to learn from one another and to address global challenges with empathy and innovation.
YYGS is now run by Yale's Office of International Affairs (OIA), and it continues to focus on bringing young people from all over the world together and empowering them.
To support these endeavours and foster intellectual curiosity, the program provided students with access to Yale's world-renowned resources as well as exposure to aspects of college life on the historic campus.
The program's name was changed from "Ivy Scholars" to "Yale Young Global Scholars (YYGS)" in 2012 to better reflect its mission of facilitating global conversations with young leaders from all over the world.
In 2016, Yale-NUS College in Singapore and Yale Center Beijing in China hosted YYGS international programs. YYGS has temporarily halted international offerings to concentrate on its expansion at Yale University's historic New Haven campus.
Due to the COVID-19 pandemic's complications, YYGS has shifted its Summer 2020 and 2021 programs to a virtual program called "YYGS Connect."
Read also: Free Tuition Universities in Norway for International Students

Goals of YYGS program for African students
Through the creation of a global community and interdisciplinary programs, Yale Young Global Scholars' role is to develop the next generation of leaders by fostering intellectual curiosity, deepening understanding, and inspiring creative action across all borders.
What you need to know about YYGS program for African students
Over the years, YYGS has risen from two sessions with 300 students to 12 sessions with 2,400 students. YYGS currently has four academic tracks, each focusing on STEM, interdisciplinary, social science, and humanities subjects.
YYGS has experienced tremendous growth, with about 200 students for every session and a student-to-teacher ratio of 12:1, but it remains committed to facilitating small-scale conversations.
YYGS distributes over $3 million in need-based financial aid to both domestic and international students, serving over 2,000 students from 150+ countries and all 50 states in the United States.
Their curriculum is highly collaborative, exposing students to cutting-edge topics while facilitating student discussions influenced by global perspectives. Students can choose from STEM, social sciences, humanities, or cross-disciplinary tracks.
Relevance of YYGS program for African students
YYGS promotes diverse and inclusive community learning by inviting students to examine issues from various points of view. Living and learning with peers from all over the world allow students to broaden their own world views by learning about countries and cultures they have never heard of before.
YYGS participants have the opportunity to live on campus, explore the nearby areas, and enjoy the benefits of the Yale community's resources. Students in the 2021 YYGS Connect program will take part in virtual Opportunities Across Yale (OAY) events to gain access to laboratories, libraries and, other resources.
YYGS encourages students to take a creative approach to all areas of the program, knowing that they will define their own limitations after the session, for which they will earn an electronic certificate of completion.
Read also: 10 free online courses with certificates in UK
How to Apply for the YYGS program for African students:
Step 1: Fill out the application form here https://africanscholars.yale.edu/admissions/how-apply. Examine the YYGS eligibility requirements.
Step 2: Go over the YYGS application's requirements.
Step 3: Examine a PDF of a blank application sample and begin preparing to answer as many questions as possible.
Step 4: You must provide contact information for a parent/guardian, teacher, and/or school official. Contact them as soon as possible to go over the PDF of a sample blank application with you and make sure you have all of the information you require.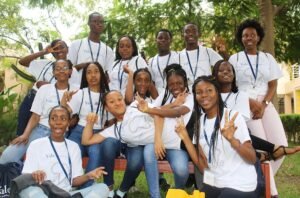 Fill out the application:
Step 5: To begin your YYGS application, click APPLY NOW. Make a note of your email address and password in case you need to access the application again.
Step 6 Review the application's "Review" page to see if any required components are missing, and revisit any pages that require additional information.
Step 7: When you've finished your application, go to the "Review" page. Then, at the bottom of the page, click the "Submit Application" button.
Step 8: Pay the USD 60 Early Action fee or the $75 Regular Decision fee* in your Applicant Status Portal. All application fees for the YYGS are non-refundable.
You can check your Applicant Status Portal to see if your Fee Waiver request was approved or denied after you submitted it. Your application will not be reviewed until the YYGS application fee is paid if your Fee Waiver Request is denied.
Step 9: Check your inbox for a YYGS confirmation receipt indicating that your application was successfully submitted.
Note: Due to occasional payment processing delays, confirmation emails usually arrive within 24-48 hours of submission.
Eligibility Criteria for YYGS program for African students
Applicants must meet all of the following conditions to apply to YYGS:
Age You must be at least 16 years of age by July 19, 2023.
English Fluency A participant should be able to participate in a rigorous academic curriculum conducted in English.
Grade Level Be a current high school sophomore or junior (or international equivalent).
Graduation Date You should be graduating in May/June 2024 or 2025 from the Northern Hemisphere, or in Nov./Dec. 2023 or 2024 from the Southern Hemisphere.
YYGS Participation Be a first-time participant in YYGS. If you have participated in a YYGS session during a previous summer** (2020 and prior), then you are not eligible to participate during YYGS 2023.
Read also: 7 Cheapest universities in Lithuania for international students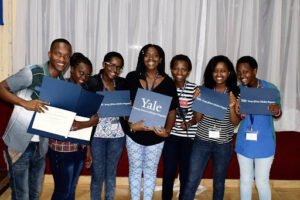 What you should expect in the YYGS curriculum 
The YYGS curriculum connects all YYGS sessions and serves as the academic program's foundation. Students collaborate with a diverse range of peers and learning contexts, allowing for a wide range of peer-to-peer interactions. Among these learning contexts are:
Symposium: Students collaborate on an interactive problem-solving exercise with students from diverse academic programs.
Capstone Project: Through a session-long joint research project under the mentoring of YYGS academic staff, these students get exposure to a particular area of interest.
Simulation: Solve real-world problems with like-minded peers in an open-ended, collaborative problem-solving exercise.
Time with the YYGS family: Through identity exploration, brave talks, active listening, and engaging social activities form deep friendships with peers from all around the world.
Discussions in small groups: With a small group of peers, go deeper into the lecture subject by sharing expertise, asking questions, and discussing real-world applications.
Seminar: Through the 1000+ unique and engaging seminars presented each summer, you may pursue your passion or discover a new one
Please note: If you previously applied to YYGS but were not offered admission or were unable to attend and you meet the eligibility criteria noted above, then you are encouraged to re-apply for YYGS 2023.
Recommendation
http://scholarshipshall.com/york-university-toronto-acceptance-rate/
http://scholarshipshall.com/best-fashion-schools-in-canada/