The University of California Los Angeles (UCLA) is a well-known institution of higher education known for its outstanding academic reputation and extensive history. Since its founding in 1919, University of California Los Angeles has grown to become a top public research institution with a large, beautiful campus in the middle of Los Angeles, California. With a dedication to diversity, UCLA cultivates a welcoming and vibrant community that draws students from all over the world.
The institution offers a transformative educational experience, empowering students with the knowledge and abilities to take on real-world difficulties. It has a comprehensive range of undergraduate, graduate, and professional programs. The eminent academics, Nobel laureates, and ground-breaking professionals who make up UCLA's faculty foster innovation and make substantial contributions to many different fields of study.
University of California Los Angeles continues to develop tomorrow's leaders and uphold its position as a leading institution globally by embracing cutting-edge research, ground-breaking discoveries, and an unrelenting focus to societal impact.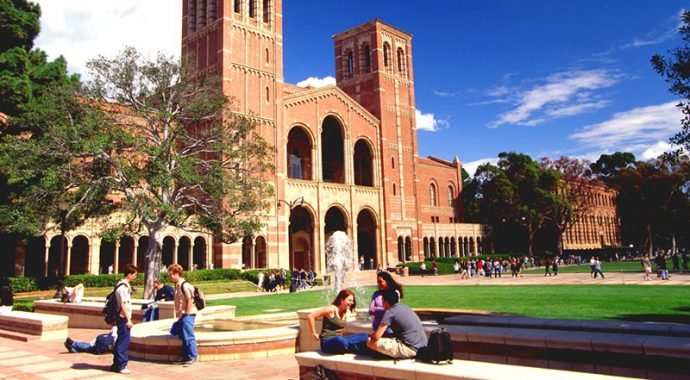 UCLA's Programs and Majors
University of California Los Angeles provides a wide selection of majors and programs in numerous academic subjects. The university has 12 esteemed schools, each of which specializes in a different field. The Herb Alpert School of Music, the School of Theater, Film, and Television, the College of Letters and Science, the School of the Arts and Architecture, the Graduate School of Education and Information Studies, and other institutions are among these. Engineering, social sciences, humanities, biological sciences, physical sciences, business, fine arts, education, and health-related disciplines are just a few of the academic specialties offered.
The largest undergraduate school at UCLA, the College of Letters and Science, provides a wide range of degrees, including but not limited to English, Political Science, Psychology, Economics, and Biology. Programs including mechanical engineering, computer science, and biomedical engineering are also offered at the Henry Samueli School of Engineering and Applied Science. While the David Geffen School of Medicine concentrates on medical education, the Anderson School of Management offers MBA and other business-related programs.
Read Also: Top Courses After 12th Commerce
Admission Requirements and Procedures
There is a tough but simple application process at UCLA. The University of California Application website must be used to submit applications during the appropriate application period, which is normally from November 1 through November 30 for the fall semester.
Official high school transcripts, SAT or ACT test results, letters of recommendation, and a personal statement are needed for admission. The submission of supplementary paperwork, such as the results of an English proficiency test (TOEFL or IELTS), may be needed of international applicants.
UCLA takes a comprehensive approach to admissions, taking into account applicants' personal achievements, extracurricular activities, leadership roles, and future contributions to the campus community in addition to their academic successes. Due to the university's low admission rate and high level of selection, the application procedure is competitive.
UCLA's Campus Life
Students can enjoy a dynamic and enriching experience thanks to UCLA's active campus life. Due to the university's location in Westwood, Los Angeles, there are several alternatives for entertainment, recreation, and culture nearby. Over 1,000 student organizations, including academic clubs, cultural organizations, sports teams, and community service programs, are available for students to join on campus.
Modern residence halls, cutting-edge research facilities, world-class libraries, and sports facilities may all be found on the University of California Los Angeles campus. Sporting activities, musical performances, theatrical productions, and celebrity and academic guest lectures are all available to students. In addition, the institution frequently conducts art exhibitions, film screenings, and cultural festivals.
The campus offers a welcoming and exciting atmosphere for students to study, mingle, and explore thanks to its spectacular views, lovely landscapes, and pleasant weather.
Read Also: 9 Cheapest Universities in Singapore for International Students | Check Now
University of California Los Angeles Student Diversity & Inclusion
UCLA is dedicated to supporting an inclusive and diverse campus community. The institution understands that diversity enhances the academic experience and helps students get ready for a global society. Students from a variety of origins, ethnicities, and identities are valued and supported at UCLA.
By planning workshops, training sessions, and events that address diversity and equity-related topics, the UCLA Office of Equity, Diversity, and Inclusion (EDI) seeks to build an inclusive campus environment. Additionally, the office offers resources and assistance to academics, staff, and students from underrepresented backgrounds.
In addition, the Cultural Affairs Commission (CAC), a student-run group, fosters diversity and cultural awareness through hosting events, inviting lecturers, and hosting performances that highlight other traditions and cultures.
Opportunities for Undergraduate Research
Numerous chances exist for undergraduate students to participate in ground-breaking research initiatives at University of California Los Angeles, which is famous for placing a high focus on research. The esteemed academics and researchers at the university encourage undergraduates to take part in their projects.
Students interested in research can get funding, support, and tools through the Undergraduate Research Center (URC). In addition to helping students locate research mentors and hosting research symposiums to present their discoveries, URC also provides workshops on research-related topics.
Additionally, University of California Los Angeles supports a number of research initiatives and programs in a number of fields, including STEM (Science, Technology, Engineering, and Mathematics), social sciences, and arts-related research.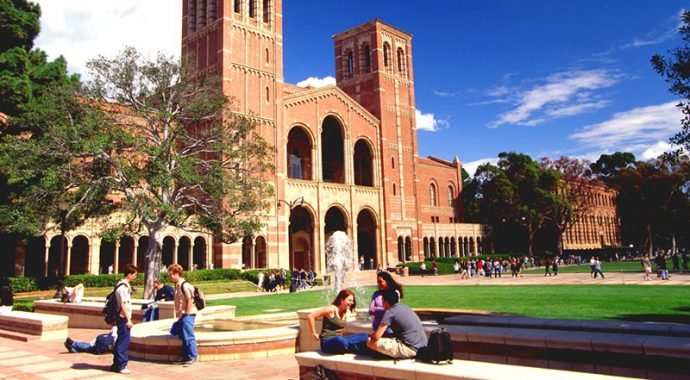 Resources for Career Development and Job Placement
The career center at University of California Los Angeles is a great resource for students looking for help with job placement and career development. The center provides a wide range of services, such as resume writing classes, practice interviews, career counseling, and networking gatherings. Additionally, they give customers access to job postings and internship opportunities via Handshake, an employment hub website.
At career fairs held by the Career Center, students can network with potential employers from a range of industries and look into internship and employment opportunities. Alumni frequently visit the campus to speak with current students about their careers and offer advice.
In addition, UCLA's robust alumni network is essential for linking graduates with employment opportunities and conducting networking events.
Admissions to and support for international students
University of California Los Angeles accepts applications from overseas students, and the university actively promotes international participation in its multicultural community. The application procedure is the same for both local and international students, however there may be further requirements, such as scores on an English language proficiency test (TOEFL or IELTS) for students whose first language is not English.
International students who have been accepted are given particular assistance by a number of offices and programs. The Dashew Center for International Students & Scholars provides information on immigration programs, cross-cultural activities, and academic and personal guidance. Additionally, the center plans activities to support international students' integration into the UCLA community and their networking with fellow students.
Recommended
Notable graduates and accomplishments At University of California Los Angeles
UCLA has an excellent list of well-known alumni who have excelled in a variety of professions. Some of the notable former students include:
1. Kareem Abdul-Jabbar, a philanthropist, social crusader, and former NBA basketball player.
2. Francis Ford Coppola, renowned filmmaker and mastermind of "The Godfather" trilogies.
3. Jackie Robinson, a well-known baseball player and civil rights advocate who broke down the color barrier in Major League Baseball.
4. Sally Ride is a scientist and the first American woman to travel into space.
5. Jim Morrison, the Doors' lead singer and a well-known rock performer.
6. Susan Wojcicki, the CEO of YouTube and a former employee of Google.
7. Gina Prince-Bythewood, a director best recognized for her work on "Love & Basketball" and "The Old Guard."
UCLA has made substantial contributions to research and innovation in addition to generating successful individuals in a variety of fields. Numerous Nobel Prizes and other important awards have been given to faculty and graduates for their ground-breaking discoveries and contributions to the humanities, arts, and sciences.
In general, UCLA's influence goes far beyond its campus, influencing world leaders, innovators, and changemakers.
SEE ALSO:
Trust you found our article on University of California Los Angeles | Programs, Admission, Scholarships & Tuition helpful. Follow our website for more interesting article.