How to write a Character Sketch: Examples & Worksheets in 2023: Every single person has at least one favorite character from the books they enjoy. This article will be teaching you how to write a character sketch. We frequently struggle to condense our favorite character into a few words, though.
Words never seem to be enough to capture the character's whole essence; they seem larger than life. The main characteristics, history, conduct, and nature of a given character are simply summed up in a character sketch.
So, if you're wondering how to create a character sketch, this blog has all the features, advice, and examples you'll need to create a fantastic one.
What is Character Sketch
Character sketches are short summaries of specific people or characters that readers can get a quick glimpse of in a piece of writing. Sharpening your observational skills is greatly aided by gaining some insight into how to compose a character sketch.
Your ability to summarize information will increase as a result of practicing character sketches; this will help you in a variety of exams. It is also one of the prerequisites for anyone wishing to work in education, English literature, or creative writing, among other professions.
Read Also: 57 Best Musicals For High School: All you need to know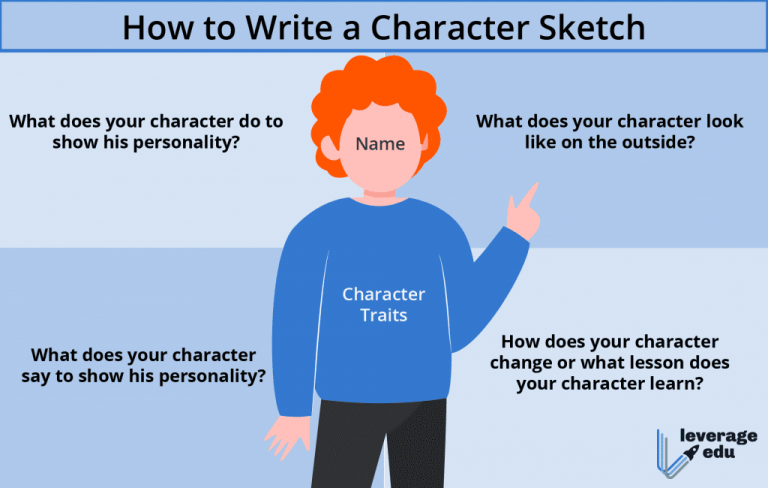 How to Write a Character Sketch?
Any fictional or real-life character, historical figure, or even a friend of yours might be the subject of a character sketch. It provides a brief and concise summary of all the characteristics of a specific individual while introducing them to the reader. To help you write a character sketch, consider the following ideas on how to write a character sketch:
Begin by making a list of the character's physical attributes, personality traits, feelings, and other things to get a basic understanding of what the character's most crucial elements are and where your attention should be directed.
Give the character a brief, descriptive profile: The finest character descriptions go into great depth to highlight key characteristics, but you should avoid giving the impression that you are giving the individual's whole life story. Create a rough draft first, then go back and make revisions until you're satisfied with the result. To catch any potential flaws, make sure to proofread your character sketch.
Any character, whether fictional or real, historical figure, or even a friend of yours, could be the focus of a character sketch. While introducing them to the reader, it gives a succinct and short assessment of every quality of a particular person. Take into account the following concepts while you develop a character sketch:
How To Write a Character Sketch Format
Personality: It's critical to explain your character's personality and physical characteristics in great depth so that the reader can easily picture how they appear, act, and speak.
Add a Back Tale or their Background: To give your character sketch more depth, you can also ask about their story, any particular thing they consistently bring up in relation to their past, or their general background. This will help the reader connect with the character more easily. By going beyond a character's appearance or personality features, adding a back story can further enhance their attractiveness.
How they Changed or Evolved Over the Years: If you are doing a character sketch for someone you have known for a very long time or for a character you have read about in a book or short story, you must also mention how they changed or evolved over time. Mention the significant changes you've seen in them, how they've changed as a person, or how they view the world now compared to when you first met them.
How They Speak and Act Around Others: When observing someone, it's important to consider how they behave around others, whether they know them or not. You can write about the person's perspective on life or even how they speak about a subject they are passionate about. Another effective character sketch writing technique that will give life to even the most basic characters is this one.
Their Effect on You or Those Around Them: Intensifying a character's impact on others, including yourself, is another approach to make them more likable. Determine the person's interpersonal style by seeing how they interact with others. If they are sincere, truthful, or people-pleasers, for example, this will make your character profile even more relatable and entertaining to read.
Recommended
Tips to how to write a character sketch
Now that you have a fundamental understanding of how to write a character sketch, the following advice will help you improve both your writing and observational abilities for the task:
Put equal emphasis on the character's physical and non-physical attributes.
Use language that makes the character easier to picture.
The description must be succinct, clear, and well-organized.
The character sketch ought to give a thorough breakdown of all the traits that particular character has. It ought to be written in such a way that it responds to any queries the reader might have about a certain character.
Read Also: How To Get a Bachelor Degree in 12 Months
Best Character Sketch Examples
Here is an example of a character sketch for Anne Frank, the young author of the well-known "The Diary of a Young Girl," to help further illustrate how to compose one:
The diary's thirteen-year-old author, Anne, is a fiery young woman who feels more comfortable expressing her ideas to other people in her diary than in public.
She has a close relationship with her father and is less close to her mother on a personal level. She develops throughout the journal from a little girl who is naive, headstrong, and a little bit nasty to a girl of 15 who is more politically informed, self-aware, and introspective.
Even in the concentration camp where she is transferred, where she passes away before turning sixteen, she makes an effort to maintain a positive outlook. Though she was in great fear and peril, Anne was a determined and vibrant young woman who strove to maintain her optimism.
Link To Character Sketch Website
How to write a character sketch of a teacher example
On the first day of the seventh grade, Miss Neetu Singh walked into our classroom. She introduced herself and let us know that she would be instructing the lesson in English.
She had long hair, huge glasses, and was fair; she wore only ethnic clothing. She just requested everyone to introduce themselves before beginning any session that day and rushing to finish the syllabus.
Miss Singh provided us with a variety of entertaining activities to assist us master the fundamentals of grammar and further guided us in fully comprehending each chapter. She was sympathetic and patient with even the most fearful of us and taught us to respect the learning process.
She persuaded our principle to allow us to take field trips to a variety of literary productions and introduced us to a wide range of well-known authors and poets outside the scope of our curriculum. There wasn't a single class of mine that wasn't filled with engaging and enjoyable learning; she was still the 7th graders' and the entire school's favorite teacher.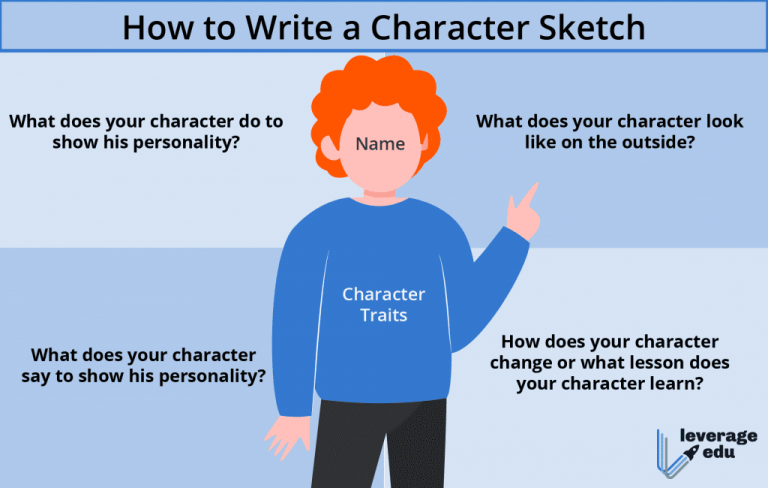 how to write a character sketch example of best friend
Through thick and thin in life, my friend Akanksha Guliani has been a true support for me. I am overjoyed to learn today that she is getting married after having been friends for the past 17 years.
I can still picture her from the first day of class, sitting on the second bench with her glasses on and her behind-the-ear curls being adjusted. Her face was round, and she had brown eyes with hazel circles and a cheeky nose.
She was a cheery girl who always appeared helpful. She used to have skinny legs from which even the school socks used to fall, thus she was taller than me back then. We sat down together on the first day and immediately noticed how well we got along.
In short time, she was my closest classmate. Her chirpiness assisted her in making friends with everyone in the class despite being a new student at the school. She became the go-to person in the class because of her enthusiasm to assist everyone with their academic work. Being friends with someone who is so sincere makes me feel fortunate.
Read Also: Motivation Letter for Scholarship Application
Character Sketch of Neighbour
Mr. Sharma, my next-door neighbor, is known as the soul of the community and is a jewel of a person. For the past six years, the Sharma family has lived close by; today, they resemble one another more.
Mr. Sharma was always in favor of our mischievous actions, unlike the other uncles in the neighborhood who used to chastise us. The first time I saw him was when he caught our ball, I recall.
When I got close to him, he began giggling like us despite his big mustache and spectacles which were enough to frighten me. A well-dressed, six-foot-tall man laughing like a child caught my attention. He was wearing a lovely hat.
Mr. Sharma was now the oldest person in our group as of that day. He used to play ground cricket with us on Sunday afternoons. His good humor and insightful thinking were always able to provide us with important life lessons in the most enjoyable way. It wouldn't be inaccurate to refer to him as the factor that holds us all together.
How to write a character sketch of a Fictional Character
A 12-year-old boy named Raghu lives in a remote village in the state of Uttar Pradesh. For his age, he appears a little frail or rather thin. His narrow build makes him correspond with the stick of a broom, and his thick, curly brown hair closely resembles that of a broom.
The locals frequently show up at amusing offices. But because he never speaks out for himself, the adults never miss an occasion to label him a weakling. Raghu is one of the kindest kids in the village, therefore the reality must be a little different.
He spends his day interacting with farm animals, as opposed to the others who like plucking each other's legs. Only he can approach any of the five animals in the community without frightening them. His gentle touch soothes the animals, and they come boys instead of being alarmed by the other residents' clamor.
Read Also: Top Medical Schools in Texas 2022
See also:
A COMPLETE GUIDE ON HOW TO TRANSFER COLLEGES

Trust you found our article on How to write a Character Sketch: Examples & Worksheets in 2023 helpful. follow our website for more interesting articles.