Established in 1901, Harper Adams University is a prestigious university noted for its proficiency in agricultural and rural-focused education. The institution, which is located in Newport, Shropshire, UK, has grown into a vibrant hub for learning, research, and innovation, spanning a wide range of subjects outside of agriculture.
By fusing conventional agricultural knowledge with contemporary technologies, Harper Adams has carved itself a special niche while remaining steadfastly committed to supporting sustainable practices and addressing global concerns. The university offers a wide range of programs in fields such veterinary medicine, engineering, business, and environmental studies.
Its close-knit network, cutting-edge facilities, and strong business linkages provide students with immersive learning experiences and exceptional opportunities for professional and personal growth. Harper Adams University is a center for knowledge and innovation that will continue to groom tomorrow's leaders and social innovators, advancing progress both in rural and urban settings.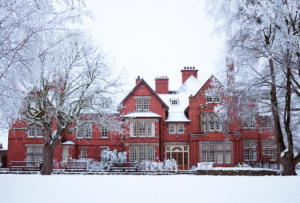 What city is Harper Adams University in?
The location of Harper Adams University in the UK is Newport, Shropshire. Its magnificent campus, which is spread across 550 acres of lovely terrain, provides an idyllic backdrop for intellectual pursuits and strengthens the bond between students and nature. The rural setting of the college heightens its focus on agricultural and environmental sciences, fostering a wholly distinctive learning environment that combines academic achievement with practical enjoyment.
Read Also: Fully-funded Commonwealth Masters Scholarships in the UK 2023
What academic levels and programs does Harper Adams University offer?
The programs and levels offered by Harper Adams University cover a wide range of topics. The university has broadened its offerings to include subjects like engineering, business, veterinary sciences, environmental studies, and more. It was once known for its agricultural and rural studies. Students can study agriculture, animal technology, agribusiness, food production, engineering, veterinary nursing, and rural property and land control at the undergraduate, graduate, and research levels.
How is Harper Adams University recognized in the field of rural and agricultural studies?
Internationally renowned as a leader in rural and agricultural research, Harper Adams University. It has achieved a renowned reputation in the agriculture network because to its strong emphasis on realistic mastering and specialist awareness. The university's close linkages to business, modern facilities, and skilled education help it produce graduates who are prepared to handle the challenging circumstances affecting the rural and rural sectors. Its consistent top rankings in national and international exams attest to its standing in these domains.
Read Also: 10 Free Online Electronics Courses with Certificates
What academic options are there at Harper Adams University for college students?
College students at Harper Adams University have access to a wide range of research opportunities. The institution is actively engaged in cutting-edge research projects in a variety of fields, including engineering, food production, animal sciences, sustainability, and agriculture. Students run the risk of participating in hands-on research activities, teaming up with knowledgeable teachers, and helping to develop ground-breaking answers to real-world problems. These opportunities not only boost students' academic records but also prepare them for careers in research and development.
How strong are Harper Adams University's ties and industry connections?
Harper Adams University stands out as an organization that is tightly connected into the professional world because to its strong business partnerships and connections. College students gain valuable exposure to industry methods and networking opportunities through collaborations with agricultural firms, organizations, and research institutes.
Industry professionals that serve on the college's advisory forums provide opinions that help shape the curriculum and ensure its applicability. The close relationships also lead to guest lectures, internships, and job opportunities, increasing the employability of college graduates.
Read Also: Top 9 Cheap Universities In Europe That Teach In English
Could you tell me more about Harper Adams University's campus amenities and student life?
Modern amenities available at Harper Adams University help college students learn their subjects better. The campus is equipped with cutting-edge classrooms, labs, study areas, farm centers, and a library with a wealth of materials. The Student's Union sponsors a thriving social life through organizing a variety of golf clubs, groups, and activities. The on-campus housing options cater to a wide range of preferences and price ranges, creating a welcoming and inclusive environment where college students can flourish intellectually and socially.
What kinds of guidance services does the university offer its students?
Harper Adams University is committed to provide its students thorough guidance offerings. These include educational guidance, personal counseling, career options, and disability assistance, ensuring that students have access to the support they need to succeed. In order to develop a comprehensive help network that meets both personal and academic needs, the Student Services group offers advise on matters related to housing, health and well-being, and finances.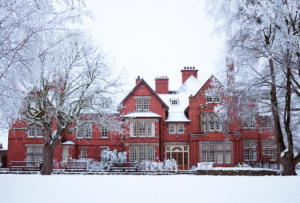 How does Harper Adams University support ecologically friendly and sustainable practices?
Environmental management and sustainability are important to Harper Adams University. Sustainable techniques in engineering, business, and agriculture are emphasized in its curriculum. The college aggressively pursues research and innovation in fields such as ecological preservation, waste reduction, and renewable energy. The campus itself acts as a living example of sustainability, combining novel activities like recycling products, energy-efficient structures, and sustainable land management techniques.
What is the Harper Adams University's history and legacy?
The history of Harper Adams University dates all the way back to its founding in 1901. With the intention of providing hands-on agricultural training to meet the needs of the farming community, it was initially created as the Harper Adams Agricultural College. The university developed over time to incorporate a wider range of disciplines while keeping its agricultural roots. Its legacy is defined by a dedication to quality in research, teaching, and business collaboration, making it a pioneer in agricultural and rural education.
Recommended
Does the college offer any international exchange or study abroad programs?
Yes, as part of its dedication to global education, Harper Adams University offers international change and observe abroad programs. These programs let college students to broaden their perspectives by reading in affiliated universities all around the industry. International reports provide opportunities for cultural immersion, exposure to varied educational perspectives, and the expansion of a global community.
Students can choose between semester- and year-long exchange programs, receiving priceless knowledge about worldwide agricultural methods, scientific research, and entrepreneurial characteristics while also developing a deeper understanding for cultural diversity.
SEE ALSO:
Trust you found our article on Harper Adams University | Review, Tuition, Admission & Scholarships helpful. Follow our website for more interesting articles.