In Ormskirk, Lancashire, the UK, there is a notable higher education institution called Edge Hill University. Since its founding in 1885, it has developed into a significant public university that offers a wide range of academic programs and study options. The college provides a supportive environment that encourages personal growth and professional development because of its strong dedication to educational achievement.
Edge Hill University encourages students to participate in extracurricular activities, organizations, and sports by providing cutting-edge facilities and a vibrant campus environment. Outstanding professionals who are passionate about giving college students the skills and knowledge they need to succeed in their chosen fields make up its dedicated school. Students at Edge Hill University engage on a transformative journey, acquiring a well-rounded education and creating lifelong bonds with a wide network of peers, whether they are looking for undergraduate, postgraduate, or study opportunities.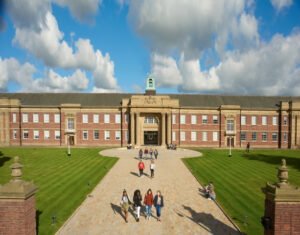 In what region does Edge Hill University stand?
In the English county of Lancashire, the town of Ormskirk is home to Edge Hill University. The main campus is located about 13 miles north of the energetic city of Liverpool in a beautiful rural environment. With a total area of more than 160 acres, the campus offers students a lovely and tranquil setting in which to pursue their academic goals.
Read Also: 15 Best 6 Months Certificate Courses in Canada 2023
What are Edge Hill's primary academic offerings?
The academic programs offered by Edge Hill University span a variety of fields. Principal academic departments and programs include:
Programs in areas including English, History, Media, Psychology, and Social Sciences are available through the Faculty of Arts and Sciences.
1. Faculty of Education: This department focuses on courses in early childhood education, primary education, and secondary education throughout a range of subject areas.
2. Nursing, midwifery, public health, psychology, and social work are among the programs available through the faculty of health, social care, and medicine.
3. Faculty of Business and Law: This faculty offers courses in business administration, accounting, marketing, law, and international trade.
4. Faculty of Science: This department offers classes in Physics, Chemistry, Computer Science, and Biological Sciences.
Edge Hill University also regularly updates and broadens the range of courses it offers in order to match the changing demands of the labor market and guarantee that its students receive a top-notch education.
How do I apply to Edge Hill University for undergraduate admission?
It's simple to apply for undergraduate admission at Edge Hill University. The main application platform for undergraduate programs in the UK is the Universities and Colleges Admissions Service (UCAS) website, where prospective students can submit their applications.
The general procedures are as follows:
a. Research Courses: Look through the undergraduate programs available at Edge Hill University's website to find the one that best fits your interests and professional objectives.
b. Create a UCAS Account: Sign up for an account on the UCAS website.
c. Complete the application: Fill out the UCAS application form with your personal information, academic credentials, and a personal statement outlining why you want to attend Edge Hill and why you are qualified for the chosen degree.
d. Submit Application: After completing all the necessary fields, submit your application via UCAS. Check the UCAS website for the precise application deadlines as there is a deadline for each academic year.
a. Getting Offers: After submitting your application, the colleges you applied to may make you an unconditional or conditional offer. Offers that are conditional are those that are subject on you fulfilling certain academic requirements, such passing your final exams with a particular grade.
Once you have received all of your offers, you can choose one as your firm choice and another as your insurance choice. f. Accept an Offer. The firm choice is your preferred option, while the insurance choice is your fallback in the event that you are unable to comply with the firm choice's requirements.
Read Also: 5 Top Free Online Mental Health Courses
What qualifications are needed to enroll international students?
Depending on the subject and level of study, Edge Hill University may have different entry criteria for overseas applicants. International students must typically fulfill the requirements listed below:
a. Academic Requirements: Applicants must have finished their secondary education with credentials that are equivalent to the General Certificate of Secondary Education (GCSE) and Advanced Level (A-level) levels in the UK. International students who possess different but comparable credentials, such as the International Baccalaureate (IB) or the American High School Diploma, may also be qualified.
b. English Language Proficiency: Since English is the medium of instruction, foreign students whose native tongue is not English must show that they are proficient in the language. The International English Language Testing System (IELTS), the Pearson Test of English (PTE), and the TOEFL are examples of exams used to measure English proficiency.
c. Particular Course criteria: Some courses could have extra criteria, including prerequisite topics or particular grades in particular areas. On the course sections of the Edge Hill University website, you can find these requirements.
c. Visa Requirements: In order to study in the UK, international students must apply for a Tier 4 (General) student visa. Students must show proof of acceptance into a course, evidence of having enough money to pay for tuition and living expenses, and other required papers in order to acquire the visa.
It is crucial for overseas applicants to check the exact entry requirements for their selected course on the Edge Hill University website or to get in touch with the admissions department of the university for individualized assistance.
Does Edge Hill University provide financial help or scholarships?
Yes, Edge Hill University provides both domestic and foreign students with a range of scholarships and financial aid opportunities. It is important to check the university's website for the most recent information because the scholarships offered may vary from year to year and the qualifying requirements may change.
Scholarship opportunities that are frequently available include:
Edge Hill University awards merit-based scholarships for exceptional academic achievements at the undergraduate and graduate levels. a. Excellence Scholarships. These scholarships may be able to help with tuition costs.
a. Scholarships for International Students: To assist international students with the cost of tuition, there are frequently specific scholarships available.
c. Sports Scholarships: Gifted athletes may qualify for sports scholarships, which provide financial assistance and extra resources to manage academic and athletic responsibilities.
d. Scholarships that are subject-specific: Some faculties or departments may award scholarships to students pursuing a specific field or specialty.
a. Information on external scholarship options or sources of funding may be made available by Edge Hill University to students.
In order to ensure they are making educated selections about how to pay for their education, it is crucial for students to review the eligibility requirements, application processes, and deadlines for scholarships as well as other financial aid alternatives, such student loans or grants.
Read Also: 7 Best Universities in Canada For International Students
What amenities are accessible to students on campus?
Edge Hill University offers a wide variety of amenities and services to improve the on-campus experience for students. Among the noteworthy facilities are:
a. The university library offers students access to books, journals, online databases, and study areas in a contemporary and well-equipped setting with a wealth of physical and digital resources.
b. Edge Hill provides a range of on-campus housing options for students, including self-catering apartments and en-suite rooms, promoting a friendly and active residential community.
c. Sports Center: The cutting-edge sports center offers students a variety of fitness classes, sports facilities, a swimming pool, and other amenities to encourage an active lifestyle.
d. The Edge Hill Students' Union arranges social gatherings, clubs, and societies, giving students a chance to connect with like-minded people and participate in a range of extracurricular activities.
e. Careers Service: The university's committed Careers team assists students in effectively navigating the job market by offering advice on employability, career opportunities, CV writing, and interview preparation.
f. Health and Well-Being: Edge Hill University is dedicated to promoting the wellbeing of its students and provides workshops on wellbeing, counseling services, and mental health assistance.
The campus offers a variety of dining alternatives, including cafes, restaurants, and retail establishments, giving students a wide range of culinary selections.
Performance Spaces: The institution offers state-of-the-art theaters, music practice rooms, and performance areas that support the artistic pursuits of students majoring in drama, dance, and music.
Can I attend Edge Hill while studying abroad or taking part in exchange programs?
Yes, Edge Hill University gives students the chance to study abroad or take part in exchange programs.
programs. Because of the university's relationships with multiple organizations around the world, students can experience learning in other nations and cultures.
Generally speaking, there are two main ways to study abroad or take part in an exchange program:
a. Edge Hill University is a participant in the Erasmus+ program, which enables students to spend a semester or an entire academic year studying at a partner institution in Europe. A special opportunity to widen one's intellectual and cultural horizons is offered by Erasmus+ exchanges.
b. Global options: In addition to the Erasmus+ program, Edge Hill University collaborates with universities outside of Europe, providing students with a wide variety of international exchange options.
Studying abroad or taking part in an exchange program can be rewarding experiences that help students obtain a worldwide perspective, master cross-cultural communication, and build global networks.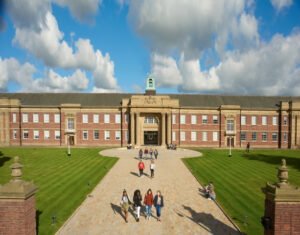 Are there options for postgraduate study and research?
Yes, Edge Hill University offers a variety of possibilities for postgraduate study and research across many different fields. In addition to a number of postgraduate programs, including Master's and research-based doctoral degrees (Ph.D. or MPhil), the university has a strong commitment to research excellence.
Prospective If a postgraduate student is interested in conducting research, they can look through the university's academic divisions to identify specialties in that field. Edge Hill University provides a welcoming environment for research with knowledgeable mentors who assist students at every stage of their studies.
The institution also works with outside groups and businesses to fund research projects, making it a desirable option for students hoping to make a substantial impact in their chosen subjects.
How does Edge Hill promote the mental and physical wellness of its students?
The well-being and mental health of Edge Hill University's students are highly valued. To foster a supportive and encouraging environment on campus, the institution provides a variety of services and resources, including:
a. Confidential counseling services are offered by the institution, where qualified counselors can provide assistance with a range of problems, such as stress, anxiety, and mental health.
b. Workshops on Mental Health: Edge Hill holds workshops and events all during the academic year to promote mental health awareness and give students access to coping mechanisms and self-help tools.
c. Well-being Services: Through specialized well-being advisors who are available to help with many elements of student life, students can get well-being counsel and assistance.
d. Mental Health First Aid: To build a supportive network and guarantee that people dealing with mental health issues receive the assistance they need, the university invests in educating staff members as Mental Health First Aiders.
a. Peer Support: Edge Hill promotes peer support networks by giving students chances to help one another through programs like peer mentoring schemes.
f. Sports and Recreation: Playing sports and being physically active helps improve mental health, and Edge Hill's sports facilities and fitness programs give students ways to keep active.
g. Accessibility Services: To guarantee a positive academic experience for students with disabilities or particular learning needs, the institution makes sure they receive the necessary support and accommodations.
Recommended
What clubs and organizations are available for kids to join outside of school?
Edge Hill University has a thriving campus life with a variety of clubs and organizations to suit a variety of interests. If a student has a specific passion, they can start their own club or society or join one that already exists. The following are a few of the societies and activities:
Academic and subject-based societies: Students who are majoring in certain subjects or academic fields can join organizations in those fields to attend events, workshops, and networking opportunities.
a. Sports Clubs: Students can participate in team sports, individual sports, and recreational activities through the university's numerous sports clubs.
b. Performing Arts and Creative Societies: Through performing arts societies and student-led shows, there are opportunities to partake in drama, dance, music, and other creative endeavors.
d. Volunteer and Community Engagement: Edge Hill encourages students to participate in community service initiatives and volunteer work to have an effect off campus.
e. Students can join media-related groups to contribute to university publications and broadcasts if they have an interest in journalism, photography, broadcasting, or writing.
f. Societies that promote cultural variety and provide venues for students to share their customs and experiences: These societies are known as cultural and diversity societies.
Students can make new friends by participating in extracurricular activities and joining clubs, but they can also take advantage of the networking, leadership, and personal development possibilities that these groups offer throughout their time in college.
SEE ALSO:
Trust you found our article on Edge Hill University | History, Tuition, Admission & Scholarships helpful. Follow our website for more interesting article.