Here we will discover the top casino careers for graduates all round the world, after you've completed your degree, it's time to take the first steps in your professional career.
While many students specialise in their studies and focus on a certain business or sector, others receive degrees that offer a wide range of transferable skills that may be applied in a variety of situations, just like the casino careers for graduates.
The casino sector is one that many people don't think about getting into, but there are a variety of jobs available here that pay well, have intriguing bonuses, and allow you to advance in your career.
If that sounds appealing, here's a rundown of the many work options offered in the casino business, as well as the advantages that each may provide for your future efforts.
Read Also: Top 8 Universities in Canada Without Application Fee For International Students

Casino Manager
This is on of the major casino careers for graduates.  All of the best casinos require a strong managerial presence, and if you want to work your way to the top, this is the position for you.
You will be in charge of one core mission: managing the casino, as the name implies. You'll be responsible for overseeing all of the moving pieces that go into running a successful casino, including but not limited to:
Human Resources and Staffing
Management of customers
Public relations and marketing
Personnel development
Some accounting responsibilities
The casino manager's job entails overseeing all aspects of the gaming floor, as well as ensuring that the company's reputation is maintained through good customer service, PR, and marketing as needed.
A casino manager can make up to $70,000 per year or more, with additional perks and bonuses if the casino meets or exceeds revenue goals. As a disclaimer, you should expect to work long hours and shoulder a lot of responsibility in this position.
Recommended:
Floor Manager
The second in our list  of casino careers for graduates is the office of the Floor Manager.
When a casino is large enough, the general manager may recruit a capable subordinate – the floor manager.
This person is in charge of the entire gaming floor, including all of the card tables, the roulette wheel, and the slot machines, as well as hospitality and the cashier's desk.
The floor manager is an important part of a casino's brand management campaign since they provide a welcoming face as a point of contact for customers. They must ensure that clients' expectations are exceeded, and they must ensure that the greatest levels of service are provided to high rollers and VIPs.
There may also be opportunities to put your sales abilities to use, as the floor manager is frequently the face of loyalty and rewards programmes, explaining their benefits and securing as many sign-ups as possible.
A floor manager, like a casino manager, is expected to work long hours and serve as a point of contact for complaints and questions, but the stress is reduced by a starting compensation of $50,000 per year.
Read Also: Affordable MBA in Europe without GMAT and Work Experience
Hospitality
Here is Hospitality which is one of the top casino careers for graduates. Casinos tend to provide excellent chances for people who wish to pursue a career in the hospitality industry.
While normal bar and waiting jobs are available, hospitality in a casino setting focuses more on the service side – especially when VIPs and high rollers visit. Customer service representatives are supposed to be able to get whatever the 'large clients' want, whether it's champagne at 4 a.m. or oysters at 1 p.m.
Many of the high-end casino resorts pride themselves on the quality of their service, so if you think you have the people skills, organisational skills, and attention to detail needed to succeed in this field, casino hospitality could be for you.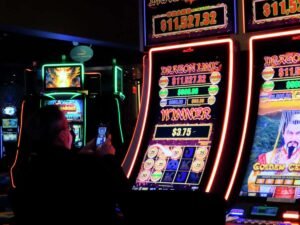 Assurance of Quality
The job of a Quality Assurance officer is yet another top casino careers for graduates.
The quality assurance staff – or 'pit bosses,' as they are sometimes known – works closely with the floor manager and is almost entirely focused on the casino's gaming activities.
Read Also: Discover Top 9 Cheap Universities in Europe that Teaches in English
Quality Assurance
The quality assurance job, which is one of the top casino careers for graduates is to work in conjunction with the floor manager, the quality assurance team – or 'pit bosses' as they are sometimes known – are focused almost exclusively on the gaming action within the casino.
Your ambition is to create a fun gaming environment and one that is safe for all parties, including your fellow staff. So, you need to ensure that players are behaving themselves and entertained, and closely monitor your team to make sure they are delivering the highest standards of service.
The quality assurance team will keep a particularly close eye on the casino's dealers and croupiers to ensure they are operating in a professional manner, while also keeping an eye out for clients that are 'cheating' or counting cards.
The objective is to ensure that the game procedures are delivered to the highest possible standard, so this role suits those with meticulous attention to detail and the ability to ensure quality management principles are adhered to.
Recommended:
Accounting
Next in our list of casino careers for graduates is the job of an accountant. It goes without saying that your average casino sees a lot of money travel through it on a daily basis.
Because all of that money must be accounted for, a casino's financial section employs a lot of different people.
Cashiers, who convert cash, checks, and credit card payments for chips and back, and back-office accountants, who ensure that the casino meets all of its tax and financial reporting obligations, are both potential positions.
A casino cashier can earn up to $30,000 per year, whereas an accountant can expect to make around $50,000.
Trust you found our article on Top casino careers for graduates helpful. Follow our website for more interesting articles.