Lets talk about Brown University today, This prominent Ivy League school Brown University, which is based in Providence, Rhode Island, is well known for its dedication to intellectual freedom and academic success. It was founded in 1764, making it the seventh-oldest institution of higher learning in the country. In its unique approach to teaching, Brown University places a strong emphasis on interdisciplinary research, student autonomy, and an open curriculum.
Students at Brown are allowed to create their own academic trajectories by choosing courses from a variety of fields without being constrained by strict core requirements. This adaptability encourages students to think critically and imaginatively and develops a culture of intellectual discovery. The university's faculty is made up of eminent academics and professionals who are committed to instructing and guiding students.
The campus community at Brown University is active and varied, and it encourages inclusivity and teamwork outside of the classroom. The variety of extracurricular activities, clubs, and organizations available to students allows them to pursue their many interests and passions.
Brown University is a shining example of creativity and intellectual curiosity thanks to its extensive history, rigorous academic standards, and dedication to encouraging independent thought. It keeps drawing ambitious and intellectually curious students from all over the world, preparing them to contribute significantly to society and seek lucrative jobs in their fields of interest.
Still On: About Brown University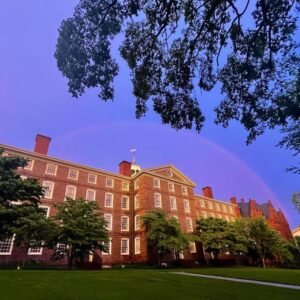 What is Brown University's acceptance rate?
Brown University, one of the esteemed Ivy League schools, is renowned for its difficult admissions procedure. It's difficult to determine a precise number because Brown University's acceptance rate varies from academic year to academic year. The acceptance percentage has, however, fluctuated between 6% and 8% in previous years.
The applicant pool, the number of openings, and the intended class makeup of the university are just a few of the variables that might affect the acceptance rate. Although they have implemented a test-optional policy as of 2021, Brown University takes a comprehensive approach to admissions, evaluating candidates based on their academic accomplishments, extracurricular engagement, essays, reference letters, and standardized test scores. In the end, Brown University's acceptance rate reveals the school's dedication to enrolling a diverse and accomplished student body.
Still On: About Brown University
Read Also: List Of Top 10 Best Online Courses for Teens
Is there a certain core curriculum at Brown University?
No, there isn't a defined core curriculum at Brown University. Brown University is proud of its open curriculum, in contrast to many traditional universities that have a set of mandatory courses spread throughout various areas. This implies that without being constrained by a rigorous set of basic criteria, students have the freedom and flexibility to create their own academic routes.
Instead, Brown University promotes independent learning and encourages students to have an interest in a variety of areas. Undergraduates are allowed to choose courses from many departments and disciplines according to their interests and academic objectives. Students can explore topics they are enthusiastic about in-depth, participate in interdisciplinary courses, and create a customised education that fits with their unique interests and objectives thanks to this innovative method.
Still On: About Brown University
What academic disciplines and majors are available at Brown University?
In its undergraduate and graduate schools, Brown University provides a wide variety of majors and academic programs. Interdisciplinary studies are given a lot of attention, giving students the chance to explore other subjects and tailor their educational experiences. Brown University has several significant academic divisions, including:
The main component is the College of Arts and Sciences, which provides a variety of studies in the humanities, social sciences, natural sciences, and mathematics. Among the various options available are majors in English, History, Economics, Biology, Chemistry, Physics, and Political Science.
1. School of Engineering: The School of Engineering offers undergraduate and graduate programs in a range of engineering specialties, including mechanical, electrical, and biomedical engineering. It places a strong emphasis on experiential learning and promotes creativity and teamwork.
2. Alpert Medical School: Brown University is home to a prestigious medical school that offers a variety of medical programs, such as the Doctor of Medicine (MD) program, in addition to joint degree programs like the MD/Ph.D. and MD/Masters Programs in public health, biostatistics, epidemiology, health services research, and other related fields are offered at the school of public health. The difficulties facing public health are addressed through research, instruction, and community involvement.
3. School of Professional Studies: Adult learners and professionals in the workforce can enroll in programs offered by Brown's School of Professional Studies. In specialties like business, technology leadership, cybersecurity, and healthcare leadership, it grants degrees and certificates.
In addition, Brown University has many interdisciplinary centers, institutes, and programs that encourage cooperation among many academic fields. These include the Watson Institute for International and Public Affairs, the Cogut Institute for the Humanities, the Institute at Brown for Environment and Society, and many others.
Still On: About Brown University
Read Also: Dangote Refinery Recruitment 2023/2024 Application Portal – Apply Now
What is Brown University's student-to-faculty ratio?
The low student-to-faculty ratio at Brown University fosters intimate student-faculty contact and individualized learning environments. The student-faculty ratio at Brown University is roughly 6:1 as of the most recent information available. This ratio demonstrates the university's dedication to giving students lots of possibilities for mentoring, working on research projects with professors, and receiving individualized advice.
It is possible for students to actively participate in class discussions, receive individualized feedback, and develop deep relationships with teachers because of the small class sizes and low student-faculty ratio. Brown University's tight-knit academic community allows for substantial faculty involvement and support, fostering a collaborative and beneficial educational experience.
Still On: About Brown University
Can Brown University students pursue interdisciplinary studies or design their own majors?
Yes, Brown University promotes and aids students in pursuing multidisciplinary studies. Through its open curriculum, Brown University even permits students to choose their own majors. The Brown University open curriculum philosophy encourages academic independence and gives students the option to pursue many fields of study and combine them in original and creative ways.
At Brown, students have the option of creating their own concentrations or selecting from a variety of multidisciplinary programs that have already been created. The so-called "Tracks," or interdisciplinary concentrations, provide a framework for students to combine many academic fields and investigate interdisciplinary approaches to particular areas of interest. East Asian Studies, Cognitive Science, Ethnic Studies, Urban Studies, and Science and Society are a few examples of multidisciplinary tracks offered at Brown University.
Brown University gives students the option to choose their own majors for those looking for a genuinely personalised educational experience. This option, known as the "Independent Concentration" program, enables students to choose a thorough course of study that complements their unique academic interests and professional objectives. To create a curriculum that includes courses from many departments and incorporates interdisciplinary viewpoints, students work closely with faculty advisors.
Brown University encourages interdisciplinary study and gives students the option to design unique degrees, giving them the freedom to construct their own intellectual pathways and fostering innovation, creativity, and critical thinking.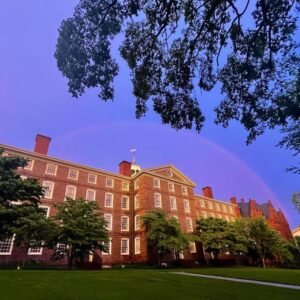 Still On: About Brown University
What resources and assistance are offered to Brown University students?
To ensure that students succeed academically, personally, and socially during their time at the institution, Brown University offers a vast array of tools and support services. These services and resources consist of:
1. Academic advising: Each student has a designated academic advisor who helps them choose courses, understand major/minor requirements, and plan their academic careers. Advisors provide direction and help to students at every stage of their academic careers.
2. To help students succeed in their coursework, the Center for Student Success and the Sheridan Center for Teaching and Learning provide tutoring services, workshops on study techniques, and academic coaching. The centers also offer faculty resources to help them improve their teaching methods.
3. Writing Center: The Writing Center provides students with individualized coaching and direction to enhance their writing abilities. Writing tutors with training offer suggestions and help at every level of the writing process.
4. Library and Research Support: Brown University's libraries provide a wealth of resources, including access to physical and digital collections, scholarly journals, and research databases. To assist students in successfully navigating the information landscape, librarians offer research consultations and courses.
5. Counseling and Psychological Services (CAPS): CAPS provides private individual treatment, group counseling, and workshops for students in need of mental health care. The programs are intended to deal with a variety of emotional and personal issues.
6. Office of Student Life: The Office of Student Life is responsible for a wide range of initiatives, resources, and activities that enhance the overall learning environment. This includes campus-wide activities, leadership training courses, chances for community involvement, and student clubs.
7. Health Services: To assist students' physical health and wellbeing, Brown University's Health Services offers comprehensive medical care, preventative health services, and wellness initiatives.
8. Office of International Student and Scholar Services (OISSS): The OISSS provides resources for academic performance, aids with immigration procedures, and provides support and guidance to international students.
Still On: About Brown University
Does Brown University provide scholarships or financial aid?
Yes, Brown University is dedicated to providing students from all backgrounds with an affordable and accessible education. The college has a robust financial aid program to aid in paying for students' tuition, board, and other educational fees. The admissions process at Brown University follows a need-blind policy, which implies that financial resources are not taken into account. The only factor used to assess an applicant's financial aid package is their proven need.
Through a combination of grants, scholarships, work-study opportunities, and low-interest loans, Brown University covers all students' demonstrated financial need to the fullest extent possible. No matter their financial situation, admitted students should be able to afford to attend Brown University thanks to the financial aid packages. It is important to note that Brown University has a need-based aid policy, which means that rather than using merit-based standards, financial help is determined by the financial position of the family.
The Brown University Office of Financial Aid is available to help students and families with the financial aid application process as well as continuous assistance with money-related issues.
Recommended
Still On: About Brown University
Which Brown University graduates or accomplishments deserve special mention?
A list of famous former students from Brown University who have excelled in many disciplines is impressive. Some well-known graduates and their noteworthy accomplishments include:
1. John F. Kennedy Jr. (class of 1983) was a lawyer, journalist, and the creator of George magazine. He was the son of President John F. Kennedy.
2. Jeffrey Eugenides (class of 1983): A author who has won the Pulitzer Prize and is known for his books "Middlesex" and "The Virgin Suicides."
3. Ted Turner, a 1960 graduate: Turner, a philanthropist and media entrepreneur, established CNN, the first 24-hour cable news network, and rose to prominence in the television business.
4. Emma Watson (class of 2014): Emma Watson is a British actress and activist best known for playing Hermione Granger in the "Harry Potter" film series and for her support of gender equality.
5. Ruth Simmons (class of 1967): When she took office as president of Brown University in 2001, Simmons made history by being the first African American to lead an Ivy League university. Later, she rose to the position of president at Prairie View A&M University.
6. Janet Yellen (class of 1967): Yellen was the first woman to hold the role of Chair of the Federal Reserve from 2014 to 2018.
These are just a few instances of the successful people who have earned degrees from Brown University. A wide range of industries, including industry, politics, the arts and entertainment, academia, and scientific research are represented in the institution's alumni network. The accomplishments of Brown graduates are evidence of the university's dedication to creating graduates who have a substantial effect in their fields and make a positive contribution to society as a whole.
SEE ALSO:
Trust you found our article on About Brown University | Scholarships, Tuition, Programs, Admission helpful. Follow our website for more interesting article.