Today we go on a complete review of Cornell University, this prominent university Cornell University, which is based in Ithaca, New York, is well-known for its academic brilliance, contributions to science, and lengthy history. Private Ivy League institution Cornell was founded in 1865, and it has constantly been rated as one of the best in the world. With a campus that spans over 2,300 acres, Cornell provides its students with a lively and intellectually engaging atmosphere.
Its distinctive blend of professional programs and liberal arts education is one of Cornell's distinguishing qualities. 14 colleges and schools make up the institution, including the College of Arts and Sciences, the College of Engineering, the School of Hotel Administration, and the College of Agriculture and Life Sciences. Students can explore several topics and pursue interdisciplinary studies because to the wide variety of disciplines available.
The world-class research centers and institutes of Cornell, which are known for their innovative and cutting-edge work, are devoted to furthering knowledge in a wide range of subjects. Cornell's research has an international impact on everything from innovations in technology and medicine to significant studies in the social sciences and humanities.
Additionally, Cornell takes pleasure in establishing a strong feeling of inclusivity and community. The university encourages collaboration, cultural exchange, and the growth of global viewpoints because of its varied student body.
Cornell University offers students a transformative educational experience that equips them for success in their chosen fields. It is a beacon of intellectual rigor, academic rigor, and scholarly excellence.
Still On: Complete Review Of Cornell University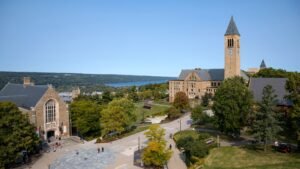 What is the Cornell University's history?
The history of Cornell University, which began with its foundation in 1865, is incredibly rich. Businessman and philanthropist Ezra Cornell and well-known academic Andrew Dickson White founded the university. Their goal was to establish a facility where anyone may receive education in any field of study.
Ezra Cornell, who became wealthy in the telegraph business, gave his own land and paid for the university's foundation. The university's first president, Andrew Dickson White, was instrumental in establishing Cornell's academic foundation and innovative educational ethos.
Cornell University has always taken an original stance by fusing theoretical and practical instruction. It was one among the first institutions in America to have a professional school as well as a liberal arts college.
Throughout its history, Cornell University has experienced a number of significant events. It was the first university in America to provide a four-year veterinary medicine degree in 1870. It began its dedication to scientific achievements by opening the first university-affiliated laboratory for electrical study in the country in 1872.
Cornell was the first American institution to offer a major in American literature in 1887, and it launched the first academic course of study in American history in 1883.
Cornell has widened its audience and sphere of impact throughout time. It has consistently supported interdisciplinary research, fostering collaboration between various academic disciplines. Today, Cornell University is still a highly regarded institution recognized for its contributions to research, academic excellence, and public involvement.
Read Also: A Total Review Of I-Shou University – Ranking, Tuition, Courses & Scholarships
Still On: Complete Review Of Cornell University
What place does Cornell University hold among other colleges?
The best universities in the world consistently include Cornell University. Depending on the source and the selection criteria, the precise ranking may change slightly. However, Cornell consistently ranks among the best universities in both the United States and abroad.
Cornell was placed 17th globally in the QS World University Rankings released in 2022. In the list of the 2022 Best Colleges published by U.S. News & World Report, Cornell was placed 18th among all of the state colleges. Cornell was ranked 19th worldwide in the Times Higher Education World University Rankings published in 2022.
Individual colleges and schools of Cornell are well regarded in their specialized fields. For instance, the Cornell College of Engineering consistently ranks among the top engineering institutions in the United States and is highly recognized for its programs.
Overall, Cornell University's continued ranking among the best universities is a testament to its dedication to intellectual leadership, research impact, and academic quality.
Still On: Complete Review Of Cornell University
What colleges and schools are there at Cornell University?
The colleges and schools that make up Cornell University each provide a wide variety of academic programs. These colleges provide a wide range of disciplines and subject areas for students to choose from. The following are Cornell's principal colleges and schools:
1. College of Agriculture and Life Sciences (CALS): CALS is well-known for its agricultural and life sciences programs, which include majors in applied economics and management, animal science, plant science, and environmental science.
2. Cornell's largest institution, the institution of Arts and Sciences (A&S), offers a wide variety of liberal arts majors. It includes majors like psychology, history, biology, government, and economics as well as the humanities, social sciences, and natural sciences.
3. College of Architecture, Art, and Planning (AAP): This institution provides undergraduate and graduate courses in architecture, fine arts, and urban planning. It focuses on multidisciplinary methods of creativity and design.
4. College of Engineering: Known for its challenging programs in mechanical, electrical, civil, computer science, and biomedical engineering, the College of Engineering offers a wide range of engineering specialties.
5. College of Human Ecology: The objective of this institution is the study of human development, health, and well-being. It offers courses in subjects like design and environmental analysis, policy analysis and management, nutritional sciences, and human development.
6. The School of Hotel Administration and the Charles H. Dyson School of Applied Economics and Management are both part of the Johnson College of Business. It provides courses in applied economics, hospitality management, and business administration.
7. Cornell Law School: The Cornell Law School is a renowned institution of higher learning for lawyers in the US. It offers graduate degrees in legal studies as well as Juris Doctor (J.D.) programs.
8. Cornell University Graduate School: The Graduate School is in charge of all of Cornell's graduate programs and research opportunities. It provides numerous master's and doctoral programs in a variety of subject areas.
These are only a few of Cornell University's colleges and schools, each of which has a unique academic concentration and makes contributions to the university's intellectual community.
Still On: Complete Review Of Cornell University
Read Also: Top 10 Best Public High Schools in America
What academic disciplines and majors does Cornell University offer?
Through its colleges and institutions, Cornell University provides a wide variety of majors and academic programs. Numerous subjects of study are available to students, giving them the chance to explore their interests and advance their academic and professional qualifications. The following are some of the majors and programs Cornell offers:
1. Agriculture and Life Sciences: Viticulture and Enology, Food Science, International Agriculture and Rural Development, Biological Sciences, Environmental Science and Sustainability, and Animal Science.
2. Arts and Sciences: Sociology, Computer Science, English, Mathematics, Philosophy, Psychology, Astronomy, Chemistry, Classics, and Anthropology.
3. Architecture, Art, and Planning: City and regional planning, architecture, fine arts, and urban and regional studies.
4. Engineering, including mechanical engineering, operations research and engineering, electrical and computer engineering, environmental engineering, and biological engineering.
5. Human Ecology: Policy Analysis and Management, Global and Public Health Sciences, Human Development, Nutritional Sciences, and Fiber Science and Apparel Design.
6. Hotel Administration: Finance for real estate, food and beverage management, and hotel administration.
Business administration, Applied Economics, and Management are offered by Johnson College of Business.
8. Law School: Doctor of the Science of Law (J.S.D. ), Master of Laws (LL.M. ), and Juris Doctor (J.D.
These are but a handful of the many majors and academic programs Cornell University offers. The university's extensive offerings accommodate a range of hobbies and professional goals.
Still On: Complete Review Of Cornell University
How many students are there at Cornell University?
Students at Cornell University come from all 50 states and more than 120 other countries, making up a varied and active student body. Although Cornell's total enrollment fluctuates from year to year, it generally stays around 23,000 students.
With over 15,000 students seeking bachelor's degrees, Cornell boasts a sizable undergraduate population. The university also has a sizable graduate student body of about 8,000 people, including master's and doctorate students.
The Cornell University student body is renowned for its academic prowess and intellectual vigor. Students from a variety of backgrounds and opinions contribute to campus life.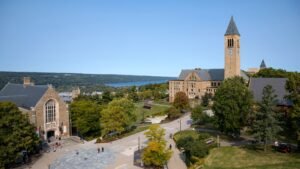 Still On: Complete Review Of Cornell University
How would you describe Cornell University's campus?
The 2,300-acre campus of Cornell University is located in Ithaca, New York, and is surrounded by beautiful scenery. The surrounding landscape of the university is noted for its spectacular gorges, waterfalls, and rolling hills.
The campus has a variety of architectural designs that represent the university's lengthy history and wide range of academic offerings. The Cornell Chimes, which play music throughout the campus, are housed in the recognizable McGraw Tower. The College of Arts and Sciences is one of the academic buildings that is located in the Arts Quad.
On Libe Slope, students come together to celebrate the end of the academic year with music, food, and celebrations during Slope Day, a cherished tradition. On-campus recreation options are also available, features include sports courts, fitness centers, and hiking paths.
There are many student-friendly businesses, stores, and restaurants in the bustling Collegetown neighborhood, which is close to the university, adding to the active off-campus ambiance.
Overall, the Cornell campus offers students a calm and inspiring setting where they may focus on their studies, work with peers, and have a well-rounded college experience.
Still On: Complete Review Of Cornell University
Which options are there for students to conduct research at Cornell University?
In a wide number of areas, Cornell University is famous for its dedication to research and innovation. You will have access to a variety of research opportunities while a student at Cornell, allowing you to work on cutting-edge projects and advance knowledge.
The university is home to a number of renowned research centers and institutions, each devoted to a particular field of study. The Cornell Lab of Ornithology, the Cornell Center for Astrophysics and Planetary Science, the Cornell High Energy Synchrotron Source (CHESS), and the Cornell Center for Materials scientific are a few of Cornell's well-known scientific facilities.
Additionally, students have access to departments and institutions that offer research opportunities. Undergraduate and graduate students are frequently actively involved in research initiatives by many professors and faculty members, who offer them invaluable mentorship and hands-on experience.
Cornell provides a range of initiatives and programs to help with research projects. Students conducting independent research projects can get funding and materials from the Undergraduate Research Program (URP). The Cornell Graduate School provides fellowships and awards to aid in the research and scholarly endeavors of graduate students.
Additionally, Cornell's dedication to interdisciplinary study promotes departmental collaboration, enabling students to investigate many research fields and approach challenging societal issues from a variety of perspectives.
Still On: Complete Review Of Cornell University
Recommended
How is student life and extracurricular activities at Cornell University?
Student life and extracurricular activities are supported and thrive at Cornell University. The institution provides a wide range of services and opportunities beyond the classroom because it understands the value of a well-rounded college experience.
At Cornell, there are more than 1,000 student clubs and groups that support a variety of causes, hobbies, and interests. These clubs cover interests in academia, culture, sports, the arts, and volunteer work. There is probably a student organization that matches your interests, whether they are dance, debate, or sustainability-related.
Throughout the year, the institution also offers a variety of events and activities, including lectures, plays, festivals, and cultural festivities. These gatherings offer chances for discussion, socializing, and cross-cultural connection.
Through its community outreach initiatives, Cornell has demonstrated its dedication to public participation. Students can volunteer their talents and time to worthwhile service initiatives by connecting with local community organizations through the Cornell Public Service Center.
Cornell also provides a wide range of support services to promote the wellbeing and personal development of its students. These consist of academic counseling, mental health and counseling services, career development assistance, and health and wellness initiatives.
Modern exercise centers, sports venues, and outdoor leisure areas are among Cornell's top amenities for recreation. To maintain an active and healthy lifestyle, students have access to gyms, swimming pools, tennis courts, and hiking trails.
Overall, Cornell University is committed to ensuring that students have an enriching and gratifying experience outside of their academic endeavors by offering a nurturing environment for personal development, community engagement, and the pursuit of a variety of interests.
SEE ALSO:
Trust you found our article on Complete Review Of Cornell University | Scholarships, Tuition, Programs, Admission helpful. Follow our website for more interesting article.