Are you thinking of going into medicine? Before deciding to follow a pre-med course in high school, it is highly recommended that you check out a few medical internships.
Actually, the majority of high school students who want to become doctors end up changing their major in college because the pre-med classes are too difficult.
But you already know how challenging medical school is. It will cost hundreds of dollars and take several years. Toe-dipping in the water before going all the way in will therefore be a terrific idea.
This book will cover everything there is to know about a medical internship, the opportunities available to you as a high school student, and a list of medical internships.
A medical internship essentially serves as a focus point when a student of medicine becomes a practicing doctor. This experience of professionalization and entry into direct patient responsibility, which has its roots in hospital apprenticeships, has taken a haphazard route.
Since the beginning of modern internships in the United States in the late 19th century, socio-economic and political factors have influenced many of their aspects more so than academic goals.
There is currently a rethinking of the recent decision to include internships in residency programs due to a new understanding of the importance of the internship experience for the professional development of physicians.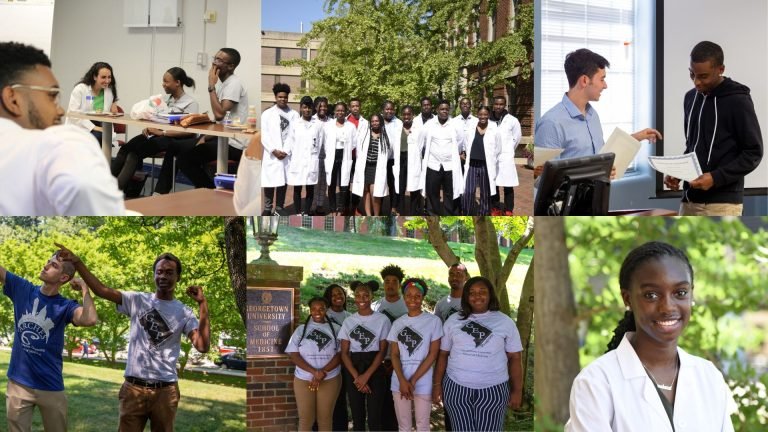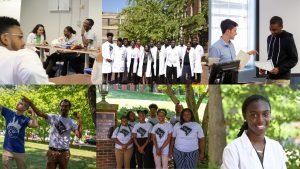 What is a medical internship?
A medical internship is essentially the first year of training following medical school. It is more frequently referred to as PGY-1, or the first year of residency (Post-Graduate Year-1). The subsequent years are referred to as PGY-2, PGY-3, etc.
The experiences you can get from pre-college internships and other medical programs include working in a lab, running studies, getting real-world clinical experience, and much more. You will receive your education in a variety of settings, such as colleges, hospitals, and clinics, as well as research facilities.
A medical internship, on the other hand, refers to a term of training and education under medical professionals for high school students that will help them become acclimated to what they should expect in medical school.
Who is a Medical Intern?
A recent medical school graduate who is in his first year of post-graduate on-the-job training is referred to as a medical intern. At order to gain exposure to various medical specialties, interns frequently switch between departments while working in hospitals.
Additionally, the institution that accredits post-graduate medical training schools, the Accreditation Council for Graduate Medical Education, or ACGME, now refers to interns as first-year residents or Postgraduate Year 1, or PGY-1. In many training hospitals and other settings, both words are used interchangeably.
How much do interns make?
The federal Department of Health and Human Services pays a modest wage of $35,000 to medical interns, students undergoing training to become doctors or specialists at a hospital (largely Medicare).
Link To Medical Internship Website
How Long Does an Internship Program Last?
An internship program often lasts for the entire semester or quarter of the academic institution. As a result, several colleges use a semester system with terms of 14 to 16 weeks each.
However, the spring semester begins in January or February and lasts until May or June, whereas the fall semester often begins in August or September and lasts until the beginning of December. Therefore, a summer term that lasts between 10 and 12 weeks is also provided by several schools.
Read Also: 10 Cheapest Universities in Italy for International Students
Medical internships for high school students abroad.
Medical professionals improve as they see and experience more. Combining education with in-depth exposure to a wide range of medical concerns that affect individuals from all walks of life is the key to success in the medical sector.
Aspiring doctors can obtain essential experience in the medical industry in a setting they probably won't find in their native country by undertaking a medical internship overseas. Every medical student should give carefully considering a medical internship abroad because international internships look great from both a professional and altruistic aspect.
Here are some medical internships for high school students 2023:
1. Medical Immersion Summer Academy (MISA)
MISA is one of the medical internships for high school students. At MISA, you'll learn everything there is to know about healthcare through clinical immersion, shadowing, mentorship, and hands-on skill training (including EKG, suturing, CPR, splinting, and taking vitals).
Additionally, you'll attend VIP lunches with medical specialists, observe patients and medical procedures, and participate in "Step into the Shoes of an MD" skill-building seminars and doctor-patient case discussions.
Students in Bay Area grades 9 through 12 may enroll in the five-day program, which costs $900. When the program begins, you must be at least 15 years old. Apply between January and March.
2. National Student Leadership Conference on Medicine & Healthcare
This is another medical internships for high school students. High school students can learn about contentious medical problems, current health care challenges, and outstanding scientific discoveries in fields like cancer and HIV/AIDS at the NSLC. The course is presented at:
American University
Georgia Tech
Harvard Medical School
Northwestern University
Rice University
UC Berkeley
UCLA
University of Washington
Vanderbilt University
University of Miami
While unraveling the mystery of a deadly virus that is sweeping the country, students will participate in diagnosis and medication, perform clinical rounds, study medical examination and surgical methods, and undertake clinical procedures. After completing the program, you'll also have the option to enroll in an online college-credit course taught by American University instructors.
Two nine-day summer sessions are offered on each campus. The price is $3195 ($3,295 in San Francisco, Chicago, and Boston, and $3,495 everywhere). Slots fill up quickly and admission is rolling.
If you receive an invitation through being recommended by your school, a program alum, or are identified by a talent search, you may also apply and are guaranteed admission as long as room is available. There are scholarships available.
3. Penn Medicine Summer Program for High School Students
Another Medical Internship on the list of medical internships for high school students is PMSP.  Learn from highly regarded Penn faculty at the Perelman School of Medicine at the University of Pennsylvania for four weeks in June or July. You will gain knowledge on featured subjects like transplant surgery, emergency medicine, cancer, resuscitation science, kidney illness, and sports medicine through engaging lectures and laboratories.
You will participate in practical virtual and simulated experiences in the afternoons at locations like Penn's Clinical Simulation Center. Additionally, you'll be able to watch live surgery in Penn's operating room theater.
This residential medical program is open to juniors and seniors, ages 16 to 18. $7,995 is the price. The deadline for submissions is March 8, 2023.
Read Also: 10 Best Public Universities in France
4. The Center of Excellence High School Summer Enrichment Science Academy (HSSESA)
This is one of the medical internships for high school students. Juniors and seniors can participate in the six-week HSSESA program, which focuses on science-related topics like Biology, Chemistry, Medical Terminology, Mathematics, Computer Science, and job exposure in clinical settings.
Five days a week, students learn in an academic context while learning the necessary material for a pharmacy major or degree.
The program's goal is to encourage young, underrepresented minority students to pursue careers in pharmacy and related fields and to build mentorship ties with graduate students and professionals in the medical field.
Due to this, underrepresented minority students and/or students from low-income backgrounds are given favor throughout the admissions process. Additionally, there are specific considerations made for students from Virginia, Maryland, and Washington, DC.
The majority of expenses, such as lodging, meals, and activities, are covered by the program and attendance is free.
5. Stanford Medical Youth Science Program
Stanford Medical Youth Science Program is among the medical internships for high school students.  Low-income, underrepresented high school sophomores and juniors from Northern and Central California participate in this five-week residential program and watch medical events such faculty lectures, laboratories, college admissions counseling, mentoring, and practical medical procedures.
Students participate in a medical school anatomy course and lab, a Stanford Health Care internship, college admissions workshops, a research project, behind-the-scenes tours of Stanford Health Care, and other activities.
Tuition-free, the program runs from June through July. The deadline for applications is February 13, 2023.
6. Della Keats Health Science Summer Program
Another medical internship on the list of medical internships for high school students is Della Keats Health Science Summer Program. The Delia Keats program, provided by the University of Alaska WWAMI School of Medical Education, exists to encourage high school students' interest in careers in medicine.
In this four-week program in July and August, high school juniors and seniors in Alaska can learn about professions in healthcare and get a taste of college living.
Students who are interested in participating must be first-generation Americans, from economically challenged backgrounds, reside in rural Alaska, be the first in their families to attend college, and/or speak English as a second language. Attendance in the program is free, and participants are given a small stipend to help with meals and other costs. Housing is available.
7. Arthritis Foundation Summer Science Internship Program
This is one of the medical internships for high school students. High school students and seniors, as well as first- and second-year college undergraduates, have the opportunity to participate in an eight-week medical internship through the Rheumatology and Immunology Laboratories at Stanford University and the University of California, San Francisco.
The 12 chosen students work under the direction of eminent researchers at Stanford University and the University of California, San Francisco in prestigious research and clinical laboratories (UCSF). Students spend 40 hours per week throughout their eight-week internship either fundamental laboratory (bench) research or clinical epidemiological/translational (patient-focused) research.
Participants in high school receive a $1,500 stipend from the program.
8. Center for Disease Control (CDC) Museum Disease Detective Camp
CDC is among the medical internships for high school students. Rising high school juniors and seniors have the opportunity to spend five days learning about public health at the CDC's headquarters in Atlanta, Georgia.
Public health interventions, global health, infectious disease, chronic disease, injury prevention, data analysis, surveys, school wellness initiatives, violence prevention, environmental health, emergency readiness, outbreaks, scientific communication, laboratory technology, disease surveillance, epidemiology, and public health law are just a few examples of the diverse topics that may be covered.
A laboratory session, an introduction to chronic disease surveillance, a discussion of public health law, and brief talks by prominent CDC scientists are just a few examples of the various activities that can be included.
2023's application period runs from January 25 to March 29. Residents of Atlanta may participate in the program for free, but they are responsible for finding their own accommodation. Three sessions are held in June and July.
Read Also: Top 10 Best Public High Schools in America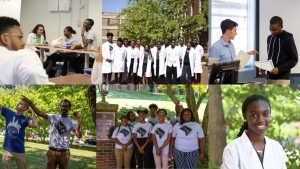 9. Summer Child Health Research Internship
One of the Medical Internship on the list of medical internships for high school students is S.C.H.R.I. This medical internship is available to rising high school seniors, college students, and first-year medical students. It is held at Children's Hospital Colorado/the University of Colorado on the Anschutz Medical Campus.
Students collaborate with mentors from the Department of Pediatrics and participate in a lecture research series. They also present their own research at the program's conclusion.
A $3,500 stipend is given to participants to help with accommodation and travel expenses. Applications must be submitted by February 1, 2023, and the internship will last for two months between June and August.
10. Indiana University Simon Cancer Center Summer Research Program
This is another Medical Internship on the list of medical internships for high school students. In this eight-week program, participants are paired with mentors and spend 40 hours per week on tasks including laboratory research, database research using computers, or clinical research.
Additionally, they attend weekly workshops on subjects related to applying to graduate and professional programs of study.
From June to July, the program is in operation. Students must have completed their junior year of high school or be 24 credits into their first year of college. The deadline for submission is February 1, 2023. A stipend is given to participants.
11. High School Senior Summer Internship Program at Cincinnati Children's Hospital
This is one of the medical internships for high school students. Basically, in this eight-week program for graduating seniors from the Cincinnati area, high school students will work with a coach in one of 10 pediatric clinical specialties. Additionally, participants engage in group activities such as a hands-on training session with computer-simulated pediatric patients in the SIM Center in the afternoon, a lunch with former summer interns, and a presentation on how to prepare for medical school admission from the assistant dean for admission at the UC College of Medicine.
A graduation celebration with student presentations on their experiences marks the program's conclusion for medical internships.
Students are paid $8.55 per hour for working 20 or more hours per week. Applications must be submitted by March 18, 2023, and the program begins in June.
12. Summer Medical Academy
Summer Medical Academy is one of the medical internships for high school students. Rady's Children's Hospital in San Diego is the host of the Summer Medical Academy, which offers lectures and interactive conversations about healthcare-related issues, practical skill clinics, career panels, team-building exercises to learn new skills and meet potential coworkers, and more.
In June and July, there are two two-week programs. Additionally, students participate in group projects about issues with public health.
The program is $2,450 for students in grades 9 through 12 who are between the ages of 15 and 19. There are partial scholarships offered. by February 22, 2023.
Read Also: List Of Top 10 Best Online Courses for Teens
13. Kendall Smith Healthcare Exploration Scholarship Program
Another Medical Internship on the list of medical internships for high school students is K.S.H.E.S.P. Participants in the scholarship program work for six weeks over the summer in a medical field of their choice in a hospital setting. The scholarship is funded by the Service League of Advocate Lutheran General Hospital. At the conclusion of the program, students give a presentation to staff and visitors about their experience.
Your application must be submitted by April and you must be a junior or senior at the time of submission. The acceptance of proposed participants is based on their interest in a profession in health care, their involvement in extracurricular activities, and their academic success. There are 13 $600 scholarships available, and the minimum weekly work requirement is 20 hours.
14. Health Care Career Exploration Camp
This Is one of the medical internships for high school students. Students in grades 10 through 12 who reside in Nebraska or Iowa may participate in this free program to get knowledge from authorities in subjects like:
Athletic Training
Clinical Dietetics
Clinical Engineering
Neuropsychology
Nursing
Occupational Therapy
Pharmacy
Physical Therapy
Speech and Language Pathology
Surgical Technology
Radiation Therapy
Radiologic Technology
Respiratory Care
Six CHI Health facilities in Nebraska provide the program. Application submission begins in February, and admission is ongoing. Due to space restrictions, previous attendees are placed on a waitlist so that new students can attend.
15. Lifespan Summer Youth Employment Program
Another Medical Internship on the list of medical internships for high school students is Lifespan Summer Youth Employment Program. Any Rhode Island resident between the ages of 16 and 19 who resides in Providence, Mount Hope, or Newport is eligible to apply for this eight-week paid summer internship at a Lifespan hospital or Lifespan Corporate Services. You will be assigned to one of the following areas and must possess a current CNA (Certified Nursing Assistant) license:
Radiology
Physical Therapy
Cardiology
Nursing
Transport
Central Processing
Human Resources
Food and Nutrition
Respiratory Care
Following graduation, the program offers career advice, and some participants receive job offers. Participants are paid $10.10 per hour. Applications are accepted from November through January, and if you are invited for an interview, you must attend. It runs from June to August.
Recommended
16. Howard Hughes Medical Institute Jump Start Program – College Park, Maryland
This is another of the medical internships for high school students. For one complete week, the Howard Hughes Medical Institute Jump Start Program welcomes 50 students. The University of Maryland campus' biomedical science research is the focus of the article.
This STEM course is offered in College Park, Maryland. The investigation of employing molecular and cellular tools to identify ailments and treat them will be its main focus for the forthcoming summer of 2023. Throughout the week, students participate in seminars and workshops.
Candidates for the Howard Hughes Medical Institute Jump Start Program must be juniors or seniors in high school. Prior to applying, you must have finished your AP Chemistry and Biology curriculum.
Payment details: Each applicant must pay a $200 application fee.
17. McLaughlin Research Institute for Biomedical Sciences Summer Internship – Great Falls, Montana
This is one of the medical internships for high school students. Both high school and college students are eligible to apply for the McLaughlin Research Institute for Biomedical Sciences summer internship. The McLaughlin nonprofit group, which carries out neurogenetics research, is offering an eight-week course.
Learn skills linked to degenerative nerve disorders like Alzheimer's and Parkinson's that you can apply in your medical field of study.
In Great Falls, Montana, there is a summer research program run by the McLaughlin Research Institute. It was designed with high school students who wanted to be doctors in mind.
You'll participate in a variety of extracurricular activities, such as:
Conduct investigational science
Attend seminars and workshops
Participate in lab research projects
Read Also: 10 Japanese Scholarship For Cambodian | Check Now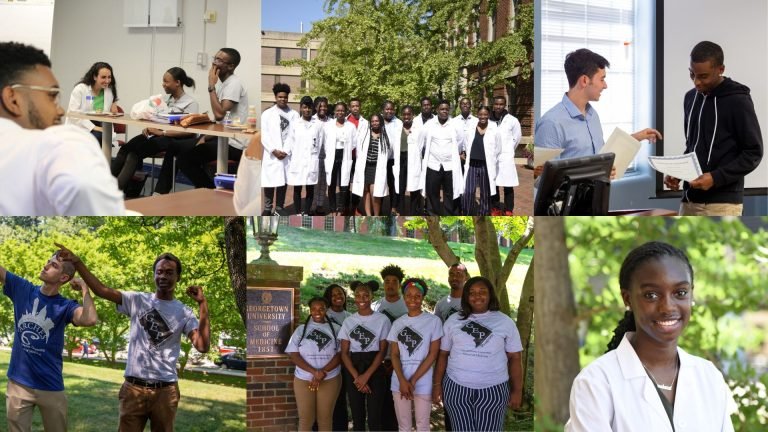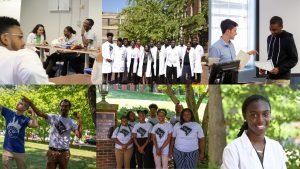 SEE ALSO:
Trust you found our article on 17 Medical Internships for High School Students in 2023 helpful. follow our website for more interesting articles.