Looking to study medicine in China? We have compiled a list of Best Medical Schools in China, to help you in your quest.
China has been attempting to improve the quality of education in the country since the 1980s.
While overseeing the world's largest educational system presents numerous problems.
The Chinese government has effectively solved them – and even outdone themselves. In fact, two of its universities were ranked 23rd and 24th in the World University Rankings, respectively.
With its superb educational system and cutting-edge facilities, Chinese institutions are attracting an increasing number of ambitious doctors.
If you want to study medicine in one of the world's most populated countries, pick one of these best medical schools in China.
Basic Requirements
Universities in China offer an MBBS degree, as well as a Bachelor of Medicine and a Bachelor of Surgery. As this is an undergraduate program, it is only open to high school graduates who are 18 years old or older.
An applicant's mental and physical health should be in good working order. He or she should have good grades and a strong command of the English language.
Duration of Study
The minimum duration of study in any of these Best Medical Schools in China is 6 years.
In China, the undergraduate MBBS degree takes at least 6 years to finish. The foundations are covered in the first year, whereas fundamental medicine is covered in the second and third years.
Clinical medicine is taught in the fourth and fifth years. The final year is set aside for an internship, which can be completed in China or elsewhere.
Read also: Best and cheapest Medical Schools in the world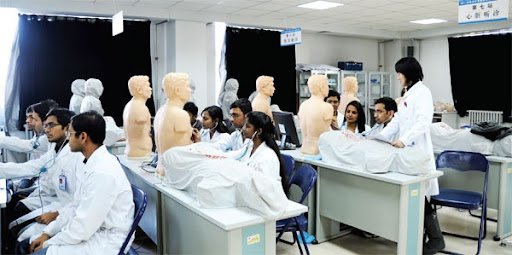 5 Best Medical Schools in China
Below is the list of the best medical schools in China, also included are links to each school.
1. Peking University – Health Science Center (HSC)
First on our list of Best Medical Schools in China is Peking University.
The Peking University HSC is in charge of the university's medical school. It is managed alongside the university's various hospitals and other health-related entities.
The old Imperial University of Peking, based in Beijing, is a notable member of the C9 League, China's equivalent of the Ivy League.
It was the first medical school in China to embrace the British medical school system, having opened in 1902. As a result, it was the first in the country to teach students contemporary Western medicine.
2. Tsinghua University – School of Medicine
Tsinghua Institution is the top Chinese university according to the World University Rankings, and it houses one of the country's most elite medical schools.
Although it was only founded in 2001, it is named after one of China's most prestigious institutions: Peking Union Medical College (PUMC). PUMC was founded in 1917 and is modelled after the medical school system in the United States.
Acceptance into the School of Medicine is extremely hard, as only about 90 students are admitted each year to China's top medical school. Tsinghua University has an 8-year program in comparison to other universities.
It follows a 3+2+3 paradigm, in which the first three years are spent laying a foundation of knowledge. The next two years are divided into two tutorials, with the final three years devoted to clinical medicine.
3. Fudan University – Shanghai Medical College (SMC)
Next on our list of Best Medical Schools in China is the Fudan University.
Dr. Fuqing Yan, who founded Shanghai Medical College in 1927, is the school's founder. It is still one of China's best medical institutions, especially since the government-mandated merger with Fudan University in 2000.
The school currently provides two types of Clinical Medicine degrees, which can be completed in six or eight years. Because the curriculum is taught in English, the 6-year degree is ideal for overseas students.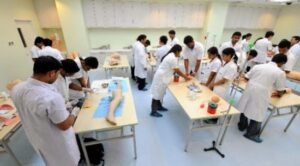 The 8-year program, on the other hand, is reserved for individuals who can simultaneously improve their clinical and research skills.
Students get the opportunity to work alongside colleagues from prestigious colleges such as Harvard and Columbia.
4. Shanghai Jiao Tong University (SJTU) – School of Medicine
The Shanghai Second Medical University, which was founded in 1952, merged with Shanghai Jiao Tong University in 2005 to become the Shanghai Jiao Tong University.
The Chinese Ministry of Education has given the SJTU School of Medicine an A+ mark for Clinical Medicine, making it one of just two schools in the country to get this honor.
The ministry continuously placed it first among all Clinical Medicine programs in the country from 2009 to 2018.
Read also: How to become a medical doctor in Japan(7 steps)
5. Zhejiang University – School of Medicine
Last on our list of Best Medical Schools in China is the Zhejiang University.
The Chekiang College of Medicine, which is now the School of Medicine, was founded in 1912. In 1999, it was renamed Zhejiang University School of Medicine after a few adjustments.
As a member of the prestigious C9 league, the university is considered one of China's most top educational institutions. In addition, it is one of China's 36 Double First-Class Universities.
Zhejiang University, located on the Zijinjang campus, is one of China's best medical institutions. It is linked with seven hospitals and several other research institutes.
Trust you found our article on 5 Best Medical Schools in China helpful. Follow website for more interesting articles.