Ireland's University College Cork (UCC), located in Cork, is a prestigious organization known for its long academic history and current excellence. UCC, founded in 1845, has developed into a thriving hub for learning, innovation, and studies. The college's wide range of programs, which cover the arts, sciences, business, and more, highlight its commitment to academic excellence. The scenic campus of UCC, which blends historic buildings with modern buildings, offers students an enthralling setting against which to begin their academic adventure.
Graduates are equipped with a comprehensive skill set for the challenging scenarios of the cutting-edge international thanks to the institution's emphasis on cultivating critical thinking, cultural sensitivity, and international perspectives. UCC maintains significant contributions to several sectors with a strong focus on research-driven advancements, further reinforcing its reputation as a prestigious and forward-thinking academic institution.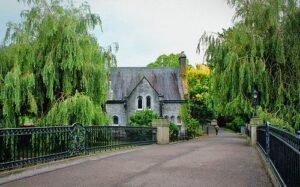 What county is University College Cork (UCC) in?
The vibrant city of Cork, which is found in the southern region of Ireland, is home to University College Cork (UCC). College students can enjoy both the appeal of historic architecture and the amenities of city living thanks to the campus' scenic position just a short stroll from the city center. Due to its rich historical and cultural significance, Cork—often referred to as the "Rebel City"—offers a vibrant setting for academic pursuits and extracurricular activity.
Read Also: The University of Bristol | Admission, Tuition, Programs & History
When did UCC become the standard, and what does that mean historically?
The University College Cork was established in 1845 as one of three Queen's Colleges in Ireland, connected during a period of educational reform. Its founding was a significant turning point in Irish history, reflecting a broader trend toward practical and inclusive education. Its original name, "Queen's College, Cork," reflected its mission to offer higher education options regardless of a person's religious affiliation or socioeconomic background. The institution has developed over time to become a significant hub for learning and research, contributing significantly to Ireland's advancement in the fields of science, culture, and knowledge.
What academic specialties and programs are offered at the University College Cork ?
Across its numerous schools, UCC offers a wide range of educational programs and disciplines, including Arts, Celtic Studies, Commerce, Medicine, Science, Engineering, Law, and many more. These programs cover the undergraduate, graduate, and research levels and are geared toward a variety of interests and goals. From the humanities to the sciences, business to the health sciences, UCC offers comprehensive and forward-thinking academic options that give students the knowledge and skills they need to succeed in their chosen disciplines.
Read Also: 15 Free courses online with certificate in USA
How does UCC support cutting-edge research and innovation?
the University College Cork is dedicated to encouraging research and innovation in a variety of fields. The university has established research centers and institutions that tackle cutting-edge problems and advance understanding of the world. UCC facilitates multidisciplinary research projects and information exchange through strategic alliances with businesses, government agencies, and international partners. The program also promotes entrepreneurship by helping teachers and students turn research into real-world initiatives and enterprises that have a positive influence on society and the economy.
Could you give an overview of the campus's facilities?
The campus at the University College Cork is a tasteful fusion of old and new, reflecting its rich history and forward-thinking goals. With its recognizable limestone structures, the Main Quadrangle serves as a testament to the college's past. Modern amenities include lecture rooms, research labs, libraries, and recreation spaces. The campus also has lovely gardens and outdoor areas that give students a tranquil setting for both academic and recreational activities. The institution also makes investments in sustainability projects, including green infrastructure and activities.
Read Also: Imperial College London | Review, Tuition, Admission, Programs, History
What outstanding accomplishments or awards has UCC received?
Numerous awards and recognitions that the University College Cork has received attest to its quality in education and societal achievements. The college consistently places among the world's best institutions, with particular praise for its research output. Its reputation as a center for innovation and mastery is enhanced by its membership in important international networks and institutions. The school and graduates of UCC have made significant contributions to a wide range of industries, including literature, technology, healthcare, and public service, as well as solidifying the group's influence on a global level.
How multicultural and varied is the student body at UCC?
The student body at University College Cork takes pleasure in being inclusive and varied. The university enrolls college students from all over the world, which fosters a diverse and stimulating environment. The campus community considers this diversity in a variety of contexts, including academic debate, cultural activities, and student organizations. The dedication of UCC to promoting a global mindset equips students for success in a linked world while also celebrating the diversity of cultures and backgrounds.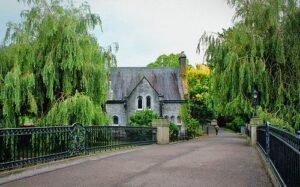 What support services, in addition to counseling or career advice, are offered to college students?
To guarantee the success and well-being of its students, UCC offers a wide range of support services. These services include private development programs, intellectual health assistance, career counseling, assistance with academic matters, and services for the disabled. The college's committed staff and resources are there to aid students in navigating their academic journey, selecting wisely their careers, and dealing with any challenging situations they may encounter while attending UCC.
Are there opportunities for college students to play golf or participate in extracurricular sports?
The University College Cork offers a wide range of extracurricular activities and golf supplies to suit a wide range of interests. UCC provides a platform for involvement whether students are interested in athletics, the arts, cultural discovery, community service, or scholarly endeavors outside their middle research. These sports now enhance the entire collegiate experience while also nurturing priceless skills like leadership, teamwork, and networking.
Recommended
How does the University College Cork engage in social outreach programs and give back to the community?
UCC has a strong commitment to social outreach and network involvement. To address societal challenges and promote great interchange, the institution actively works with local businesses, governing bodies, and network organizations. UCC utilizes its resources and knowledge to improve the lives of the locals through programs including volunteerism, research collaborations, and public talks. These initiatives strengthen the college's role as a responsible, socially responsible organization that actively attempts to have a substantial impact outside of its campus boundaries.
SEE ALSO:
Trust you found our article on University College Cork (UCC) | Review, Tuition, Admission, Programs helpful. Follow our website for more interesting articles.