You'll be happy to know that if you study in Canada, you can encounter a rich cultural diversity and spectacular natural beauty. This thorough tutorial will explain how to study in Canada without taking the IELTS, GMAT, or other similar examinations. We know the admissions standards can be intimidating, so we'll give you thorough information and other options to help you realize your ambition of studying in Canada.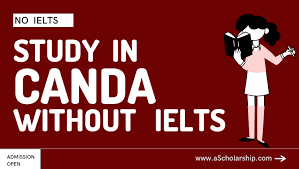 An Overview of Canadian Discovery
Canada, which is located in the northern half of North America, is well known for its breathtaking natural scenery. The nation offers a multitude of cultural experiences, from the prairies of Manitoba to the ski slopes of British Columbia. Cities with a reputation for friendliness, tolerance, and multiculturalism include Toronto, Montreal, Vancouver, and Quebec.
Read Also: Ibn Haldun University – Ranking, Tuition, Courses & Scholarships
An overview of studying in Canada without IELTS or GMAT
International students have typically had to take tough entrance examinations like the SAT, MCAT, LSAT, GMAT, GRE, IELTS, and TOEFL in order to study overseas. These tests, which serve as entry points to institutions of higher learning, evaluate various skill and performance levels. However, Canadian colleges have acknowledged that graduates from English-medium institutions have a strong command of the language. As a result, many Canadian universities no longer require students to take tests like the GMAT and IELTS.
The Importance of English Language Proficiency
Although knowing English well is essential for academic achievement, many Canadian universities now allow alternate ways to measure language competency. Universities may take into account additional criteria in addition to standardized tests, such as the mode of education and academic transcripts. It's important to carefully examine the entrance requirements of the university you want to attend because each institution may have different requirements.
Canadian universities that don't require the IELTS or GMAT
Many Canadian institutions have changed their entrance standards to be more lenient. The following institutions are known to waive the requirement for IELTS and GMAT scores, though exemptions may vary:
University of Saskatchewan
Brock University
Carleton University
University of Winnipeg
University of Regina
Memorial University
Concordia University
It's crucial to remember that these exemptions are subject to specific institution standards and may be based on things like having had an education in the English language or passing O-Level or A-Level exams.
Without IELTS or GMAT results, applicants to colleges should make sure they have appropriate supporting documentation to demonstrate their English language ability when applying for visas.Student visa requirements are in the h3 tag.
To protect the validity of foreign students' purpose to study in Canada, new visa requirements have been put in place. The enrolment in an accredited college or university that accepts overseas students must be verified by prospective students.
IELTS scores may not be required for admission, but when applying for a student visa, applicants must submit supporting documentation to prove their English language ability. These strict rules are intended to protect the standard of education and stop the misuse of study permits.
Read Also: The Rise of Coding and Computer Science in School Curricula 2023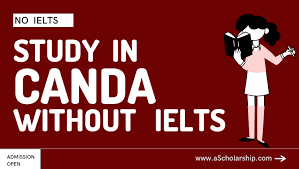 Exams Alternatives for International Students to study in Canada
Although there are more alternatives for people to study in Canada thanks to IELTS and GMAT waivers, it's important to be aware that some programs or schools may still require other entry examinations. Here is a quick rundown of some well-known tests:
1. GRE (Graduate Record Examination)
For entrance to graduate degrees, particularly in engineering and the sciences, the GRE is frequently needed. It evaluates one's analytical, mathematical, and verbal abilities. Students should prepare for the GRE in accordance with their plans to pursue a graduate degree in the USA or Canada.
2. SAT (Scholastic Aptitude Test)
For various US universities' undergraduate programs, the SAT is required. It is divided into two sections: the Subject Test, which measures knowledge of certain subjects, and the Reasoning Test, which examines general writing abilities and grammar. Students who want to study in the US should become familiar with the SAT requirements.
Recommended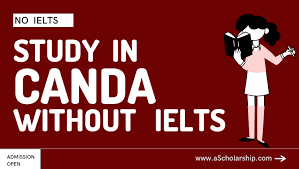 3. MCAT (Medical College Admission Test) and LSAT (Law School Admission Test)
To be admitted to appropriate schools, prospective medical and legal students may need to take the MCAT and LSAT, respectively. These tests assess candidates' skill and knowledge in their specialized domains.
To make sure you meet all requirements, it's crucial to investigate and comprehend the unique entrance exam requirements for the program and institution of your choice.
International students now have the option of attending university in Canada without taking the GMAT or IELTS. The road to higher education has become more open as a result of Canadian colleges relaxing these criteria and adopting alternate strategies for determining language proficiency.
But it's important to carefully review each university's standards, comprehend visa needs, and be aware of any further entrance examinations that might still be required for your selected degree. You can pursue your academic goals and enjoy the wonderful experience of studying in Canada in 2023 by utilizing these options and keeping informed.
Read Also: UTI school review 2023 | How true is Universal Technical Institute
SEE ALSO:
Trust you found our article on Study in Canada in 2023 without IELTS and GMAT follow our website for more interesting articles.