If you are looking for UTI school review 2023, then you are at the right place, in this article, we will be reviewing the universal technical institute, UTI.
UTI school review 2023:
The Universal Technical Institute provides post-secondary education for students pursuing careers as automotive, motorcycle, and marine technicians. The Institute offers a bachelor's degree and a diploma in its different branches in the United States.
UTI also offers manufacturer-specific training programs (MSAT) sponsored by the manufacturer in 18 special training centers spread across the United States. You can check out the locations of all the training centers at UTI
Also, read; Top 10 Best Aviation Schools in Canada | Ranking
The UTI is the leading provider of technical training for collision repair, automotive, diesel, motorcycle, and marine technicians, offering welding technology and CNC -Editing programs (Computer Numerical Control).
According to UTI, It has more than 220,000 graduates in its 54-year history and has established partnerships with industry leaders, offers training tailored to the needs of employers, and equips its state-of-the-art facilities with the latest technology.
Since its inception, the school has grown from 11 students and a campus with just a building to more than 80,000 graduates from the automotive, diesel, collision, motorcycle, and shipping industries with nine locations nationwide.
The UTI offers the following courses:
Vehicle Technology
Vehicle Technology— A 51-week training program for MSAT and vehicle technology from partners like the International Truck and Engine Corporation.
Students learn to service class 3-8 diesel trucks, including fuel systems, air brakes, drivetrains, and advanced diagnostic systems, throughout a 45-week course in diesel / Industrial technology.
UTI maintains direct relationships with around 30 OEM manufacturers such as Ford, BMW, Mercedes-Benz, Toyota, Cummins, and Harley-Davidson, and a host of others.
2. Diesel / Industrial Technology:
A 45-week course in which students learn to service class 3-8 diesel trucks, including fuel systems, air brakes, drivetrains, and advanced diagnostic systems. The course work includes hydraulic applications and transport cooling systems.
UTI also works with manufacturers such as International, Detroit Diesel, Freightliner, Cummins, and Caterpillar.
Collision Repair and Refinish Technology – A 51-week course certified to ASE / NATEF Master in five common areas of body repair and based on the industry-standard "I-CAR Enhanced Delivery.
Also, read; Cheapest Universities in Kuwait for International Students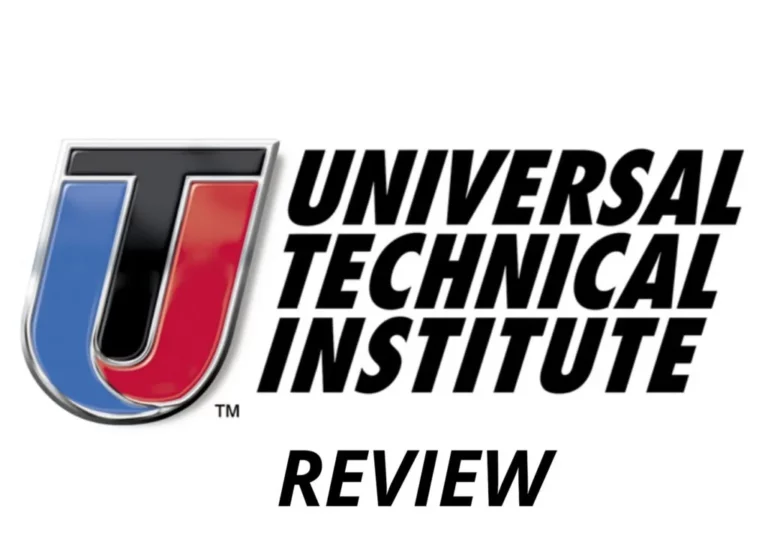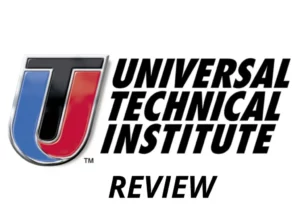 UTI School Review 2023: Is Universal Technical Institute Legit or Scam?
Another question that pops up in people's minds is, is UTI an accredited school?
The Accreditation Commission for Vocational Schools and Technical Universities accredits each UTI school (ACCSCT). The Accreditation Commission for Vocational and Technical Colleges is a nationally recognized accreditation agency, according to the US Department of Education.
The requirements for gaining admission in the UTI include:
Once you have chosen a training location of your choice, you will need to meet some basic requirements before you can be admitted.
1. Age Requirement
A potential student must be at least 16 years old to be considered for enrollment. Please keep in mind that all students under the age of 18 must have a parent or legal guardian sign the registration agreement.
2. Admission Requirement
Before the start of the program, the institution assesses with reasonable certainty that the applicant possesses the requisite requirements to finish the course. Before the session begins, the applicant's enrollment agreement and other necessary documents will be reviewed.
After acceptance of a matriculation contract, all students are admitted to the UTI, subject to a reserve. The conditional status will be maintained until the documentation of the student is found to be satisfactory.
Allowing a suitable advance time (preferably at least 30 days) for both the review of submitted documentation and the notification of a planned school change is strongly advised.
3. Entry Requirements
Students must provide the following documents to complete the school's entry requirements before beginning or re-enrolling, and UTI must accept one of them:
State-recognized high school diploma based on state standards (documented with a copy of the diploma, a high school diploma, or DD form 214 showing proof of graduation).
Diplomas and certificates are assessed as soon as they arrive. UTI examines diplomas for legitimacy and maintains the right to refuse to recognize those that are deemed invalid.
Students from Tennessee who attend MMI-Orlando or UTI-Houston, as well as all NASCAR Tech students, must submit copies of their official high school transcripts, not transcripts of their high school diploma, to meet the admission requirements or;
GED or state-recognized equivalent exam issued by the state. To meet the eligibility requirements, students residing in Tennessee who are enrolled in MMI-Orlando or UTI-Houston, as well as all NASCAR Tech students, must present copies of their official GED certificates, not copies of their certification.
Proof that you took part in an Ability to Benefit (ATB) post-IV program before July 1, 2012. (documented with a copy of the official ATB test results and transcript)
Successful completion of a post-secondary course (associate degree, as well as evidenced by the submission of an official college certificate);
Successful completion of a state-approved homeschooling program. The documentation for homeschooling that UTI need for review is determined by federal requirements.
A copy of the secondary school diploma is required if school attendance is completed in a state that offers it. If the state does not have such requirements, additional documents must be provided for evaluation, including a certificate listing all courses, grades, and completion dates, as well as a notarized declaration.
The registrar or a representative from the campus will check the home school documentation and contact the applicant if more information is needed.
UTI school review 2023; Requirements for International students
Foreign 
educational 
documents from outside the United States or its territories can not be easily verified as acceptable proof of high school graduation, a university official must be sent to an assessment agency for evaluation at the expense of the potential student. 
Applicants 
for 
the 
Cummins 
Engines 
and 
Cummins 
Power 
Generation 
programs 
must 
meet all the
following 
requirements 
in 
addition 
to 
the 
basic
admission 
requirements 
listed 
above:
Applicants must be a UTI or NASCAR Tech graduate or a NASCAR Tech student in his current UTI or NASCAR Tech program with no more than 10 courses.
Have a valid vehicle record (MVR);
have no, no current MVR beliefs regarding driving while intoxicated or under the influence of drugs
Have and a personal interview with the Advanced Training Manager
Entry to the program is not guaranteed if all admission requirements are met. If the quantity of competent applicants outnumbers the number of available positions.
UTI School Cost
The tuition fees at UTI are $46,250 for the 2023 academic year. The largest program at Universal Technical Institute, Pennsylvania is Automobile/Automotive Mechanics Technology/Technician. Tuition fees and fees for 2023 are $46,250. You can also check school fees for UTI at Forbes
UTI school review 2023; Verdict
Consider 
applying 
to 
Universal 
Technical 
Institute 
if 
you 
want 
to 
study 
in 
a 
school 
that 
provides you with
high-quality 
hands-on 
training 
or 
real-world
physical 
training, 
experienced 
instructors, 
and 
cutting-edge 
technical 
facilities, 
as 
well 
as 
a 
strong 
portfolio 
for 
post-graduation 
employment. 
Make
use 
of 
it 
right 
now 
to 
seek 
your 
dream 
job.
Trust you found our article on
UTI school review 2023
helpful. Follow our 
website
for related articles.