This scholarships for black pilots as a topic is may not be for just black in quote but for anyone who desire to become pilots, flying training is the most expensive component of aviation education. It may even end up costing more in some circumstances than the aviation degree itself. Certainly, flight school is expensive, and sadly, this has put many aspirants of becoming pilots out of their goals.
The cost to become a pilot, according to ATP Flight School, is either $96,995 if you have no prior experience or $75,995 if you have a Private Pilot Certificate (PPL). Don't let the high expense of becoming a pilot scare you away from pursuing your ambition, even though it has deterred many would-be pilots in the past. Keep reading if you want to find out if there is any hope for you.
You can find possibilities to significantly lower the cost of your flight training in my most recent two posts on free pilot training programs and completely sponsored pilot training programs. Although you are already aware that pilot training is expensive, you don't actually need to pay for everything.
You can obtain scholarships, such as the ones I mentioned above and this one on black pilot scholarships, to significantly reduce the cost of your pilot training course. Along with applying for aviation scholarships, you can also apply for STEM or more common scholarships provided by organizations to help fund your aviation education.
Read Also: Union Bank Transfer Code And How to Register In 2023
List Of 8 Scholarships For Black Pilots
From Here Is The List Of The 8 Scholarships For Black Pilots
1. Fantasy Wings Black Pilot Scholarships
Here is the first of all other top scholarships for black pilots. Fantasy Wings wants to give women, minorities, and people of color the chance to succeed in the aviation field or become pilots. With professional-led workshops, conferences, mentoring, and actual flight instruction, they hope to accomplish this.
In addition to this, Fantasy Wings is giving three fortunate students the chance to have their Private Pilot License (PPL) entirely sponsored. It should be noted that applicants for this sponsorship must be Fantasy Wings members and one of the following: black, Asian, a member of a minority ethnic group, or a woman.
2. Awards under the OBAP
This among all well-known scholarships for black pilots called the Organization of Black Aerospace Professionals (OBAP) is dedicated to assisting people from underrepresented racial and ethnic groups who desire to work in the aerospace sector. The organization yearly awards scholarships to black people who aspire to work as engineers or pilots in the aviation industry.
Candidates must be enrolled in a US-based flight training program and be US citizens or US permanent residents. In addition, students need to be an OBAP member and be eligible for any scholarships they wish to apply for. As several scholarships are provided, individuals are encouraged to apply for more than one to maximize their chances. Don't worry if you didn't receive an OBAP scholarship this year; they will be available the next year.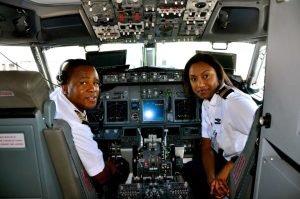 3. Alabama's Aviation Council Scholarships
This is the third on our list of scholarships for black pilots, the Aviation Council of Alabama offers scholarships for aspiring pilots from minority backgrounds who want to work in aviation but cannot afford the high expense of flight training. The award is intended for Alabama high school and college students who desire to work in the aviation industry.
Candidates must submit a completed application form, two letters of recommendation, a transcript from their school, and a 250-word essay outlining their objectives, accomplishments, and financial need in order to be considered for the scholarships.
4. Awards for EEA Flying Training
At the fourth top rated of all the scholarships for black pilots, we have the EEA Flying Training Awards. Although this EEA flying training scholarship is not specifically for black people, they should not pass up this chance. It is available to anyone who wants to become a pilot but cannot afford the training. To help applicants discover their training and realize their aspirations, this scholarship will provide them with at least $5,000.
The award must be used in a flight training school in the US or Canada. Applicants need not be citizens of the US; they can be from any nation. However, applicants do not need to be EEA members and must be at least 16 years old in order to apply for this award. Also, the scholarship is given each year.
Read Also: Top 10 Remote Jobs With No Experience
5. Black Students in Science and Technology Development Fund
Here is the fifth best rated of All scholarships for black pilots, although this scholarship isn't intended to be used exclusively for pilot training, it can be in this case. It is a scholarship for black college or university students majoring in science or technology who are enrolled in a historically black college or university. The scholarship money is now available to black students because aviation is a scientific or technological discipline.
Candidates must be African-American college students majoring in a technical subject who are also US citizens in order to be eligible for the scholarship. Financial need, recommendations, academic success, and a personal statement outlining the applicant's objectives and extracurricular pursuits are taken into consideration when choosing an applicant.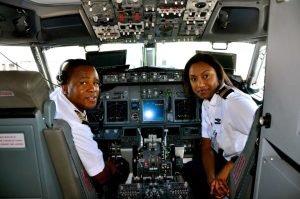 6. Awards from the BPA
At the sixth best rated of all the scholarships for black pilots, we have the BPA Award. Black Pilots of America (BPA) is a US-based group that seeks to mentor and assist young black people who want to work as pilots in the aviation sector, hence increasing the proportion of black pilots in the sector. To be eligible for the scholarship, prospective applicants must be a member of one of the BPA chapters around the nation.
7. AOPA Foundation Scholarship Program
This is one of the scholarships for black pilots, with grants ranging from $2,500 to $14,000 for initial flight instruction, higher ratings or certifications, and aviation upkeep. To qualify for the scholarship, you must be an AOPA member and a citizen or lawful permanent resident of the United States.
At the time of application, candidates must be at least 16 years old and have achieved high academic standards.
Recommended
8. Red Tail Fund for Scholarships
The Red Tail Fund Concludes our list of scholarships for black pilots today. is a flight school that also includes a scholarship foundation that gives aspiring black pilots chances to achieve. In order to do this, the academy, through its foundation, offers cadets financial aid, mentoring, and other supportive services.
SEE ALSO:
Trust you found our article on Scholarships For Black Pilots follow our website for more interesting articles.