No wonder so many people aspire to be flight attendants—one day you're in New York, the next you're in Paris, and the next you're taking off for Tokyo.
Flight Attendant Salary in the US are well pay, despite initially seeming to be a beautiful career? Let's find out what flight attendants make on average in the US.
Flight attendant work is challenging and exciting at the same time. They not only get to go to fascinating places throughout the world, but they also have to maintain passenger safety and happiness in a confined environment.
Even while the work might be challenging, it's an interesting life filled with travel, and the rewards are also rather good.
Does their remuneration reflect the challenges they face?
Of course, the company you work for will affect your flight routes and compensation as a flight attendant.
Let's examine the average pay for flight attendants at some of the major US airlines.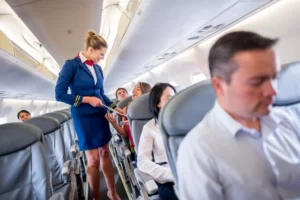 Flight Attendants: Who are they?
The safety and comfort of the passengers are the responsibility of the flight attendants, who are in charge of the cabin. More than any other airline employee, they interact with passengers frequently, and they work to give each one the most personalized care possible while they are traveling.
Flight attendants can operate in first or economy class, giving a smaller group of passengers more complicated care. Flight attendants only have a limited amount of time throughout the flight to give each passenger the most individualized care because providing service involves attending to a wide range of demands and requests.
What is the role of a Flight Attendant?
While safety is almost always at the forefront of a flight attendant's duties, providing excellent customer service is equally important.
About an hour before to each flight, the captain briefings the flight attendants. The weather, anticipated turbulence, flight duration, and other potential influencing factors are all thoroughly explored.
They also provide them with details on the safety features and emergency supplies of the aircraft. Flight attendants review the passenger list and are informed if any VIPs, minors, or special needs passengers will be traveling.
Once a passenger is summoned to board, flight attendants help them with the boarding process. They provide assistance to any VIPs, children, or travelers with special requirements to ensure that they are appropriately looked for while boarding.
Attendants double-check seating assignments and perhaps look for stolen or phony tickets. They also help customers pack carry-on bags, making sure it adheres to the size and weight requirements of the aircraft or airline.
Flight attendants are also in charge of informing passengers of any additional needs for aircraft safety during a safety demonstration. They instruct passengers on how to utilize the drop-down oxygen masks, discover the closest emergency exit, properly fasten their seatbelts, what to do in the event of turbulence, and use safety vests or flotation gear. While the flight attendant keeps an eye on them, they might show the passengers a brief video that covers this information.
After the safety demonstration, the flight attendants lock the cabin by shutting off electronics, stowing carryons properly, making sure that the seats are upright, and stowing tray tables.
Link To Wages Flight Attendant 
How Much Does a Flight Attendant Make?
The average yearly salary for flight attendants is $56,000, according to the Bureau of Labor Statistics. With the lowest 10% earning less than $28,000 and the highest 10% earning more than $80,000, the compensation ranges from less than $28,000 to more than $80,000. In addition to their income, they pay stipends to flight attendants to cover their travel-related lodging and meal costs. Some jobs could also include extra benefits like free travel or room upgrades.
The annual pay for a flight attendant has gone up financially. Prior to ten years ago, the average flight attendant salary was $39,000. Some would contend that flight attendants are earning less than they ever have when taking into account inflation, pension and other benefit reductions, hours spent getting ready for flights, and hours spent actually flying.
Although flight attendants make more money than the typical service worker, who makes around $30,000 annually, they still fall short of the typical professional worker, who makes about $60,000 annually.
The average total remuneration for flight attendants in Washington, DC is $72,369, which is 39 percent more than the national average.
What is the Average Flight Attendants Salary?
Because it fluctuates depending on a number of circumstances, the annual flight attendant income might be challenging to compute. Typically, they give flight attendants:
A guaranteed base rate
Flying hours
Layover allowances or expenses
Sales commissions (depending on the airline) (depending on the airline)
This implies that your monthly compensation will rely on both the number of hours you spend flying and the quantity of goods you sell to customers, such as coffee or perfume. As you might expect, the route you take and the time of day will likely have an impact on how much you manage to sell.
The typical base pay for flight attendants in the US, for instance, is estimated by Indeed to be $32,704; however, this figure does not account for flying time, commission, or layovers. Additionally, you can receive additional advantages with monetary value, including cost-free lodging or airfare.
Even while they won't have an impact on your pay, these can nonetheless help you save money by reducing your expenses and increasing your spare income.
So, how much money can you anticipate to make overall per year as a flight attendant?
The US Bureau of Labor Statistics (BLS) predicts that in 2020, 80% of flight attendants would earn between $30,930 and $84,790, with a median annual compensation of $59,050. For more information, you should look into what particular airlines are offering.
Salaries of Flight Attendants in the Top Industries
The average yearly wage for flight attendants is $59,050. In any given occupation, half of the workers made more money than that, and the other half made less. While the highest 10% of earners made more than $84,790, the bottom 10% made less than $30,930.
The median annual salaries for flight attendants in the major industries where they work are as follows:
$59,220 for scheduled flight travel
$57,320 for non-scheduled air travel
$48,550 for air transportation support activities
They provide flight attendants with a stipend for meals and lodging while they are working away from home. Although the uniforms and bags that flight attendants use initially must be purchased, the airlines often pay for replacements and maintenance.
They typically entitle them to free standby seats or discounted tickets through their airline.
The remaining 50 hours are spent on the ground planning flights, writing reports, and waiting for planes to arrive. Attendants often fly 75 to 100 hours per month.
They are able to spend numerous evenings away from home each week. The majority of people have flexible work hours. There are flight attendants who work part-time.
How Much Do Major Airlines Pay Their Flight Attendants?
Airlines seldom ever mention the compensation for flight attendants in job advertising. Fortunately, there is a wealth of anonymous, employee-reported data available. There are two websites, PayScale and Glassdoor, that might help you get a sense of average salaries over the past year.
Of course, they are not a guaranteed rate. Pay varies according to a number of variables, such as flying hours and sales prowess. Additionally, compared to other airlines, some have more data that has been self-reported. However, they will give you a general idea of the income you might be able to make.
Salary of an American Airlines Flight Attendant
Instead of promising "premium pay," they show a wage in the American Airlines employment adverts for flight attendants. Indeed, the business believes that American Airlines pays an average yearly compensation of $41,848, based on information from 139 employees over the past year and job listings.
The average pay for an American Airlines flight attendant is broken down by years of service by Payscale. They determined that a flight attendant with less than a year of experience makes, on average, $24 per hour.
However, that average increases to $30.76 if they have between one and four years of employment. The average hourly wage for flight attendants with more than 20 years of experience is $68.
Salary of a Delta Flight Attendant
The average income for a Delta flight attendant is $46,648 per year, according to Indeed, with close to 50 employees disclosing their pay from the previous year.
On the other hand, Payscale projects a base annual pay of $61,000. The sum might reach $152,000 if bonuses, profit-sharing, and commissions are included.
Remember that Payscale found that claimed pay for flight attendants in the middle of their careers increase significantly. For employees with one to four years of experience, the average total pay is $29.49, but for those with ten to nineteen years of experience, it doubles to $59.71.
Salary of a Southwest Flight Attendant
About 60 self-reported Southwest Airlines flight attendant salaries from the past 12 months are available on Indeed, with an average pay of $49701. The average base salary on Payscale is almost $49,000, despite the fact that there are half as many reported wages.
The bad news is that unless you have over 10 years of experience, your income is low, citing Payscale's data. With five to nine years of experience, flight attendants typically earn a total pay of $26.50 per hour, which increases to $57.67 after that. Although the sample size is fairly tiny, bear that in mind. The average wage at Southwest Airlines may not be accurately represented by these facts.
Salary of a United Airlines Flight Attendant
30 flight attendants from United Airlines have disclosed their salary on Indeed, with an average yearly wage of $43,644. Additionally, the advantages, especially the complimentary flights, are regularly appreciated in online reviews.
On a scale, the average basic income is $50,192, which is significantly greater. Hourly pay for respondents increases along with their experience level. The average hourly wage for flight attendants with less than a year of experience is $21.12, while the rate for those with five to nine years of experience is $38. The average hourly pay has climbed to more than $60 after ten years.
Salary of a JetBlue Flight Attendant
With only 18 salaries reported on Indeed and 15 on Payscale, there isn't much information available about how much JetBlue pays their flight attendants. Additionally, salaries are not disclosed in internet job postings.
On Indeed, the starting income is $36,172, while on Payscale, the average annual salary is $40,153. Although Payscale doesn't break out average pay rates by years of experience, the majority of the wages reported fall between $16.11 and $55.62 per hour, accounting for 80% of total wages.
Salary of an Emirates Flight Attendant
Despite not having a US base, Emirates routinely recruits people from the US and other countries due to the opportunity of residing in Dubai and not paying any local taxes. The business also offers free housing.
Emirates provides detailed information about your compensation on its website. After deducting your base pay and flying hours, you should make about $2,660 per month. According to online reviews, you'll also receive cash layover payments, reduced travel expenses, 30 days of annual vacation, and one free round-trip ticket to your home country each year.
Are they other benefits of being a Flight Attendant aside from the Salary?
There are various benefits to working as a flight attendant in addition to a solid salary. The majority of airlines will offer the following perks to flight attendants:
Benefits on airfares for you and your qualified family members
TRAVELING AND SEEING THE WORLD ARE WHAT YOU WILL DO!
Other Savings Plans or 401(k) Vacation with paid health insurance
It's always a good idea to research average pay when choosing a new career. The Travel Academy's flight attendant school is just as concerned with your career after graduation as it is during class, so we've put together this helpful page of compensation information.
Read Also: Te Rau Kahikatea | Review, Tuition, Admission, Programs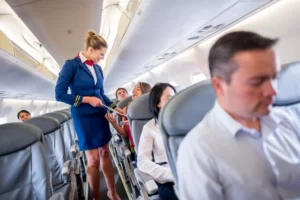 Factors that Affect Flight Attendant Salary in the US Payment.
The salaries of all flight attendants may not match the average flight attendant's. Similar to many other professions, the earning potential for flight attendants depends on four main criteria.
1. Airline Type:
Airline type is one of the factors that affect flight attendant salary in the USA flight attendant's pay is based on the kind of airline they work for. Normal beginning compensation for flight attendants is higher with mainline carriers like Delta, American, or United carriers. Regional airlines like Mesa, PSA, or GoJet receive a modest discount.
2. The Number of Guaranteed Hours:
This is among the factor that affect flight attendant salary in the USA. The salary of flight attendants is referred to as "guaranteed hours/month". Depending on the airline and other factors, guaranteed hours per month range from 70 to 80 hours, with an hourly beginning wage of $17 to $26.
Even if a flight attendant is on call (reserve status) or does not complete the required number of flight hours for the month, they nevertheless pay them for the full amount of guaranteed hours.
3. Experience Level:
Experience level is one of the factors affecting flight attendant salary in the USA. Seniority has a significant role in flight attendant advancement in terms of both income and career development. Long-tenured flight attendants, particularly those who have worked for the same employer, are given increased duties.
A number of them include hiring, scheduling, and supervising other flight attendants. The effect is often increased wages.
4. Situation
This is another factor that affects flight attendant salary in the USA. Like many other professions, a flight attendant's wage is impacted by their workplace.
Major metropolitan regions like New York City or Los Angeles may pay more for flight attendant salaries than smaller, less populated areas.
Flight Attendant Salary in the US and Other Salary Information.
Flight attendants may be able to get more flight hours, which would significantly boost their earning potential. A per diem (Latin for "per day"), or hourly food allowance, is paid to flight attendants when they work away from their base station. In addition to the set hourly wage, they pay per diem 24/7 (even when you are sleeping!).
Per diem charges range from $1.50 to $2.60 per hour, depending on the carrier and whether the working aircraft is local or international.
Airlines offer crew members compensated hotel rooms and ground transportation from the airport to the hotel during prearranged non-base layovers.
All flight attendants receive excellent medical, 401(k), and travel benefits as well as complimentary or deeply discounted air travel for any eligible family members. You'll also receive savings on lodging, transportation, and cruises!
A flight attendant's performance may make them eligible for various positions once they reach a certain level of training and experience, which can significantly increase their earning potential.
Examples of these occupations include Lead Flight Attendant, In-flight Support Coordinator, Base Supervisor, and even in the training or recruiting division.
What Does it Take to Become a Flight Attendant?
The Federal Aviation Administration (FAA) mandates that flight attendants complete training provided by their employers in order to be qualified. A high school diploma or its equivalent, along with prior customer service experience, are requirements for flight attendants.
Candidates need to be at least 18 years old, be able to work in the US, have a current passport, and pass a background check and drug test. They frequently need to be a certain height and have eyesight that can be corrected to at least 20/40. Flight attendants can also need to undergo a medical examination.
Flight attendants should present themselves professionally and should not have any noticeable tattoos, piercings, or unusual hair or makeup trends.
Read Also: Dublin Institute of Design (DID) – About, Tuition, Admission
Education of Flight Attendants
The typical requirement for employment as a flight attendant is a high school diploma. Some airlines could favor hiring candidates who have taken some college-level courses.
People who operate on international aircraft might need to be fluent in a second language. Flight attendant academies are open to those who want to work as flight attendants.
Flight Attendants must have previous Work Experience in a Related Field
Flight attendants often need one or two years of work experience in a service-related field before starting their first job as a flight attendant. You might be qualified for this position if you've worked in customer service in restaurants, hotels, and resorts.
The skills required to succeed as a flight attendant may also be developed with experience in sales or other industries that demand direct contact with customers and a strong emphasis on customer service.
Flight Attendant Training
The airline offers a three to six-week initial training period when a flight attendant is hired. This instruction is necessary and is often provided by the airline's flight training facility.
Trainees are instructed in emergency procedures include evacuating planes, turning on emergency equipment, and administering first assistance. Additionally, they receive thorough instruction on business practices, labor duties, and aviation laws.
At the conclusion of the training, students fly on practice flights. They must finish the training in order to keep their position with the airline. After passing their initial training, new flight attendants get the FAA Certificate of Demonstrated Proficiency and continue to complete additional on-the-job training as required by their employer.
Licenses, Certifications, and Registrations for Flight Attendants
The FAA mandates certification for all flight attendants. To get qualified, flight attendants must finish the basic training course offered by their employer and pass a test.
They certify flight attendants for certain aircraft types, and they are required to complete further training for each aircraft type they will be flying. Each year, attendees must complete recurrent training in order to maintain their accreditation.
Read Also: 20 Inspirational TED Talks For Students | Get Motivated
Flight Attendant Promotion
Career advancement is determined by seniority. On international flights, senior flight attendants often oversee the work of other flight attendants.
Senior attendants may move up to management roles where they are responsible for hiring, training, and scheduling.
Recommended
Characteristics of a Flight Attendant
Attentiveness:
They must alert flight attendants to any safety or security risks during the flight. In order to make travel enjoyable, they must also be aware of the demands of the passengers.
Efforts at communication:
Flight attendants should speak properly, concentrate, and interact successfully with passengers and other crew members.
Customer service abilities:
Flight attendants need composure, tact, and creativity to deal with difficult situations and meet customer needs.
Deciding capacity:
Flight attendants need to be able to act quickly in an emergency.
Physical stamina:
Long periods of time are spent standing and moving around while flight attendants push, pull, and carry service items, open and close overhead bins, and perform other tasks.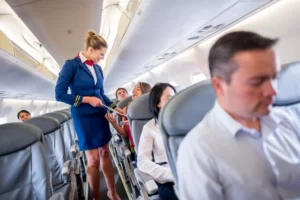 Questions and Answers Concerning Flight Attendant Salary in the US
Some answers you need to know about Flight Attendant Salary in the US.
What is the average pay for Flight Attendant Salary in the US ?
The average flight attendant salary in the United States is $52,153. The typical incentive for a flight attendant is $2,156, or 4% of their yearly compensation, and 99 percent of workers report receiving a bonus each year. The average total remuneration for flight attendants in Washington, DC is $72,369, which is 39 percent more than the national average.
How long does it typically take to become a flight attendant?
After hiring, airlines offer flight attendants basic training, which can last anywhere between six weeks and three months depending on the nation. The Federal Aviation Administration (FAA) must authorize the training, which is frequently carried out at the airline's flight training center.
Which cities offer the highest salaries for flight attendants?
The cities of Austin, San Diego, Orlando, Boston, and Charlotte offer the best salaries for flight attendants.
Which States Pay the Most for Flight Attendants?
Indiana ($63,860), Massachusetts ($63,620), North Carolina ($62,900), Texas ($60,250), and Michigan ($59,050) are the states and districts with the highest mean salaries for flight attendants.
Read Also: About Laidlaw College | Admission, Tuition, About, History
SEE ALSO:
Trust you found our article on Flight Attendant Salary in the US | 2023 follow our website for more interesting articles.