Westminster Undergraduate Full Scholarships UK: Are you considering attending the University of Westminster? If so, continue reading to learn about the Westminster Undergraduate Full Scholarships for the UK in 2023.
Full Scholarships for Undergraduate Study at Westminster 2023
Deadline: Annually, May 29, 2023
Study in the UK.
The program begins in September 2023.
Read Also: The National College of Art and Design (NCAD) – History, Acceptance Rate, Tuition
Brief explanation:
The University of Westminster's Undergraduate Full Scholarships are its most prestigious awards, available to foreign students from poor nations who want to enroll full-time in an undergraduate program there.
Institution(s) hosting: Westminster University, United Kingdom
Level and area of study: Any undergraduate program at Westminster University that qualifies.
Number of Awards: 2
Target group: Students from developing countries.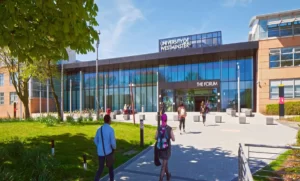 Recommended
Westminster Undergraduate Full Scholarships UK 2023
Scholarship value/inclusions/duration:
Full tuition fee waivers, accommodation, living expenses and flights to and from London.
Eligibility:
You must be an international student from a developing country and hold an offer for a full-time undergraduate degree at the University. The criteria for awarding the scholarships are academic excellence, development potential and financial need.
Application instructions:
You should only apply for a scholarship once you have applied for admission and successfully been offered a place (either conditional or unconditional) on the course you wish to study. To apply for a scholarship, you will need to download and complete the relevant scholarship application form and submit it together with supporting documents by POST. The deadline for applications is 29 May 2023.
It is important to visit the official website (link found below) to access the application forms and for detailed information on how to apply for this scholarship.
Read Also: List of Top 3 Cheapest Universities in Manchester for International Students
FAQs about the University of Westminster:
Where is the University of Westminster located? The University of Westminster is located in London, United Kingdom. It has multiple campuses across the city, including locations in Regent Street, Marylebone, Cavendish, Harrow, and more.
What programs does the University of Westminster offer? The university offers a wide range of undergraduate, postgraduate, and research programs across various disciplines. These include business, arts, media, law, sciences, social sciences, and more.
Is the University of Westminster a reputable institution? Yes, the University of Westminster is considered a reputable institution with a history dating back to 1838. It is well-regarded for its quality of education and research contributions in various fields.
What is the campus like? The university's campuses are spread across central London and offer modern facilities for students. Each campus has its own unique character and resources, catering to different academic and social needs.
How diverse is the student body? The University of Westminster is known for its diverse student population, attracting students from various cultural and international backgrounds. This diversity contributes to a rich and inclusive learning environment.
Are there accommodation options for students? Yes, the university provides accommodation options for students, including both university-managed halls of residence and partnerships with private housing providers.
What kind of research does the university engage in? The university is involved in a wide range of research areas, including but not limited to media and communication studies, social sciences, business, arts, design, and science and technology.
Are there opportunities for internships and work placements? Yes, the University of Westminster often collaborates with businesses and organizations in London, providing students with opportunities for internships, work placements, and industry connections.
What are the entry requirements for international students? Entry requirements vary depending on the program and level of study. Generally, international students are required to demonstrate English language proficiency (usually through tests like IELTS or TOEFL) and meet specific academic prerequisites.
Does the university have student support services? Yes, the university offers various support services to students, including academic advising, career counseling, mental health support, and study skills workshops.
Is the University of Westminster involved in community activities? Yes, the university often engages in community outreach and activities, contributing to the cultural and social life of London. Students may have opportunities to get involved in volunteering and community projects.
How can I apply to the University of Westminster? The application process varies depending on the program and level of study. Typically, you would need to apply through the university's online application portal, providing relevant documents, academic transcripts, and other required materials.
SEE ALSO
Trust you found our article on Westminster Undergraduate Full Scholarships UK 2023 follow our website for more interesting articles.