As one of the world's leading university cities, Cambridge, England is home to a cluster of historic and prestigious Best Colleges at Cambridge. This article explores the 10 Best Colleges at Cambridge that make up the University of Cambridge, profiling their history, academic specialties, famous alumni, and more. Discover what makes these colleges the epitome of excellence in British higher education.
Why Study in Cambridge
Cambridge's allure extends far beyond its architectural splendor. Here are a few compelling reasons why studying here is a life-changing endeavor:
Heritage of Scholarship
Cambridge's legacy of luminaries, from scientists to writers, creates an environment where academic achievements are celebrated and aspirations are kindled.
Read Also:  USA postdoctoral Fellowships 2023-2024
Global Recognition
The University of Cambridge's consistent presence among the world's elite institutions ensures that the education you receive is respected and valued across borders.
Collegiate System
The unique collegiate system fosters a sense of belonging and camaraderie within each college, where students forge lasting bonds with peers and mentors.
Innovative Research
Cambridge's commitment to pushing boundaries is evident in its pioneering research across diverse disciplines, providing students with unparalleled opportunities to engage with cutting-edge projects.
Multicultural Atmosphere
The diverse student body infuses the campus with an international perspective, enriching your experience and broadening your horizons.
How to Choose a Cambridge College
Choosing a Cambridge college is a pivotal decision that shapes your academic journey and campus experience. With a myriad of options steeped in history and diverse cultures, this guide aims to demystify the process of selecting the ideal college. From considering academic strengths to understanding college atmospheres, we'll help you navigate the intricate web of choices and find your perfect fit.
Read Also: 10 Tuition-Free Universities in USA For International Students in 2023
1. Define Your Priorities
Begin by identifying what matters most to you. Are you seeking a specific academic discipline, a tight-knit community, or a rich history? Understanding your priorities will narrow down your choices.
2. Research Academic Strengths
Cambridge colleges excel in various academic fields. Research which colleges align with your desired course of study, offering excellent resources, faculty expertise, and research opportunities.
3. Campus Atmosphere
Each college has its own character and atmosphere. Some are known for their vibrant social scenes, while others prioritize a more serene environment. Consider your preferred balance between social activities and focused studying.
4. Size and Community
The size of a college can influence your experience. Larger colleges offer diverse social circles, while smaller ones foster a close-knit community. Reflect on which setting suits your personality and learning style.
5. Architecture and Aesthetics
Cambridge's architecture varies widely, from grand historical buildings to more modern designs. If architectural aesthetics resonate with you, visit colleges to see which styles appeal to your senses.
Read Also: Discover How to Make an Art Portfolio: Guide with Tips & Examples
The 10 Best Colleges at Cambridge
Below is the list of the top 10 Best Colleges at Cambridge, viz;
1 Trinity College
Founded in 1546 by King Henry VIII, Trinity College is the richest and perhaps most eminent of the Best Colleges at Cambridge. Its distinguished alumni include Isaac Newton, Charles Babbage, and Prince Charles. Trinity is renowned for sciences like math as well as arts and humanities programs. The expansive grounds and architecture draw visitors from around the world.
2 King's College
King's College is one of the most recognizable Best Colleges at Cambridge with its grand Gothic chapel and grounds. Dating to 1441, King's alumni include John Maynard Keynes and eleven British prime ministers. King's offers programs in sciences, social sciences, arts, and humanities in a supportive environment.
3 St John's College
St John's College counts Charles Darwin and William Wordsworth among its famous alumni. Founded in the 16th century, it is one of the larger and wealthier of the Best Colleges at Cambridge. St. John's provides education grounded in critical thinking across arts, humanities, and social sciences.
4 Pembroke College
Pembroke College, one of Cambridge's earliest colleges established in 1347, offers a friendly, inclusive atmosphere amid historic architecture. Graduates include political philosopher Thomas Gray. Pembroke provides diverse arts, humanities, and social science programs in a supportive learning community.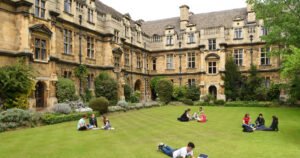 5 Jesus College
Jesus College, dating to 1496, is regarded as one of the most beautiful of the Best Colleges at Cambridge with extensive gardens. Notable alumni include Thomas Cranmer, Samuel Taylor Coleridge, and Lord Byron. Jesus provides a welcoming environment for arts, humanities, and social science students.
6 Emmanuel College
Emmanuel College was founded in 1584 and is known for strong programs in the arts, humanities, and social sciences as well as business. Noted former students range from John Harvard to Hugh Laurie. The collegiate community emphasizes student discussion, events, and collaboration across disciplines.
Read Also: 100 Informative Speech Topics for College Students
7 Christ's College
Royal Tudor charter founded Christ's College in 1505. It is regarded as one of the more egalitarian Best Colleges at Cambridge with noted career and education advancement programs. Notable alumni include Charles Darwin and John Milton. Offerings include humanities, social sciences, and interdisciplinary courses.
8 Clare College
Clare College, founded in 1326, is the second oldest of the Cambridge colleges. The charming medieval grounds border the River Cam. Alumni include John Cleese and two Nobel Prize winners. Programs focus on arts, humanities, music, and sciences in an intimate environment known for support of students from all backgrounds.
9 Corpus Christi College
Corpus Christi College dates to 1352, known for its wildlife gardens and new library. Distinguished alumni range from Christopher Marlowe to Stephen Hawking. Corpus Christi provides undergraduate and graduate programs focused on arts, humanities, social sciences, and physical sciences.
Read Also: DAAD Scholarship 2023 | Application Process | Fully Funded
10 Peterhouse College
As the oldest and smallest of Cambridge's Best Colleges, Peterhouse College provides an intimate setting and tight-knit community. Notable alumni include adventurer Ranulph Fiennes. Peterhouse offers a tutorial-based education in arts, humanities, social sciences, mathematics and natural sciences.
The collegiate system gives students and faculty the benefits of a small learning community within a larger world-renowned university. Studying at one of Cambridge's historic Best Colleges along the scenic Cam River is an unparalleled academic experience.
see also
Trust you found our article about "Discover the 10 Best Colleges at Cambridge" helpful. Please follow our website for more interesting and informative articles like this.