Lets get to the full University of Pennsylvania review today, Philadelphia, Pennsylvania is home to the renowned private Ivy League university known as The University of Pennsylvania, or UPenn. It is one of the oldest institutions in the country, having been established in 1740, and has a long history of academic distinction and ground-breaking research. With a vast metropolitan campus and a multicultural student body from all over the world, UPenn provides a lively and intellectually challenging academic environment.
UPenn is focused on integrating the arts, humanities, sciences, and professional areas in order to provide a comprehensive education. Its illustrious faculty, which includes authorities and trailblazers in their professions, offers students essential guidance and chances for ground-breaking research. With various interdisciplinary projects and cutting-edge research facilities, the institution takes pleasure in encouraging innovation and entrepreneurship.
Beyond the classroom, UPenn provides an active campus life with a wide range of extracurricular activities, student groups, and opportunities for community participation. The University of Pennsylvania is a shining example of academic brilliance and all-around development, whether one is pursuing academic interests or immersing themselves in a rich cultural environment.
Still On: University of Pennsylvania Review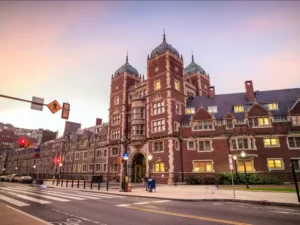 The founding year of the University of Pennsylvania and its historical significance are
Benjamin Franklin, one of America's Founding Fathers and a polymath renowned for his contributions to science, literature, and politics, established the University of Pennsylvania (UPenn) on November 14, 1740. The organization has a considerable historical significance because it is one of the country's oldest colleges. Its establishment embodies Benjamin Franklin's idea of a university that would offer a practical education rooted in the liberal arts and sciences and prepare students for positions of leadership in society.
The University of Pennsylvania, which was formerly known as the "Academy and Charitable School in the Province of Pennsylvania," was the first university in the United States to provide both undergraduate and graduate programs. Throughout its history, UPenn has fostered academic brilliance and intellectual curiosity, contributing significantly to the advancement of education, research, and social change.
Read Also: How to Apply to a US College as an International Student in 2023/2024 I Apply Now
Still On: University of Pennsylvania Review
UPenn's Majors and Programs for Graduate and Undergraduate Students
A wide range of academic degrees and programs are available at UPenn, which has twelve schools and numerous interdisciplinary centers. The College of Arts and Sciences' undergraduate curriculum offers majors in fields ranging from the humanities and social sciences to engineering and the natural sciences, giving students a liberal arts education.
The graduate and professional schools at the university offer degrees in a variety of fields, including those in nursing, education, engineering, and medicine. The Wharton School of Business, one of the top business schools in the world, is also one of these schools.
In addition to the standard fields of study, UPenn places a strong emphasis on interdisciplinary studies. By offering dual degree programs, minors, and specializations, this university encourages inquiry and creativity in a variety of fields.
Still On: University of Pennsylvania Review
UPenn's admissions procedure and acceptance rates
Due to UPenn's prominent standing and academic excellence, the admissions process is extremely tough. Academic accomplishments, extracurricular activities, letters of recommendation, standardized test results (SAT or ACT), and personal essays are all taken into consideration when evaluating applicants.
In September 2021, when I last updated this information, the average acceptance rate for undergraduate applications was between 8 and 9%. It's important to keep in mind, too, that admission rates might change from year to year and between different universities' schools. The selection process is rigorous because the admissions committee wants to create a diverse and talented student group.
Read Also: MSc Agriculture: Syllabus, Colleges, and Scope in 2023
Still On: University of Pennsylvania Review
UPenn's student body size and faculty-to-student ratio are as follows
As an Ivy League school, UPenn continues to have a sizable student body. At the time of my most recent report, there were roughly 26,000 undergraduate and graduate students enrolled in total.
At UPenn, the student-to-faculty ratio is quite low, giving students lots of chances to get individualized attention and mentoring. The ratio, which was roughly 6:1 as of 2021, allowed for close contact between students and faculty and promoted a helpful learning environment.
Still On: University of Pennsylvania Review
Special Initiatives and Opportunities at UPenn
The University of Pennsylvania is famous for its dedication to research and provides a wide range of exceptional possibilities for students to participate in cutting-edge projects and interdisciplinary endeavors. The university is home to a number of research centers and institutes that promote interaction between academics from various fields.
Penn's participation in the Penn Integrates Knowledge (PIK) program, which brings together famous scholars with a variety of specialties to address challenging global challenges cooperatively, is one noteworthy project.
Additionally, initiatives like the Penn Wharton Entrepreneurship, which supports student firms and promotes innovation, serve as examples of UPenn's dedication to social impact and entrepreneurship.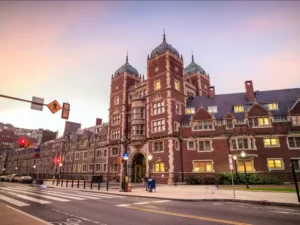 Still On: University of Pennsylvania Review
UPenn's Campus Life and Extracurricular Activities
With a varied student body and a wide range of interests, UPenn provides a vibrant and exciting campus environment. Over 400 student organizations representing a variety of interests, including academics, culture, the arts, community service, and sports are housed at the campus.
The residential college system improves campus life by promoting a sense of community and giving students chances to engage in both social and academic activities.
Additionally, there are lots of off-campus activities, events, and internship possibilities in Philadelphia, a city renowned for its rich history and vibrant cultural scene, which enhance the on-campus experience.
Still On: University of Pennsylvania Review
Scholarships & Financial Aid at Penn
UPenn is dedicated to offering financial aid to its students because it recognizes the significance of accessibility to education. The university follows a need-blind admissions policy for domestic candidates, meeting every admitted student's full demonstrated financial need. This indicates that the admissions decision does not take a student's financial situation into account.
Grants, scholarships, loans, and work-study programs are just a few of the financial aid options available from UPenn. The intention is to guarantee that accepted students can continue their education without being financially burdened excessively.
Recommended
Still On: University of Pennsylvania Review
Notable Alumni and Their Contributions to the Economy and Society
Many well-known alumni from the University of Pennsylvania have significantly influenced a variety of fields and societies. Some notable former students include:
1. Warren Buffett, chairman and CEO of Berkshire Hathaway and one of the most successful investors in the world.
2. Elon Musk, an entrepreneur most recognized for his ground-breaking achievements in electric automobiles and space exploration, is the CEO of Tesla, Inc. and SpaceX.
3. Donald Trump, a well-known name in the real estate and entertainment industries and the 45th President of the United States.
4. Noam Chomsky, a well-known linguist, thinker, and political activist who made significant contributions to linguistics and cognitive science.
5. Andrea Mitchell, chief foreign affairs correspondent for NBC News and a seasoned journalist.
These and numerous more UPenn graduates have made a lasting impression in their disciplines, influencing industries and advancing society through their leadership, creativity, and knowledge.
In conclusion, the University of Pennsylvania enjoys a distinguished position in American academia thanks to a long history of academic brilliance and intellectual accomplishments. It still offers a supportive environment where students can explore their many interests, take part in ground-breaking research, and grow into future leaders in their fields of study.
SEE ALSO:
Trust you found our article on University of Pennsylvania Review | Tuition, Admission, Programs helpful. Follow our website for more interesting article.