For free undergraduate, graduate, and doctoral studies in Turkish universities, international students can apply for the Turkey Government Scholarships 2023.
Turkish government Scholarships are made available through the government of Turkey. It is funded by the Turkiye Burslari Scholarship Program for Free Study at Turkish Universities for Foreign Students.
The benefits of the Turkey burslari scholarship, the application deadline, the value of the scholarship, the eligibility requirements, and the application process are all covered in length in this page.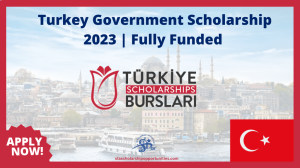 Turkish Government Scholarships 2023
Scholarship competition is fierce for the turkey government scholarships  2023. The recipients of the scholarship will be able to enroll at the most esteemed institutions of higher learning in Turkey.
Students who are committed to advancing their societies and who possess strong leadership qualities should be given priority. Universities will also assist all scholars with any overseas admissions processes. The universities in Turkey where students will be enrolled total more than 50.
Similar to the Erasmus Mundus Scholarship, Chinese Government Scholarship, Korean Government Scholarship Program (KGSP), Fulbright Scholarship USA, Swedish Institute Scholarship, Australia Awards Scholarship, Commonwealth Scholarships, and Hungarian Government Scholarship, the Turkey Scholarship 2023 is offered by the Turkish Government. The Turkish government will pay for each of the chosen students' expenditures.
Host Country:
Funded By:
Course Level:
Undergraduate Degree
Master's Degree
Doctoral Degree
Turkey Scholarships Duration:
Undergraduate Scholarship (4 to 5 years)
Master's Scholarship ( 2 to 3 years)
Doctoral Scholarship (3 to 4 years)
Read also: Top 10 List of Free Online Psychology Courses for Beginners
Why You Should Apply for Turkey Government Scholarships?
In addition to placing students at prestigious universities, the government-funded Turkey scholarships also offer financial assistance to students. Also, each scholar joins the alumni network upon graduation and goes back to their home nation to effect constructive societal change. The recipients of this prize number around 150 000 students. Most of them work for well-known businesses.
When to apply for the Turkey government scholarships?
Applications for the Turkey Government Scholarships for the academic years 2023–2024 will be accepted beginning on January 10, 2023, for all undergraduate, graduate, and doctoral degree programs. For all students around the world, it will start in December 2023.
Universities in Turkey are increasingly admitting students from all over the world. Your thoughts, information, abilities, and understanding of the course or program you enroll in will all grow as a result of attending one of these Turkish universities for academic study.
International students seeking admission to bachelor's, master's, or doctoral programs as well as short courses are currently eligible for Fully Paid Turkey Scholarships.
Read also: Top 10 List Of Accredited Online Colleges in Tennessee
The Turkish government wants to establish strong communication and connections with other nations. As a result, it is expected that international students would leave Turkey with fresh life experiences, knowledge, and cultural awareness.
A new Turkey government Scholarships policy has also been introduced in Turkey with the intention of awarding some of the top students enrolled in Turkish universities. On a transfer basis, students who meet the requirements can enroll in the best colleges in the nation.
Benefits of Turkey government Scholarships
International students can benefit from a variety of advantages in Turkish universities through the Turkey Scholarship program, which is geared toward them. The Turkish Government Scholarships programs include the following salient characteristics:
Free housing: International students studying at any Turkish university are housed thanks to funding provided by the Turkey government Scholarships program. The students pay nothing to live in the residence halls of their different universities. Any student who prefers not to reside in a dorm can, nonetheless, move to any location of their choosing; however, in this instance, they will have to pay for housing.
Free of Tuition Fees: The main goal of the Turkish government Scholarships program is to cover students' tuition expenses while they are enrolled in school. As education is entirely free, students are not forced to pay any tuition costs.
Public health: Public health insurance is provided to students to help with their medical costs. Health issues can be a major problem if you were not born and raised in the nation. Scholarship recipients in Turkey, on the other hand, won't have to pay anything out of pocket if they fall ill. The public health insurance system covers everything.
Travel costs: The Turkey government Scholarships program pays for the airfare for international students. Two complimentary tickets will be provided to students during their academic careers—one for their entrance in Turkey and the other for their departure from Turkey once they have finished their studies. The full sum will be returned to the pupils if they buy their tickets on their own.
Read also: Top 10 Cheapest Universities in Saudi Arabia for International Students
Turkey Government Scholarships Coverage for Undergrad Programs
700 TL stipend per month
Tuition Fee education in any Turkish University
Turkish Language course for one year
Health Insurance in Turkey
Accommodation in the dormitory of the Turkish University
University and program placement
Once-off Return flight ticket for the student who wins Turkey Scholarship.
Turkey Government Scholarships Coverage for Postgrad Programs [MS/Ph.D.]
Monthly Stipend – For Master's – 950 TL per month & For Ph.D. – 1400 TL per month
Your tuition will be Fee at Turkish University
Turkish Language course for one year
Health Insurance in Turkey
Accommodation in the Turkish University dormitory
University and program placement
The Turkey Scholarship winner also gets a once-off return flight ticket.
Turkey Short Course Scholarship Coverage
Research Scholarship Program for Turkey (3 to 10 months)
Turkish Research Scholarship Program monthly stipend of 3,000 TL
Accommodations and other amenities are not included in this scholarship program for Turkey.
Program for Scholarship Success (1 year)
Monthly Stipend: 440 TL for bachelor's degrees, 595 TL for master's degrees, and 885 TL for doctoral degrees.
Also, this Turkish Success Scholarship program offers convenience and other advantages.
Turkish language and culture courses
Turkish Language Program for Academics and Public Figures [KATP] 8 to 10 months
For a Master's, the monthly living allowance is 2000 Turkish Liras.
A place to stay will be provided at Turkey University.
Turkish language training
The winner of the Turkey Scholarship will also get one round-trip ticket.
Health insurance is not a part of this scholarship program for Turkish culture and language.
For candidates pursuing undergraduate, master's, and doctoral degrees, an online application for the Turkey Government Scholarship (Turkiye Burslari Scholarship) is available. Also, it is accessible to applicants for the Turkish short-course scholarship program.
Application for the Turkey Government Scholarship is free of charge. To apply for a scholarship program, all you need to do is make sure you are qualified and have all the required paperwork prepared and ready to submit via the online Turkish Scholarship Application.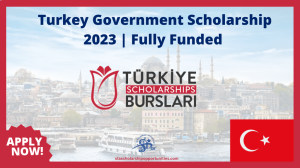 Read also: 10 List of Cheapest Universities in Sweden for International Students
Turkey Government Scholarships Eligibility Criteria
The United States, Germany, Iceland, the United Arab Emirates, Pakistan, and other nations are eligible for the Turkey Scholarship Program. urmari performanceommage Welfare urmeaza Costume FigurNumaiătă Ceiling contulediglich sănătosregulăcît mănânc Persoan Filial Fal Relief Persoan Persoan PersoanCu Waste Persoan Persoan PersoanOricum Conflict
The requirements for applying for the Turkey Government Scholarship are as follows:
One stringent requirement that is taken into account is the candidate's age.
If you intend to apply for an undergraduate degree, your birthdate must be earlier than January 1998.
You must not have been born prior to January 1989 if you wish to apply for a Master's degree.
In a similar vein, January 1974 is the birthdate cutoff for the Research Program and January 1983 is the birthdate cutoff for Ph.D. candidates.
70% of the marks are necessary for the application to an undergraduate degree.
75% of the marks are required for applicants to the Masters and Ph.D. programs.
90% of the marks must be in the medical school program.
You cannot apply for the program if you are currently a citizen of Turkey or were once a citizen of that country.
The Scholarship is ineligible for students who are studying in Turkey.
In response to a request, chosen students must present their documentation.
How to apply for the Turkey Burslari Scholarship?
At the time of submitting their online application, candidates for the Turkey Scholarship are required to have all the documentation indicated below. Also, it is the candidate's duty to enter accurate application information while submitting an online application for a Turkey Scholarship.
Diploma or degree certificate with Grades
Associate degree or diploma
High School Certificate
Middle School Certificate
TOEFL or IELTS and GAT, GMAT GRE (Optional)
Recommendation letters
School, High School, or University Exam Grades sheet (Latest one)
Work Experience Certifications (Optional)
Social participation and extracurricular certifications (Optional)
The online application for the Turkey Scholarship typically opens in January 2023, however this year's online application process has been modified due to the volume of applications. Each applicant must complete a one-page application form for the 2023 sessions in order to be considered.
The invited applicants will submit an online application and their supporting documents following the initial examination. When an applicant has all the necessary paperwork completed and ready for a scholarship application, they can start writing their one-page (A4 Sized) CV describing all their academic accomplishments.
The online Turkey Scholarship Application must be submitted with all necessary documentation completed and available. It is crucial for each applicant to do this before starting the online Turkey Government Scholarship 2023–2024 application.
Candidates will see all of the open Turkish Scholarship slots, such as the Bachelor's degree, Master's degree, Ph.D., and Research, during the application process under their "Home Page" screen under the tabs High School.
The candidate has not completed the Personal Information, Contact Information, Family Information, Education Information, Language Details, Work Experience, Academic Qualifications, Social Activities, and Turkiye Experience sections of the profile if a notification prompts you as not being a suitable candidate for any of these scholarships when any of these tabs are clicked.
Once this information is entered into the aforementioned areas and appears on the "Home Page," the applicant is deemed qualified for the scholarship and may proceed to submit his or her personal information as an application for the Turkey Scholarship.
All Turkey Burslari Scholarship applications must be evaluated in the first phase by the committee members. Applicants are confirmed as chosen after being shortlisted for an interview. The selected candidates will then get letters confirming their acceptance into the university, their student visas for Turkey, and notification of their scholarship awards.
What are your chances to win the Turkey Government Scholarships?
The selection of a candidate for the scholarship is influenced by the applicant's academic record and the outcome of the interview. The following documents are attached to help evaluate an applicant's academic performance:
Diploma Grade
The Last Term's General Average Grades
University Entrance Exam Grade (if any)
High School Graduation Exam / Baccalaureate Grade (if any)
International Test Score (if any)
Any other academic certificates or (*) cumulative GPA
The perquisites for the Turkey Scholarship Online Application are:
For Undergraduate degree applications 70 %
For a Master's degree and Ph.D. Degree applications 75 %
For Medical School applications 90 %
The applicants will receive a call for an interview that will be held in Turkish Consulates based on their academic standing. If the candidate is unable to attend the interview in person, technology will be employed. The findings will be sent via email and made available on the application system as well.
Application Deadline:
The Turkey Scholarship 2023 for International Students registration date is February 20, 2023.
Read also: 10 Best Online Wedding Planning Courses
SEE ALSO:
Trust you found our article on Turkey Government Scholarships 2023 follow our website for more interesting articles.