Here we will list all about the Nigerian students in the US all you need to know about them and the rest. Nigerian college students and recent graduates are making waves all over the world in no short supply. They can be found in offices, boardrooms, theaters, stadiums, and other places. According to 2017 data from the Migration Policy Institute, more than half of Nigerian immigrants (54%) were more likely to hold management jobs in the US than were 39% of US-born people and 32% of all foreign-born people.
If you look at their resumes, you'll see that many of them started off with American degrees. Indeed, compared to 31% of the entire population of foreign-born people and 32% of the US-born people, Nigerians are twice as likely to possess a bachelor's degree.
We look at further statistics concerning what is arguably the most successful group of overseas students in the US below:
Read Also: Top 20 Best International Scholarships for Nigerian Students 2023
Nigerian alumni holding prominent positions throughout industries
There is a long list of Nigerians who have attained high positions in business and government after receiving US degrees, from engineering to politics.
Prior to pursuing a PhD in Corporate Finance at New York University, Lazarus Angbazo completed his master's degree in Industrial Engineering and Operations Research at the University of Iowa. He is currently General Electric's president and CEO in Nigeria, where he increased sales to more than US$1 billion in 2012.
At the US Military Academy, Yinka Faleti majored in human factors engineering and received his degree there in 1998. He graduated with a doctorate in law from Washington University School of Law in 2007. Faleti campaigned for Missouri Secretary of State in the 2020 elections after serving two tours in the US Army for Operation Desert Spring and Operation Enduring Freedom.
Adewale "Wally" Adeyemo completed his undergraduate studies at the University of California, Berkeley in 2004 and his law studies at Yale University in 2009. Adeyemo served as President Barack Obama's Deputy National Security Advisor for International Economics from 2015 to 2016. He is now sworn in as the fifteenth deputy secretary of the Treasury of the United States.
Still On: As A Nigerian Students In The US All You Need To Know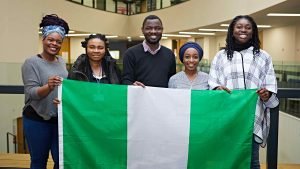 Nigeria is the African country that sends the most students to the US.
In the academic year 2020–21, more than 1,000 educational institutions in the US are home to no less than 12,860 Nigerian students. They are the largest student cohort from an African country and the tenth largest globally, according to Open Doors. It was considerably higher the year before, at 13,762.
Recommended
Still On: As A Nigerian Students In The US All You Need To Know
Financial aid and scholarships for Nigerian students in the US
Open Doors reported that in the 2021 academic year, students who used EducationUSA Nigeria's services received scholarships and financial help totaling US$28 million. Their accomplishments serve as proof of their leadership, academic excellence, and the enormous potential that young Nigerians hold for the US.
One of the 2021 Opportunity Fund Program participants, Ekene Ezeunala, won complete support to attend Columbia University in New York City to study computer science and mathematics. "EducationUSA brought up a whole new world of options and resources I never realized were available to me," Ekene said in support of the EducationUSA Opportunity Funds Program.
SEE ALSO:
Trust you found our article on Nigerian Students In The US All You Need To Know follow our website for more interesting articles.