Apply for the Netherlands Government Scholarships 2023–2024 if you're a student looking for master's and short course scholarships in the Netherlands.
The Netherlands Ministry of Foreign Affairs is offering fully funded scholarships for international students to enroll in full-time master's degree programs or short courses through the Orange Knowledge Programme in 2023–2024. The Dutch Ministry created the Orange Knowledge Program Scholarship (OKP) as a Fully Paid Scholarship to Study in the Netherlands.
Additionally, the scholarship covers tuition costs, visa fees, free living expenses, round-trip airline tickets, and health insurance. In the fields of higher education and vocational training, it aims to foster the knowledge, skill, and performance growth of both individuals and nations. Also, other areas that are related to the major program themes are highlighted.
The best universities in the Netherlands will accept successful pupils. The length of short courses ranges from 2 weeks to 12 months, while the study period for all Master's degree programs is between 12 and 24 months. Several academic disciplines are eligible for the Orange Knowledge Program (OKP), and the scholarship will pay for all costs.
There are more than a thousand different academic disciplines. One of the largest scholarships in the world, the Dutch Ministry of Education does not charge an application fee. The Scholarship's first round will soon begin. The complete information regarding the Netherlands Government Scholarships 2023–2024 is provided below.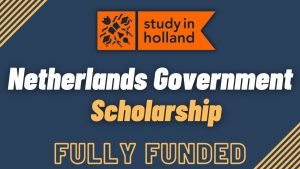 Netherlands Government Scholarships
International students from countries outside the European Economic Area (EEA) who wish to pursue a bachelor's or master's degree in the Netherlands are the target audience for the Netherland Scholarship. If you want to learn more about the Netherlands Government Scholarships, continue reading if you're ready for the opportunity of a lifetime!
Netherlands Government Scholarship Summary
Level of Study: Masters / Short Courses
Institution(s): Various Institutes in the Netherlands (Studyfinder)
Study in: Netherlands
Program Period: Short courses (duration 2 weeks to 12 months). Master's programmers (duration 12 – 24 months).
Deadline:
2023, 3 February–23 March, first round (for courses starting between 26 July and 21 November 2023)
Phase II: 12 May–29 June 2023 (for Short Courses starting between 22 November 2023 and 20 February 2023)
Third Round: September 1 through October 12, 2023 (for Short Courses starting on or after 21 February 2023 and ending before 31 August 2023)
Read Also: Best Data Analysis Courses with Certification in 2023
Netherlands Government Scholarships Coverage
The Dutch Ministry of Foreign Affairs established and completely funds the Orange Knowledge Programme (OKP), a scholarship program offered by the Netherlands Government. The costs that will be covered are listed below.
Full Tuition Fees
Living Allowance
Visa Fee
Round Airfare Travel Tickets
Insurance
The Course Finder can be used to locate any of the more than 1,000 Programs that are offered. The Masters Degree Programs & Short Courses Provide All Academic Areas and Courses International Student Scholarships
Agriculture And Environment
Economics, Commerce, Management, And Accounting
Engineering
General Programmes
Health Care, Social Services, and Care Services
Hotel, Catering, Tourism, Leisure, Transport, And Logistics
Humanities, Social Sciences, Communication, And Arts
Law, Public Administration, Public Order, And Safety
Mathematics, Natural Sciences, And Computer Science
Teacher Training
Some of the courses for the Orange Knowledge Program include:
A one-year master's program in environmental and infrastructure planning is offered by the University of Groningen in Groningen.
A one-year master's program in business analysis and modeling is offered at Radboud University in Nijmegen.
A one-year master's program in small business and entrepreneurship is offered by the University of Groningen in Groningen.
International and European Law: The University of Amsterdam offers a one-year Master's program in European Union Law.
An annual Master's program in behavior and policy is offered at Radboud University in Nijmegen.
A one-year Master's program in health sciences is offered at Erasmus University Rotterdam.
An annual master's program in curating art and cultures is offered by Vrije Universiteit Amsterdam in Amsterdam.
A one-year Master's program in international economics and development is offered at Radboud University in Nijmegen.
European Archaeology is a one-year Master's degree offered by the Vrije Universiteit Amsterdam in the field of archaeology.
A brief summer course of 19 days is offered by the IHE Delft Institute for Water Education on solid waste management.
A 12-day summer course called Suivi et Évaluation de la santé dans un contexte dynamique (S&E) is offered by KIT (Royal Tropical Institute).
A brief summer course in Delft lasting 19 days is called Aquatic Ecosystems: Processes and Applications at the IHE Delft Institute for Water Education.
A one-year Master's degree in Sustainable Entrepreneurship is offered by the University of Groningen in Leeuwarden.
At the University of Groningen, religion, health, and wellbeing are discussed. This is a 12-month master's program in Groningen.
IHS (Property Management with a Social Mission) at Erasmus University Rotterdam is developing social housing projects. This is a brief 17-day summer course in Rotterdam.
A two-year Master's program in organic agriculture is offered at Wageningen University & Research.
Even if this isn't an entire list, you can visit the Orange Knowledge Program website to look for additional courses and see whether the one you want is among them.
You should inquire with your employer about their willingness to recommend you for an Orange Knowledge Program scholarship.
You must make an effort to get in touch with the Netherlands government's institution about your desired choice of education. You will learn more about the application procedure, the academic requirements you must meet, and the application link by reading on.
When putting together your application, take your time. Your employer statement, motivational statement, passport, government statement, and other information should all be included in this application.
Make sure you submit your application online using the link you receive from the Dutch educational institution once you have processed all of the required paperwork. The application deadline for the school of your choice is something you should be aware of.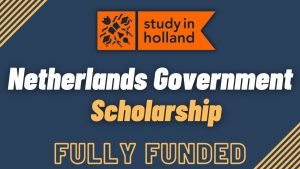 Netherlands Government scholarships Eligible Countries
Afghanistan ▪ Albania ▪ Armenia ▪ Bangladesh ▪ Benin ▪ Bhutan ▪ Bolivia ▪ Burkina Faso ▪ Burundi ▪ Cambodia ▪ Colombia ▪ Congo (DRC) ▪ Cuba ▪ Egypt ▪ Ethiopia ▪ Georgia ▪ Ghana ▪ Guatemala ▪ Guinea ▪ Indonesia ▪ Jordan ▪ Kenya ▪ Lebanon ▪ Liberia ▪ Mali ▪ Mozambique ▪ Myanmar ▪ Nepal ▪ Nicaragua ▪ Niger ▪ Nigeria ▪ North Macedonia ▪ Pakistan ▪ Palestinian Territories ▪ Peru ▪ the Philippines ▪ Rwanda ▪ Senegal ▪ Sierra Leone ▪ Somalia ▪ South Africa ▪ South Sudan ▪ Sri Lanka ▪ Sudan ▪ Suriname ▪ Tanzania ▪ Thailand ▪ Tunisia ▪ Uganda ▪ Vietnam ▪ Yemen ▪ Zambia ▪ Zimbabwe.
Eligibility Criteria for Netherlands Government Scholarships
Certain elements need to be taken into account in order to qualify for Netherlands Government Scholarships:
English is a required language.
The applicant for the scholarship must be a citizen of one of the nations on the OKP Nation list, as well as a resident or employee of that nation (see the document Country List for Short courses and Masters ).
The scholarship applicant is employed by one of the following categories of local or national entities: secondary or higher education institutions, academic institutions, universities, the private sector, commissions, or NGO ministries.
The scholarship candidate is not permitted to work for a multilateral or bilateral organization, a non-governmental organization with a global presence that promotes social causes like conservation of the environment, development cooperation, human rights, or health.
A professional who is in a position to put what they have learnt into practice, either directly or through their employer, due to their (1) function, (2) numerous years of relevant work experience, and (3) networks within a theme relevant to local development, should apply for the scholarship.
The applicant for the scholarship has a current ID.
The applicant for the OKP scholarship has been accepted to the course or program for which he or she is applying.
If the local government requested one, the scholarship applicant included a government statement with the application (see the document government statement requirement).
The scholarship candidate provides evidence that the desired amount of co-funding is available to support the research.
The employer of the scholarship applicant supports the scholarship application with a glowing recommendation, confirms that it will continue to pay the scholarship recipient's salary throughout the program, and promises to provide the recipient with an opportunity to put what he or she has learned into practice after the recipient returns.
Recommended
Netherlands Government Scholarships Deadline
The Netherlands Government Scholarship is available through the Orange Knowledge Scholarship Program in 3 rounds, each of which has a deadline:
First Round: 3 February through 23 March 2023
Second Round : 12 May–29 June 2023
Third Round: September 1 through October 12, 2023
How to Apply for a Netherlands Government Scholarships
The application process for the Netherlands Government Scholarship is detailed below:
(1) Look for a master's degree program or course that qualifies for the award. With the following search parameters, you can locate the appropriate courses in the study program database studyfinder.nl: Yeah, OKP is qualified.
(2) For further information, get in touch with the Dutch higher education provider that is providing the course.
The course content.
The scholarship application deadline (deadlines can differ per Dutch institution).
The scholarship application and selection procedures.
The online application form and the required application documents.
(3) Prepare your application and any necessary supplemental materials.
(4) Prepare your application and send it online to the Dutch institution that is conducting the course.
The Netherlands Ministry of Foreign Affairs awards scholarships through the Orange Knowledge Program to those who want to enhance their careers. A Master's degree or a variety of short courses are both options for achieving this. As soon as an applicant submits their application, the following steps are taken:
The prospective students must register with the institution of their choice, the Dutch institution must nominate the students and then submit a grant application, the home country's embassies must check the applicants' eligibility and evaluate all applications, and the Dutch educational institutions will be informed of the selection outcomes. Lastly, funds will be given to selected candidates by Dutch educational institutions.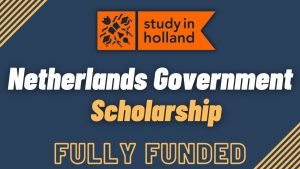 Recommended
9 Best Online Learning Platforms With Free Application
FAQs on Netherlands Government Scholarships
Here are some questions on Netherlands government scholarships
When are the results of the applicants going to be announced?
The applications' outcomes are revealed three to four months after the application. The Dutch educational institution where you submitted your scholarship application will get in touch with you by phone or mail on the outcome of your application.
Who can I contact regarding the Orange Knowledge Program application?
If you have any inquiries about your Orange Knowledge Program scholarship application, you can get in touch with the Dutch educational institution where you wish to enroll. Please be aware that before you begin the application, you must decide where you want to study and what courses you want to take. The educational institutions can provide you with more details on the many steps involved in the application and selection processes, as well as the requirements for admission.
How long will the Orange Knowledge Program scholarship last?
The scholarship is valid for up to one academic year, or the nominal study period, of the course or program for which the scholarship recipient was chosen. For scholarships for short courses, the Dutch institution may occasionally repay margin days up to three days before or after the end date of study. Please be aware that the scholarship cannot be extended.
SEE ALSO:
Trust you found our article on Netherlands Government Scholarships 2023-2024 (Fully Funded) follow our website for more interesting articles.