How to Write a Perfect Essay Using Free Online Utilities: From school to college, a student has to deal with academic activities like essay writing to ensure the credibility of their work.Essay writing is the best way to evaluate a student's understanding, application, and knowledge about a particular work area.
But it is not always about just gaining knowledge. Essay writing requires a proper writing skillset,an understanding of the structure, and strong command over grammatical rules. In this case, students can take assistance from online utilities and tools for authentic results.
In this article, we will guide you on how to write a perfect essay using free online utilities.We will discuss the qualities and workingsof each tool so you can use them appropriately.
How to Write a Perfect Essay Using Free Online Utilities
5 Free Online Utilities to Write Perfect Essay
Here we have discussed some utilities that will help you to write a quality essay free of grammatical mistakes and plagiarism. These tools will help with certain aspects of essay writing, so make sure to go through each.
Read also: Motivation Letter for Scholarship Application
1.      Article Rewriter
Rewriting is a common practice followed throughout essay writing, including essay writing. You can rewrite essay to eliminate plagiarism or make your essay more readable with a better tone. All these practices are possible with the Article Rewriter Tool provides you necessary set of options to assist in essay writing.
How to Use
The tool is as easy to use as copy-pasting from one source to another.You mustpaste the compiled information in the input box, select the language, and set a writing style. Once the input options are set, click the 'Rewrite Article' button to get a unique and well-structured rewriter essay.
Features
Allows to rewrite essay for free
Three different rewriting options
Option to rewrite essay with one click
Multiple language choices
Highlights rewritten content
Read also: Top 10 Best Art Schools In Canada With Scholarships
2.      Grammar Checker by Prepostseo
The next most crucial aspect in essay writing is the grip on grammatical rules. The quality of your essay heavily depends on grammatical rules, spelling mistakes, active/passive voice use, and featuring a direct/indirect style. In this case, the Grammar Checker by Prepostseo would be the perfect online utility for you. This tool has the best option to make your essay free of errors with just a few clicks.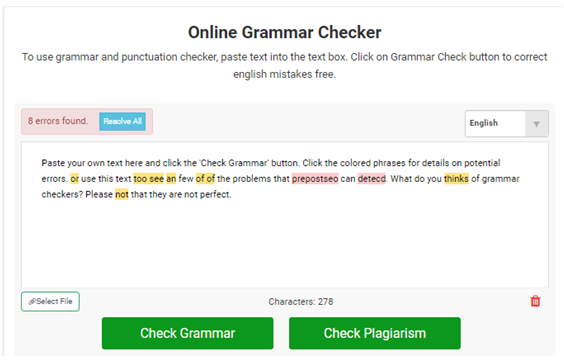 How to Use
This grammar checker gives you a better understanding of grammatical rules and helps to correct spelling mistakes with a single click. You can paste your essay in the input box and click the 'Check Grammar' button. Within a few seconds, the tool will highlight all the errors in your essay.
You can click the 'Resolve All' button to correct all the grammatical mistakes, or you can choose to correct each error manually by clicking the highlighted portions.
Features
Allows single-click option to correct all the grammatical mistakes
Highlights each grammatical mistake, including spelling and grammatical errors
Option to upload essay file in any document file format
Completely free to use without any login or sign up
Shows the purpose of correction against each highlighted word
3.      Summarizing Tool
Maintaining conciseness is an essential element of your essay that should not be missed at any cost. This element must be kept in the essay's introduction and conclusion section. You can rely on the Summarizing Tool to compile information in your own words.This tool is powered by AI technology and offers you the best options.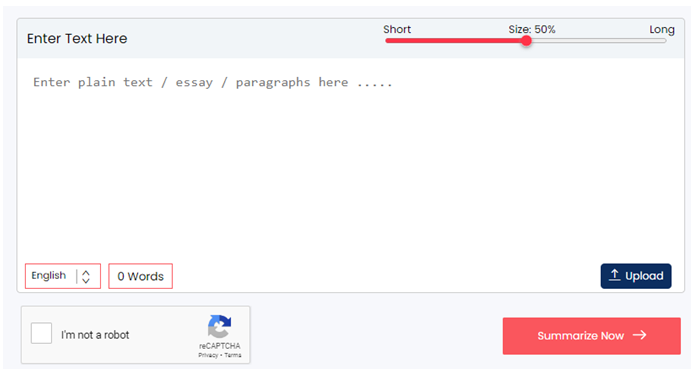 How to Use
The tool gives you all the options to summarize an essay at a customized length. You can choose to create a summary for your essay by adjusting the slider bar. Paste the written essay in the input box, select the summary length, and click the 'Summarize Now' button to create a unique and concise summary.
Features
Supports multiple languages
It gives the option to set the summary length
Option to upload a file and download summarized text
Free to use without any login or signup
Covers all the essential keywords in the summarized version
Read also:  Top 10 Best Art Schools In Canada With Scholarships
4.      Hemingway Editor
The Hemingway editor is your proofreader who can guide you on improvements and quality of the essay. The tool will highlight the contents of your report with different colors for distinction. If you're looking to improveyour writing style and readability tone of writing, Hemingway would be the best choice for you.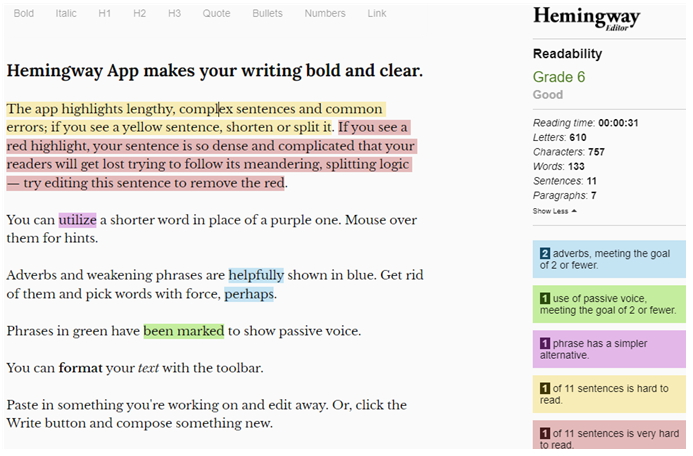 How to Use
The tool works in real-time as an online text editor. It supports all the significant fonts used in Microsoft Word and Google Docs. As soon as you paste the essayinto Hemingway Editor, it will highlight the sections that need to be rewritten or improved. However, the tool does not provide automatic correction support, so you may have to implement the changes manually.
Features
Highlights excess active and passive voice
Indicates hard-to-read sentences
Follows a specified color scheme for each improvement
Suggest alternatives for specific terms and phrases
Free and easy to use
5.      Check-Plagiarism
Last but not least, you need to perform this to verify the uniqueness of the essay. One common condition in every type of essay writing is that it has to be unique overall. Therefore, you need to ensure the uniqueness element before submitting your essay. For this purpose, you can avail of a plagiarism checker free of cost without logging in or signing up with an online tool.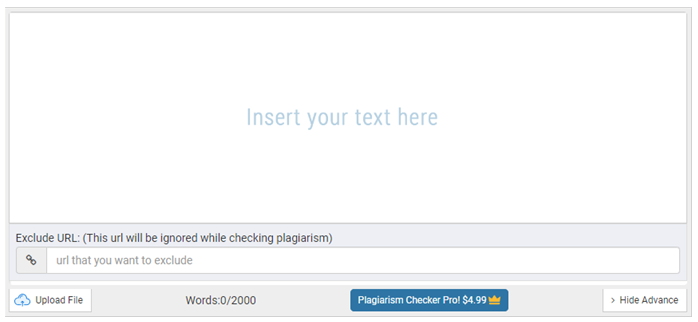 How to Use
This online tool can be accessed from any web browser and gives you the freedom of usage without any login or signup. Paste the essay directly or upload the essay document files on the interface to check its plagiarism.
Furthermore, you can filter out any URLs or links to avoid plagiarism. Once the scan is complete, a detailed plagiarism report will generate to highlight the sentences having similarities with some pre-published content.
Features
Allows to check up to 2000 words at a time
Supports multiple file documents
Includes URL filter as an advance feature
Free to access without signing up
Available in a variety of languages
Read also: 10 School That Offers Best Accelerated BSN Programs For Non Nurses
Conclusion
A quality essay requires focus, attention to detail, and well-researched material. However, these qualities are in vain if you don't know how to evaluate or improve your content properly.
For this purpose, we shared a range of online utilities that can help improve your essay quality. We hope this article helped guide how you can compile technological resources in writing quality essays.
Read also:  Top Online Government Certifications in All Reasons 2022
See also:
TOP 10 BEST PLACES TO STUDY ABROAD

Trust you found our article on How to Write a Perfect Essay Using Free Online Utilities helpful. follow our website for more interesting articles.