Are you looking to go into content writing, or you are already a content writer, looking to improve your skills, we have compiled a list of free online courses for content writing.
According to statistics, the majority of people enjoy writing. It's possible that this is why they say "content is king." Although everyone appears to be a writer, not everyone is a good one. Content writers that are good at what they do produce high-quality papers that are free of plagiarism.
Furthermore, new technology and trends emerge on a regular basis, and as a smart content writer, you must stay up with them. You won't be able to stay up with current trends if you don't have the abilities that the market demands. This is why we've put up a list of the best free online courses for content writing for you in this article.
Before we look at the free online courses for content writing, let's look at some frequently asked questions and their answers.
What is Content Writing?
Content writing is a type of online writing that entails planning, creating, and editing web content for the goals of digital marketing. To put it another way, it entails writing articles that appear on websites, usually for the purpose of marketing or promoting a specific product.
Clients supply the outline for content writers to work with. The client's outline defines the assignment as well as any SEO needs, such as the keyword and its related key.
The content writer's job is to generate a captivating piece that uses the outline to target a certain webpage. Journalism and traditional copywriting are not the same as content writing. This is due to the fact that content authoring is done in order to gain a website's influence.
Content writing, on the other hand, has a close association with Search Engine Optimization (SEO). When it comes to content creation, you'll need to compose pieces that are narrowly targeted and include a set of keywords that internet readers look for.
If you want to write high-quality content, make sure the keywords are used at the appropriate density. The texts will also be non-plagiarized, straightforward, and focused on promoting the product. Poorly written material, on the other hand, will not rank well in search engines.
How can I learn content writing at home?
If you enjoy writing and have been doing it for a while, you can learn how to write online from the convenience of your own home. To begin writing, you do not require any certification. Obtaining a content writing certification, on the other hand, will help to improve your resume and increase your chances of finding a well-paying job in the sector.
How much can I earn as a content writer?
In the United States, a content writer's annual compensation ranges from $58,857 to $69,847. As a content writer, your income will be determined by your degree, certifications, supplementary talents, and the number of years you have worked in the field.
Salary.com lets you decide your exact pay target by providing more online, real-time compensation data than any other website.
Let's now look at the free online courses for content writing, we hope that you will find this article useful.
Read also: 5 Geotechnical Engineering Courses Online Free
Free Online Courses For Content Writing
Below is a list of the best free online courses for content writing. We have also attached links to each course.
1. Fundamentals of Digital Marketing by Google
First on our list of free online courses for content writing is the fundamentals of marketing by Google.
Google created this course to teach the fundamentals of digital marketing. It is made up of 26 courses and was created by Google's top trainers. Each module has lessons, which are comprised of videos and transcripts.
Before moving on to the next class, you must take and pass a quiz after completing each session. Before moving on to the next module, you will also write an assessment once you have completed a module.
Following the completion of this course, you will be given certification if you pass the final evaluation. After completing the course, you will have a better understanding of digital marketing. You will improve as a content developer as a result of your knowledge.
Next on our list of free online courses for content writing is to become a better blogger by skillshare.
Bloggers and social media influencers should take this free online course. It comprises twelve films, each of which is 57 minutes long. The videos will teach you the fundamentals of blogging and how to become a professional blogger.
Meanwhile, every month, new members on the platform receive free and unrestricted access to this course. Andrea Goulet is in charge of the program (Co-Founder & CEO of Corgibytes).
Read also: 2022 List of Tuition Free Universities in Norway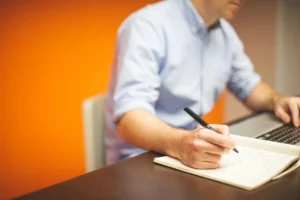 3. Content Writing certification by Hubspot
Hubspot's Content Writing Certification course will teach you the newest content writing trends. You'll discover how to use effective content tactics to convert your site visitors.
You'll also learn how to plan, advertise, and track content using analytics. Everything you need to know about content writing will be taught in this top free course. You'll also learn how to verify your monetization, allowing you to become an expert in the sector.
You must pass an evaluation after completing the course in order to receive certification.
4. SEO Training by Udemy
SEO training by Udemy is another course on our list of free online courses for content writing.
Udemy will educate you how to generate captivating content and how to optimize your website for search engines (SEO). SEO is addressed in content writing. The material will not rank well on search engines if it is not optimized for SEO, and so will not reach online readers.
The SEO course on Udemy is completely free. It's run by Eric Schwartzman. Learn SEO training from Udemy if you want to take your article writing skills to the next level.
5. Writing for the Web by Open2Study
We end our list of free online courses for content writing with Writing for the Web by Open2Study.
Open2Study's Writing for the Web is one of the best free online content writing courses. Frankie Madden, a senior user experience consultant at Stamford Interactive, is in charge of the training.
Furthermore, this free course will assist you in improving your content writing and strategy skills. The course will also cover the most recent content writing trends so that you may write high-quality, relevant content that you can repurpose to convert site visitors.
Upon successful completion of the course, you will receive a certificate.
Trust you found our article free online courses for content writing helpful. Follow our website for more interesting articles.