Financing your degree in Canada as an international student: Advancing your academic scope from a bachelor's to a doctorate might be expensive. It sometimes costs a lot of money to get these degrees, and financing might be difficult, especially for an international student.
Notably, some of the top universities and schools are found in Canada, and many international students see studying in Canada as an opportunity to receive a top-notch education at a lower cost than in nations like the United States, the United Kingdom, or Australia.
But even with the lower cost of tuition fees, there are still several other fees you may be required to pay, and with the accumulation of these fees, international education might be expensive. The good news is that many financial supports have been put together for both international and indigenous students of Canada, either by the schools, government, or other financing institutions.
International students seeking to access these options without a lifetime debt of student loans must be able to manage their finances wisely. This article discusses options for international students to finance their education in Canada to help fulfill their dreams of getting their degrees.
Financing your degree in Canada as an international student
4 Ways to finance your degree in Canada
If you are an international student, here are four ways you should consider if you are looking for ways to finance your academic degree in Canada;
Student Loans
Student loans are available for international students applying to Canadian schools but unable to pay tuition fees. Banks and other institutions can provide student loans for students to cover their costs and expenses in school.
The loans often cover school expenses, including housing fees, books, and other supplies. The interest rate is usually high, but some have an extended repayment time, and students start to pay off their debts once they earn money.
Student loans application can be made online as several online lenders provide student loans to people. You can quickly fill out the online application form for the loan and get approved. Once you have all the required documents, you are good to go.
Read also: 140 Examples of Smiles: Definition, Comparisons, PDFs
Scholarships and awards for international students
Obtaining a scholarship is among the best ways to pay for your academic pursuits in Canada. There are many government-funded and university-funded scholarships for international students studying in Canada. In Canada, students compete fiercely for scholarships.
One needs to investigate the options and make plans in advance to be eligible for well-funded scholarships in Canada. Then, to avoid any obstacles later, check the deadlines for Canadian scholarships and begin the application process as soon as possible.
Getting part-time jobs to earn an income
Another good option you should consider as an international student is taking part-time jobs in your spare time to pay up some of your fees and earn extra money.
Students in Canada can find various part-time employment to boost their income. The student visa allows for a variety of on-campus part-time jobs. You are also eligible to apply for an off-campus employment permit after completing six months of study.
By choosing this option, you can avoid worrying about future loan repayment or interest costs. However, before applying for a job, newcomers should confirm their legal eligibility to work on- or off-campus.
Read also: Top 10 Best Universities in Canada for Computer Science
Student lines of Credit
A line of credit is a loan that enables you to borrow money up to a predetermined amount continually. A line of credit allows you to take out loans, repay a portion of them, and take out other loans as needed.
A student line of credit is designed expressly to assist in covering post-secondary education costs, such as tuition, books, and living expenses. Only the money you borrow incurs interest when using a line of credit.
Student lines of credit can be a wise substitute for students who need financial flexibility but are unsure whether they'll need a large loan. Through this method, you can avoid paying interest on a substantial debt that isn't being used to its full potential.
You can apply for student lines of credit in some banks and financial institutions, but you might need a cosigner to guarantee you will repay the money.
Read also: Best 15 Online Courses In France With Application Links
The Bottom Line
As an international student, you must conduct intense research about the school you are applying to. This will help you be more informed about every benefit and perk you have as an international student. It will also help you make better decisions and manage your finances wisely.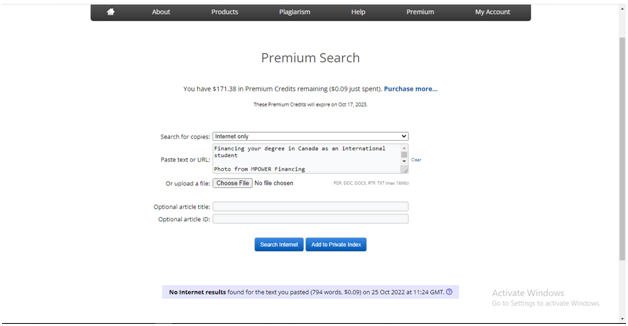 Trust you found our article on Financing your degree in Canada as an international student helpful. Follow our website for more interesting articles.