Welcome to the complete review of Dartmouth College, this one of the oldest and most esteemed colleges in the country, is located in the picturesque town of Hanover, New Hampshire. Dartmouth University was established in 1769, and since then, it has developed a reputation as a leader in academic innovation and achievement. The institution fosters an inclusive environment that emphasizes collaboration and intellectual curiosity thanks to its varied community of students and teachers.
Dartmouth University, which is renowned for its liberal arts curriculum and dedication to undergraduate education, provides a wide selection of programs in the humanities, sciences, and arts. Beyond the classroom, the college's active campus community, competitive athletics, and a wide variety of student clubs give everyone an enriching experience. Dartmouth maintains its dedication to produce graduates who are well-rounded, intellectually smart, and socially conscientious and who go on to have a positive impact on society as a member of the Ivy League.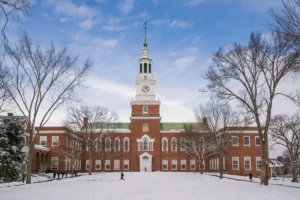 Still On: Complete Review Of Dartmouth College
What is Dartmouth College's history?
Dartmouth College, founded in 1769 and based in Hanover, New Hampshire, has a long and illustrious history. Eleazar Wheelock, a Puritan preacher, founded the college with the main objective of training Native American youngsters to become missionaries. The organization, once known as "Moor's Indian Charity School," began as a small school in Connecticut before moving to Hanover.
Dartmouth College was founded by King George III in 1770 and was given the name in honor of William Legge, the 2nd Earl of Dartmouth, who was a key benefactor of the school. The American Revolutionary War and financial challenges made the college's early years difficult. Despite these challenges, Dartmouth persisted and expanded.
The legendary Dartmouth College v. Woodward case in 1819 was a key occasion in Dartmouth's history. The college won the case because the U.S. Supreme Court upheld its status as a private institution and decided that the state government could not interfere with it. This important ruling maintained the independence of private educational institutions nationwide and established the notion of the inviolability of contracts.
Dartmouth has extended its academic offerings and developed into a top liberal arts university over time. It maintains its dedication to delivering a well-rounded education while making adjustments to meet the shifting demands of its students and society.
Read Also: TCU Chancellor Scholarship 2023
Still On: Complete Review Of Dartmouth College
What degree programs and specializations does Dartmouth offer?
Students at Dartmouth College have access to a wide range of academic programs and majors, guaranteeing a thorough and varied educational experience. The undergraduate curriculum at the college places a significant emphasis on the liberal arts and encourages students to explore many fields before deciding on a major.
At Dartmouth, you can choose from the following academic divisions and programs:
1. According to the College of Arts and Sciences: It offers majors in a range of subjects, including the humanities, social sciences, natural sciences, and interdisciplinary studies. This is Dartmouth's main undergraduate division.
2. Electrical engineering, computer science, biomedical engineering, and other disciplines are all covered in Dartmouth's undergraduate engineering programs through the Thayer School of Engineering.
Tuck School of Business Although the graduate business school at Dartmouth also offers executive education and MBA programs, some business-related courses are also available for undergraduate students.
3. The Medical School at The Geisel: In addition to undergraduate classes on health and society, Dartmouth's medical school offers graduate programs for medical students.
4. The Graduate and Advanced Studies Program at The Guarini School is: For students interested in advanced research and academic careers, Dartmouth offers a variety of master's and doctorate programs.
The Rockefeller Center for Public Policy (RCPP): Dartmouth provides undergraduate students interested in public service public policy and government-related studies.
5. The Graduate and Advanced Studies School: Additional graduate programs in a variety of subjects are offered by this division.
The adaptable curriculum at Dartmouth emphasizes interdisciplinary studies and enables students to double major or minor in two different areas of interest. The institution's dedication to experiential learning and undergraduate research enhances the educational process.
Still On: Complete Review Of Dartmouth College
How competitive is Dartmouth's admissions procedure?
Dartmouth College receives a sizable number of applications from academically accomplished and varied applicants each year, making the admissions process extremely difficult. The college's comprehensive admissions process takes into account a number of aspects besides academic performance, including extracurricular participation, leadership, community service, and personal attributes.
As to the September 2021 deadline, Dartmouth's acceptance rate ranged from 7% to 9%. However, because of fluctuations in the number of applications received and institutional objectives, admission rates may vary slightly from year to year.
On the basis of their high school grades, SAT or ACT test results, letters of recommendation, essays, and interviews (if available), prospective students are assessed. An applicant's chances of being accepted can be greatly increased by showcasing a love of learning, effective leadership abilities, and distinctive contributions to their communities.
Dartmouth recognizes the benefits of a diverse student body and actively seeks out new students to add to the campus community. Because of this, the college upholds a need-blind admissions policy for citizens and permanent residents of the United States, which states that the financial situation of an applicant is not taken into account throughout the review process.
Read Also: 7 Cheapest universities in Lithuania for international students
Still On: Complete Review Of Dartmouth College
What are the extracurricular options and how is campus life like at Dartmouth?
Dartmouth College encourages students to pursue their hobbies outside of the classroom by providing a lively and interesting campus life. The gorgeous Upper Valley of New Hampshire, where the college is situated, offers many options for outdoor pursuits and exploration.
Students can form intimate bonds with their peers and instructors because of the supportive environment that is fostered on campus. By grouping students into residential clusters, the residential system, also referred to as the "House System," improves social connections and fosters a sense of belonging.
The experience at Dartmouth is incomplete without extracurricular activities, which serve a variety of interests. Over 350 student organizations are active at the campus, including clubs for academics, performing arts, culture, community service, and a variety of sports and recreational activities. One of the biggest and oldest outing groups in the country, the "Dartmouth Outing Club" (DOC) arranges outdoor excursions for students, including hiking, skiing, and camping.
Greek life is highly valued at Dartmouth, where a sizable percentage of students join fraternities or sororities. Greek households are very active in social life and provide chances for leadership growth and volunteerism.
Dartmouth offers plenty of possibilities for students to discover and display their artistic talents in the areas of arts and culture. Throughout the year, the college presents a wide variety of performances, art exhibits, and cultural activities.
Still On: Complete Review Of Dartmouth College
What benefits does Dartmouth College receive from its affiliation with the Ivy League?
One of the eight elite colleges that make up the Ivy League, a collection of private colleges and universities in the northeastern United States, is Dartmouth College. The Ivy League is well-known for its high standards for academic achievement, illustrious traditions, and stringent admittance procedures. Due to its membership in the Ivy League, Dartmouth enjoys the following advantages and benefits:
Respect and Reputation: The Ivy League brand enjoys considerable respect and renown on a global scale. Being a part of this exclusive club improves Dartmouth's reputation and draws excellent researchers, teachers, and students.
Materials and Endowments: The universities in the Ivy League have sizable endowments, which give them the money they need to fund cutting-edge research, elite staff, cutting-edge facilities, and a wide range of student services and support.
Academic Cooperation: Dartmouth academics and students have the chance to work together on projects with other Ivy League schools. The academic experience is further enhanced by this relationship, which enables a broad exchange of ideas and research opportunities.
Student Network: Having a large and powerful alumni network, the Ivy League offers Dartmouth graduates important connections and career options after graduation.
Athletic competition: The Ivy League schools participate in collegiate sports at a high level, giving students the opportunity to take part in competitive athletics while still placing a strong emphasis on academic accomplishment.
Still On: Complete Review Of Dartmouth College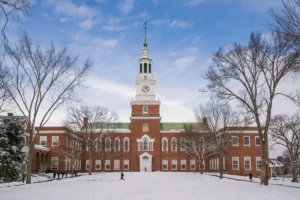 What scholarships and financial aid programs are available to Dartmouth students?
Dartmouth College is dedicated to granting students from many socioeconomic backgrounds access to higher education. Regardless of nationality, the institution will satisfy all admitted undergraduate students' financial need to the fullest extent possible.
Grants, scholarships, and work-study are the main components of financial aid packages at Dartmouth opportunities as opposed to loans. This strategy makes sure that students may concentrate on their education without graduating with a huge debt load.
Based on their family's income, assets, and other pertinent variables, the financial assistance division at the college thoroughly evaluates each student's financial need. Students must fill out the Free Application for Federal Student Aid (FAFSA) and the College Scholarship Service (CSS) Profile in order to apply for financial aid, both of which include information about the financial situation of the family.
Dartmouth works to ensure that financial constraints do not prevent exceptional individuals from attending the college by making education affordable and accessible.
Still On: Complete Review Of Dartmouth College
How does Dartmouth assist its students in developing their careers and finding employment after graduation?
Dartmouth College is committed to offering its students thorough career development resources and support. The "Center for Professional Development" (CPD), the institution's career services center, provides a variety of programs and services to aid students in exploring career alternatives, developing professional skills, and finding employment after graduation.
Among the main facets of Dartmouth's career development assistance are:
1. Job and Internship Opportunities: Through career fairs, networking events, and online job databases, the CPD helps students connect with a large network of companies and alumni in order to discover internships and employment opportunities.
2. Career counseling: To help students find and pursue their professional options, the center offers specialized career advising services, such as resume and cover letter reviews, practice interviews, and career counseling.
3. "Networking" and "Alumni Connections": Students can benefit from contacts in a wide range of fields thanks to Dartmouth's extensive alumni network. To encourage fruitful relationships between students and accomplished professionals, the college hosts networking events and alumni panels.
4. Workshops for Professional Development: The CPD offers workshops and seminars on subjects including interview tips, resume writing, and successful networking, giving students the tools they need to succeed in the workforce.
5. Guidance for Graduate and Professional Schools: The CPD provides direction and support for students interested in applying to graduate and professional schools for advanced degrees.
Still On: Complete Review Of Dartmouth College
Recommended
Can students enroll in exchange programs or study abroad while attending Dartmouth?
Yes, Dartmouth supports and promotes its students' ability to study abroad. Students can immerse themselves in various cultures, broaden their horizons, and gain priceless experiences through the college's range of international study programs.
Dartmouth's primary study abroad opportunities are as follows:
1. Off-Campus Programs at Dartmouth The university runs its own study abroad initiatives under the name "Dartmouth Off-Campus Programs." These programs, which are run by teachers from Dartmouth, provide a wide range of academic and cultural experiences in different parts of the world.
2. Exchange programs include: Dartmouth has forged alliances with a number of foreign colleges that let students take part in semester- or year-long exchange programs. Students who participate in an exchange program pay their Dartmouth tuition and continue to be eligible for financial aid while attending the partner university.
3.Third-party programs include: Students can take part in pre-approved third-party study abroad programs in addition to those conducted by Dartmouth, ensuring seamless academic credit transfer.
4. Dartmouth wants all students to be able to study abroad, regardless of their financial situation. The college offers scholarships and financial aid to help students with the costs of their study abroad programs.
5. Dartmouth College is a highly sought-after institution for students looking for a comprehensive and enriching higher education experience because of its illustrious history, diverse academic offerings, competitive admissions process, active campus life, Ivy League affiliation, generous financial aid options, strong career support, and plenty of study abroad opportunities.
SEE ALSO:
Trust you found our article on Complete Review Of Dartmouth College | Tuition, Admission, Programs helpful. Follow our website for more interesting article.