The standard of living in Switzerland is very high, and the cost of living is reasonable, yes!. So here are the things You should know before studying medicine in Switzerland The nation also possesses a lot of resources that can save lives, such low infant mortality rates and strong sanitary standards. Moreover, Switzerland is known for having some of the top medical facilities in the world.
Despite the high cost of living, studies have shown that it is nevertheless possible to live in Switzerland on a relatively limited budget. Moreover, Switzerland has less expensive school fees than other nations. You should think about whether Switzerland would make a good place for your medical school experience if you are interested in studying medicine overseas. Europe's strongest economy is that of Switzerland.
The educational system is excellent and well-regarded. Also, it is quite diversified and offers access to a wide range of people and cultures. After completing medical school in Switzerland, you are certain to obtain a position at one of the numerous prominent hospitals.
Read Also: 10 Best Colleges In Manhattan
Continue Reading: 7 Things You Should Know Before Studying Medicine in Switzerland
1. What qualifications are needed to pursue a medical degree in Switzerland?
The prerequisites for medical school are comparable to those for other university programs in Switzerland. In general, international students must hold a degree from a state-recognized university that was earned over the course of at least three years.
Moreover, language ability is essential; the vernacular will vary by university. German proficiency is necessary, for example, at the University of Bern.
Competition is fierce since there are few openings at Swiss medical schools (numerus clausus) as a result of the 1998 admittance limits. The Universities of Geneva, Lausanne, and Neuchâtel follow a tight internal selection procedure to reduce the pool of candidates. Another university has a qualifying test. You must submit an application through the website of the Swiss Universities and pay a fee of CHF 200 to take this test.
Aspiring physicians must take a qualifying exam every year beginning in July. The universities in Basel, Bern, Chur, Lucerne, St. Gallen, Suhr, and Zurich offer it in German. At Lugano and Fribourg, it is delivered in Italian.
2. In which language are classes taught in Switzerland?
In Switzerland, German is frequently utilized for medical studies, as is the case at the University of Bern. Students at the University of Fribourg have the choice of studying in French or German.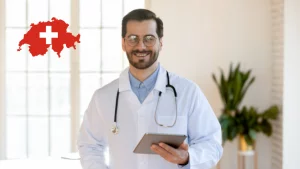 Continue Reading: 7 Things You Should Know Before Studying Medicine in Switzerland
3. What subjects are included in the Swiss medical curriculum?
In Switzerland, medical education lasts for six years. It consists of a Bachelor's degree (years 1 through 3) and a Master's degree in Human Medicine (years 4 to 6).
The fundamental topics are covered by the Human Medicine bachelor's degree. The first year of study at the University of Fribourg is devoted to physics, chemistry, biology, and organ systems. The second year is spent on morphology and function, while the third year is spent trying to understand how diseases work. Before the end of the semester, a student must finish a four-week nursing internship in order to receive this degree.
On the other side, a Master's in Human Medicine provides students the scientific expertise, information, and skills necessary for clinical practice. For instance, the University of Zurich adheres to a core curriculum. In addition, it offers elective modules in family medicine, ambulatory medicine, pain management, and palliative care, to name a few.
Students must complete internship rotations and submit a thesis in order to get their Master's degree.
Read Also: Netherlands Government Scholarships 2023-2024 (Fully Funded)
Continue Reading: 7 Things You Should Know Before Studying Medicine in Switzerland
4. The total number of medical schools in Switzerland.
Both the Bachelor's and Master's degrees in Human Medicine are offered by six Swiss faculties. These are Basel, Bern, Fribourg, Lausanne, Geneva, and Zurich Universities. In the near future, a Master's degree should also be available from the Università Della Svizzera Italiana.
Only the Bachelor of Medicine in Human Medicine is offered by the ETH Zurich and the University of Neuchatel.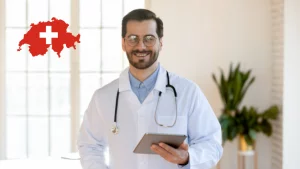 Continue Reading: 7 Things You Should Know Before Studying Medicine in Switzerland
5. What are the requirements in Switzerland to become a doctor?
After completing the 6-year program, students are required to take the Swiss Federal License Examination in accordance with the Federal Law on Medical Professions Act (MedPA). Any physician who wants to pursue additional training in hospitals and medical offices must fulfill this criterion.
The Swiss Institute for Postgraduate & Further Education in Medicine is in charge of this postgraduate training. A minimum of three years must pass before the doctor can become an assistant physician.
The assistant doctor can sit for a specialty exam after completing postgraduate training. The physician can independently accept patients after completing this examination.
Recommended
Continue Reading: 7 Things You Should Know Before Studying Medicine in Switzerland
6. How challenging is medical school in Switzerland?
Since there are just a few spots available in Swiss medical schools for both domestic and international students, the challenge of studying medicine there begins with admission. The students must pass a suitability exam if the number of applicants exceeds 20% of the available spots.
There is no assurance that you will be able to pursue your Master's degree at the same institution where you earned your Bachelor's in Human Medicine. Certain institutions, like ETH Zurich, only provide the Bachelor's degree; as a result, their students can only enroll in the Master's program at any of their partner institutions (Universities of Basel, Lugano, and Zurich). You must so compete with others who earned their bachelor's degrees at the aforementioned institutions.
Several colleges that provide both programs offer straight entry into the Master's program. The University of Svizzera Italiana is the sole exception (USI). There is no assurance that its students will be admitted to the Basel University's Master's program since it provides a Bachelor's program through that institution.
SEE ALSO:
Trust you found our article on Things You Should Know Before Studying Medicine in Switzerland follow our website for more interesting articles.