Welcome to Scholarships Hall, today we are introducing you to the top ways how to make money with your smartphone while staying at home, comfort zone or even combining with the current work you do.
Also working full-time or part-time to earn extra cash for yourself, and still have much time for other important activities.
People in South Africa, Nigeria, and Kenya, in particular, are highly interested in learning how to generate money from their phones as technology advances. Everyone now has a smartphone that runs on either the iOS or Android operating systems.
It is possible to earn money simply by using your smartphone, allowing you to supplement your basic pay or income while also having extra funds for unique requirements and objectives.
People all over the world are earning cash, or mobile money, in a variety of ways, including paid surveys, generating money on YouTube, and so on.
These smartphones come with a variety of apps that are either pre-installed or may be downloaded. Every day, more apps are put into the market, increasing the prospect of making money through these apps.
Read Also: 5 Universities In The Czech Republic for International Students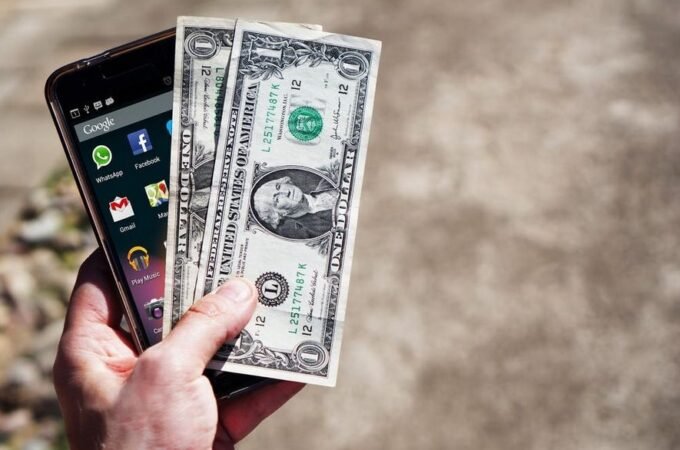 10 Ways to Make Money With Your Smartphone
1. Sell Your Old Stuff
Do you have any old clothes, furniture, or books that you don't need? (Or, for that matter, anything!)
You may sell them using a variety of smartphone apps and get some additional money. Let's take a look at a couple of them.
Example
Decluttr
First way we have to discuss on how to make money with your smartphone is by using the decluttr platform.
This app can be used to sell electronics and media such as cell phones, games, DVDs, CDs, and books. It provides free shipping on all orders and quick cash for the products you sell the next day. The ability to scan an item's barcode and get a quick estimate of its value is a cool function.
Read Also: Free Online Courses For Content Writing
2. Trade-in Your Old Stuff on Amazon
Another way on how to make money with your smartphone is to sell items that you no longer need. You won't get paid in cash, but you might get gift cards if you choose this option.
Amazon has a fantastic trade-in programme where you can turn in Amazon Devices, video games, phones, accessories, and more.
If your item qualifies, you'll get an offer for an Amazon gift card or a promotional credit toward the purchase of a new gadget right away if it's qualified.
There are no additional charges, and Amazon will cover the delivery costs and provide you with a free mailing label.
3. Use an Investment App
While you may be in need of some more cash right now, one of the finest decisions you can make is to plan for the future.
There are some fantastic investing apps available that can assist you in making money from your phone today while also increasing your worth as you age.
Examples:

Betterment
Using Betterment is another top ten ways on how to make money with your smartphone by using an investment app like Betterment.
Betterment is a blend of investing and savings for those who wish to take control of their finances. The software allows you to establish goals and then design a personalised investing strategy to help you achieve them. If you're having trouble with investments, set up an automatic monthly deposit and forget about it.
Read Also: 8 Cheapest Universities in Slovenia for International Students
4. Sell Your Data
Installing an app on your phone and "selling" your data may be considered an infringement of personal privacy by some. If you don't believe that, this is one of the best ways on how to make money with your smartphone without doing any more effort.
Nielsen, for example, is one of the world's largest market research firms. That's why they want to know what you're doing on your phone — and they'll pay you for it.
All you have to do to join Nielsen's Computer & Mobile Panel is download a secure mobile app. That concludes our discussion. The app will follow and record your phone usage, providing the organisation with crucial market research data.
Examples
Nielsen's Computer & Mobile Panel
5. Be a User Testing Participant
It might seen funny to you that you can make money with your smartphone being a testing participant, which means testing someones product, but of course its 100% possible.
Brands are interested in hearing what customers have to say about their goods and services. Some of them will even pay you to share your opinions with them.
UserTesting is a company that assists brands in obtaining this essential input so that they may continue to improve their products.
Participants can receive $4 USD for a 5-minute user test and $10 USD for a 20-minute user test, according to the website. You can earn anything from $30 to $120 for live interviews.
Exampples
Read Also: Chronic Illness Scholarships for Students | Scholarship for any Medical Condition
6. Fill Out Surveys
Make money with your smartphone by filling out survey questions from top companies looking for reviews to their product.
You've most likely heard of surveys before. While they may not be the best use of your time, if you're stuck at home, on your daily commute, or in line at the DMV, they might be a nice idea.
Examples
InboxDollars
This app rewards you for doing things like viewing movies, playing video games, and reading emails, as well as taking surveys. Members receive incentives in the form of coupons and rewards for online shopping in addition to being paid cash.
7. Sell Your Photos
Make money with your smartphone selling photos you have created or designed.
Do you enjoy taking selfies with your selfie stick? With your new iPhone, you might consider yourself a budding amateur photographer. Using apps like FOAP, all it takes is a few attractive images to get some additional cash.
FOAP is absolutely free to use, and you can resell the same photo as many times as you like.
You keep half of the sale ($5) when photos sell for $10. You can build your own portfolio of possible stock images for businesses or submit your photos to "missions."
A mission is a task assigned by a larger corporation to find specified photos. You can earn a considerable amount of money if your content catches the attention of the mission poster.
Examples
Read Also: Discover Recent University of Sydney Acceptance Rate & Scholarships
8. Run a Shopify Store From Your Phone
Top eight on how to make money with your smartphone is by running a Shopify Store online.
You may be surprised to learn that you can run an ecommerce store from the palm of your hand.
That's true, Shopify has a mobile app that gives you access to everything you need to run your business from your phone.
The Shopify app allows you to add products, manage inventory, process orders, compare sales channels, communicate with customers, and even track revenue.
Although you may need to set up your store on a desktop at first, after it's up and running, you can use the Shopify mobile app to manage your store's day-to-day operations while on the road.
9. Earn Rewards for Playing Games-Mistplay
Make money with your smartphone by playing simple mobile games online on platforms like Mistaplay.
On today's smartphone app market, there are thousands of games to choose from. While most applications will simply provide you with a means to pass the time, there are a few that will allow you to earn money while having fun.
For example, Mistplay is an app that allows you to earn rewards by playing games on your phone.
You earn Units (MistPlay's in-app cash) by playing and levelling up in games in Mistplay. Then you exchange Units for gift cards from retailers such as iTunes, Amazon, and Best Buy.
There are games in the survival, card, puzzle, adventure, and strategy genres available.
Read Also: 7 Top Animation Schools In Japan for International Students
10. Earn While Protecting the Environment-Cleanspace
The last we have to talk about here on how to make money with your smartphone through protecting the environment in hand with cleanspace.
Why not save some money and help the environment at the same time?
Cleanspace is a terrific app that rewards people who protect themselves and the environment with freebies and discounts.
The software works with the Cleanspace tag, a device that connects to your phone through Bluetooth and analyses carbon monoxide levels in your environment.
The app rewards you with freebies and discounts for every mile you run, cycle, or walk (or avoid contributing to pollution in any manner). By examining your immediate surroundings, the software can intelligently figure out how you're travelling around. Isn't it cool?
Trust you found our article on 10 Ways to Make Money With Your Smartphone helpful. Follow our website for more interesting articles.