This article – United Bank for Africa Plc – UBA Graduate Recruitment Programme 2023-2024 x-rays to graduates the opportunity currently open in UBA. United Bank for Africa Plc is one of Africa's most prominent financial institutions.
It has operations in 19 African countries as well as 3 global financial centers: London, Paris, and New York.
UBA was founded in Nigeria in 1949 as a single-country organization. It has since grown to be a pan-African provider for financial services, with more than 11 million clients through over 1000 offices and touchpoints worldwide.
Read also: 10 Best Medical Schools in Nigeria
Applications are invited for:
Title: UBA graduate recruitment programme 2021
Location: Nigeria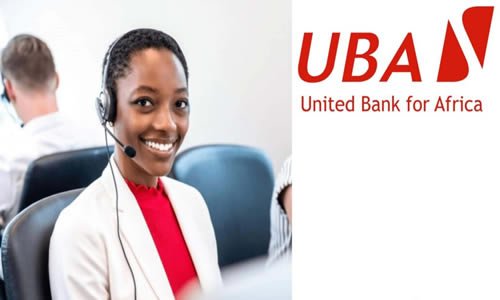 UBA Job Objectives.
We strongly believe that our people are crucial to building a strong and sustainable business in Africa, and elsewhere. We do everything possible to attract, develop, recruit, retain and promote the best talent from all parts of the globe. We are constantly striving for:
Create a safe environment that rewards and encourages role-model performance.
Help our workforce maintain a healthy balance between their work and personal lives
Description
Our Graduate Recruitment Program is looking for enthusiastic, young graduates who are self-starters. Graduate trainees who are accepted will have the opportunity to:
Immersive and intensive learning
Learning on the job with experienced employees
Building positive energy and building lasting relationships with colleagues is key to establishing skills that will last a lifetime.
Analyzing existing systems and suggesting improvements are some of the methods we use.
After completing the 6-month intensive training program (classroom and on-the-job learning),
successful trainees will be hired to work as permanent employees.
You be a successful graduate trainee you should;
Learn, learn, and relearn.
Show interest in all aspects of Bank operations and foster positive relationships with colleagues.
If you're looking for career advancement and exciting opportunities, YOU are the TALENT that we need!
Read also: 5 Free Nursing Schools that Charges Zero Tuition
Requirements
Skills required
Positive attitude and a growth mindset
Analytical and critical thinking
You have to be able to research well and willing to learn.
Communication skills that are both verbal and written are essential
Knowledge is required
MS Suite Knowledge is required.
Application Closing Date
22 October 2021
How to Apply for the UBA graduate recruitment programme 2021
Interested and qualified candidates should:
Click here to apply online
Also check here
Learn More About UBA
UBA – Our Philosophy
UBA believes that the success of our business is dependent on our people. We operate in Africa, and across Africa. We do everything possible to attract, recruit, retain, develop, and retain the most talented people, no matter where they might be located. We are constantly striving for:
– Create a safe environment that rewards and encourages role-model performance.
– Support our workforce to maintain a healthy balance between their personal and professional lives.
– Offer competitive compensation and benefits that are comparable to top-tier competitors in all the countries where we operate.
Ensure that there are adequate opportunities for career growth and exploration, whether they are across the country or functional.
– To create a diverse culturally-based pool of talented professionals with the mindset and skills to deliver outstanding results in various markets and cultures across Africa and the world.
Read also: 10 Best Automotive Engineering Colleges in the World | Ranking
UBA Academy
We know that our greatest asset, our people, is the only way to achieve the best results and stay ahead of the curve. We established the UBA Academy in 2008 as a force to be reckoned with in continuously training and developing our workforce to ensure they are at the forefront of the best-qualified professionals around the globe.
The dedicated Learning and Development specialists are on the forefront of closing any competency gaps in our workforce. UBA Academy uses a variety of learning methods, including e-learning programs, classroom trainings, and off-site trainings.
After successful completion of the modules, the Academy issues a certificate. It has graduated four batches of Management Trainees through its rigorous programme.
Culture and People
UBA takes corporate culture seriously. We take it very seriously and make sure that our employees are aware of it. Our core values define our culture.
Enterprise
Excellence
Execution
UBA Performance Management
UBA has a strong goal-driven Performance Management System that measures employee performance against carefully defined targets, teamwork, and overall performance. Every employee should understand how his contribution to the company's success.
Our performance management system, in addition to measuring performance, aims to reward Role Models accordingly and help the least performing staff to do better.
UBA Career Centre
We will go to great lengths to attract, recruit, retain, and develop the best talent wherever they are located in the world.
Read also: 20 Best Online MBA Without Undergraduate Degree | Latest update
Reward and Compensation
UBA strives for the highest level of industry competition in terms compensation in every country where it has operations. We recognize the power of rewards in motivating role-model employees, teams, and so we strive to offer monetary and non-monetary rewards accordingly.
Graduate Program
The UBA Graduate Trainee Programme aims to encourage participants to explore the next phase of their lives following graduation.
Our mission is to help people gain new insight and transform their lives. Participants will benefit from the industry's expertise and develop a master's-level business mind in our interactive classroom setting.
Trust you found our article on United Bank for Africa Plc – UBA Graduate Recruitment Programme 2023-2024 helpful. Follow our website for more interesting articles