University College London (UCL), founded in 1826, is a venerable institution at the forefront of academic quality and innovation. UCL, located in the dynamic heart of London, has engraved its mark in educational history by routinely placing among the world's top universities. UCL has been a beacon of intellectual curiosity for than two centuries, nurturing the brains of innumerable researchers who have influenced the course of knowledge.
University College London, known for its commitment to interdisciplinary research and a modern approach to learning, remains a crossroads for varied ideas. UCL's impact is seen around the world, from significant scientific discoveries to ground-breaking social projects. This overview only touches the surface of the institution's enormous impact on education and society. A captivating narrative of academic prowess and cultural relevance emerges as we dive deeper into the tapestry of University College London's history and achievements. Join me on this journey around UCL, where the past, present, and future collide in the pursuit of knowledge and enlightenment.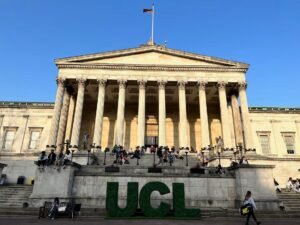 The Legacy and Influence of University College London
University College London (UCL) is a venerable institution with a long history and a significant influence on the academic scene. UCL, founded in 1826, has grown into a global powerhouse distinguished for academic quality, innovative research, and social responsibility.
University College London's Founding Principles and Milestones
From its founding, University College London was envisioned as a forerunner in education, breaking the era's conventions of exclusivity. UCL's creation signified a departure from established educational methods, emphasizing inclusivity and intellectual freedom. It was founded by visionaries such as Jeremy Bentham and James Mill.
The grant of its royal charter in 1836 cemented UCL's standing as a university, paving the way for a journey characterized by landmarks such as the admission of women on equal terms in 1878 and the institution of the first professorship in English in 1827.
UCL's Dynamic Adaptation Through the Centuries
UCL has proven tenacity and adaptation over the millennia. The institution survived two world wars and emerged stronger, contributing greatly to wartime operations. The postwar period saw UCL embrace new fields and research horizons, ushering in an era of development and modernization. Today, UCL's evolution demonstrates its capacity to navigate change while adhering to its essential ideals.
Academic Programs: The University of London's Commitment to Diversity and Excellence
Academic programs at University College London are important to the institution's identity. UCL offers a comprehensive education that transcends traditional boundaries with a varied assortment of undergraduate and postgraduate programmes encompassing the arts, sciences, engineering, and humanities. The emphasis on interdisciplinary studies demonstrates the institution's dedication to academic breadth, allowing students to investigate links between diverse subjects and developing a holistic approach to learning.
UCL's Research and Innovation Capabilities in Shaping Global Knowledge
UCL's identity is based on its status as a research powerhouse. Notable contributions in a variety of sectors, ranging from groundbreaking medical discoveries to scientific advancements, demonstrate UCL's impact on global knowledge. The university aggressively promotes interdisciplinary collaboration, understanding that complex problems necessitate varied solutions. UCL's research activities are at the vanguard of influencing the future, from basic discoveries to applied research with real-world ramifications.
Read Also: 12 Best Sites to Download Full Albums for Free
Campus Life in the City of London: A Dynamic Tapestry
UCL's bustling campus life combines ancient elegance with modern conveniences. Architectural treasures like the famous Wilkins Building coexist with cutting-edge amenities that support academic and recreational activities. The campus is more than just a learning environment; it is a community where diversity thrives. UCL's campus is a melting pot of perspectives, with students from all over the world, generating an environment where intellectual curiosity meets cultural interchange.
UCL Extracurricular Activities: Promoting Holistic Development
Aside from academics, UCL places a great focus on extracurricular activities that help to students' overall development. Student organizations, groups, and sports facilities allow students to explore their interests outside of the classroom. This active extracurricular scene fosters a sense of community and camaraderie, which improves the overall student experience at UCL.
Global Rankings: UCL's Position on the Global Stage
The global rankings of University College London confirm its place among the world's best institutions. These rankings constantly place UCL at the top of academic accomplishment, taking into consideration characteristics like as academic reputation, research production, and international diversity. Discipline-specific honors emphasize UCL's expertise in a variety of subjects, cementing its position as a world-class school.
International Collaborations: The Global Impact and Reach of UCL
Through broad worldwide cooperation, UCL's influence extends beyond its campus in the heart of London. Collaborative research projects, academic exchanges, and partnerships with world-class universities form a network of shared knowledge and skills. UCL's global reach magnifies its influence, contributing to a thriving global research community where ideas and discoveries cross borders.
Read Also: 10 United Kingdom Scholarships for British students 2024
Community Engagement: UCL's Social Responsibility Commitment
University College London is committed to social responsibility by actively engaging with the community and addressing societal concerns. Outreach initiatives encourage people from all walks of life to pursue higher education, promoting diversity in the classroom. Collaborative projects addressing societal concerns, ranging from poverty to public health, reflect UCL's commitment to using its resources for societal benefit.
Looking Ahead: UCL's Impact on the Future
UCL's role in influencing the future remains critical as it navigates the twenty-first century. Because of its forward-thinking strategy, the institution is positioned as a thought leader in anticipating and tackling new difficulties. UCL remains a beacon of excellence in teaching, research, and community involvement, contributing to a world where knowledge, innovation, and social responsibility meet.
The Enduring Legacy and Ongoing Impact of UCL
The trajectory of the University College London from its original inception in 1826 to its current worldwide standing demonstrates its enduring significance. The University of London's commitment to academic achievement, interdisciplinary collaboration, and social responsibility distinguishes it as a dynamic institution that not merely adapts to but actively influences the future. As UCL continues to make an indelible impression on the academic scene, its impact is felt around the world, making it a symbol of intellectual curiosity, creativity, and inclusivity.
Read Also: Fees for Sphinx University 2024, Admission Requirements and How to Apply to the University.
University College London's History
University College London (UCL) has a long and illustrious history that dates back to its founding in 1826. UCL was formed with the visionary notion of providing education to all, regardless of class or religious backgrounds, as a radical departure from traditional educational methods. This ground-breaking approach laid the groundwork for a transformative journey that would leave an everlasting impression on the higher education landscape.
The establishment of University College London was a watershed moment in academic history. UCL was founded by intellectuals such as Jeremy Bentham, James Mill, and Henry Brougham with the goal of challenging discriminatory educational standards. UCL arose as a beacon of openness and intellectual freedom at a period when access to study was a privilege reserved for the elite.
UCL has evolved into a dynamic institution over the decades, adjusting to shifting tides of education and societal requirements. The granting of its royal charter in 1836, which solidified its status as a university, was a significant milestone in its history. This crucial period established UCL's commitment to academic achievement and innovation.
With the founding of the first professorship in English at a British university in 1827 and the admittance of women on equal terms with men in 1878, UCL proceeded to carve its niche in the late nineteenth century. These forward-thinking efforts demonstrated UCL's commitment to breaking down barriers and establishing a diverse and inclusive learning environment.
The twentieth century witnessed UCL's tenacity in the face of hardship, especially the obstacles offered by two world wars. Despite adversity, UCL persisted in its quest of knowledge and made substantial contributions to wartime operations. The postwar period saw UCL embrace new fields and research horizons, ushering in an era of development and modernization.
As we enter the twenty-first century, University College London is a global academic powerhouse. Its rich past, shaped by visionaries and pioneers, attests to the enduring spirit of intellectual curiosity that propels UCL forward. UCL is still at the vanguard of educational innovation today, expanding on its past to meet the challenges of a rapidly changing world.
University College London Academic Programs
The commitment to academic breadth and excellence is intrinsic to the University College London identity. UCL provides a wide range of undergraduate and postgraduate programs in a variety of areas, demonstrating the institution's commitment to delivering a comprehensive education that goes beyond traditional limits.
University College London is known for its diverse undergraduate programs in the arts, sciences, engineering, social sciences, and humanities. Students can personalize their educational experience to their passions and interests thanks to the diverse choice of subjects available. UCL provides a platform for intellectual research, whether one want to dig into the complexity of history, explore the boundaries of scientific discovery, or participate in the complexities of social issues.
UCL continues to thrive at the postgraduate level with a portfolio of cutting-edge programs designed to catapult students to the top of their respective fields. UCL's graduate options reflect its dedication to pushing the boundaries of knowledge, from master's degrees that develop expertise to doctoral programs that stimulate new research.
The emphasis on interdisciplinary studies is a distinguishing feature of UCL's academic approach. Recognizing that many of the most pressing challenges and interesting discoveries happen at the crossroads of disciplines, UCL encourages students to investigate linkages between them. This multidisciplinary philosophy not only enriches the learning experience, but also provides graduates with the adaptability required to negotiate a quickly changing global landscape.
University College London's vibrant academic programs are distinguished not just by their breadth, but also by their linkage with cutting-edge research and innovation. UCL's faculty, which includes world-renowned researchers and professionals, ensures that students are exposed to the most recent breakthroughs in their subjects, promoting a climate of intellectual curiosity and investigation.
In essence, UCL's academic programs are a testament to the university's long-standing dedication to providing a full and transformative education that prepares students for a lifetime of intellectual engagement and contribution to society.
UCL's Research and Innovation Contribution
University College London is a research and innovation titan, shaping worldwide knowledge and advancement through its intellectual strength. A record of pioneering contributions, current cutting-edge studies, and collaborative endeavors that cross disciplinary boundaries underscores UCL's reputation as a research powerhouse.
University College London research is a dynamic and complex enterprise. UCL's research ecosystem is distinguished by its range and depth, ranging from fundamental discoveries that reshape our view of the cosmos to applied research that solves real-world concerns. The institution's dedication to encouraging inquiry and investigation has resulted in revolutionary advances in domains spanning from medicine and science to the humanities and social sciences.
The emphasis on multidisciplinary collaboration is one of the distinguishing features of UCL's research landscape. Recognizing that complex problems necessitate multidimensional answers, UCL encourages scholars to work across fields, generating an innovative and creative atmosphere. This collaborative spirit may be seen in projects that bring professionals from various sectors together to address major global concerns such as climate change, public health crises, and technological developments.
UCL has made significant contributions to research in a variety of sectors. UCL has played an important role in expanding our understanding of diseases, providing life-saving medicines, and contributing to the overall betterment of world health. UCL researchers have been at the vanguard of scientific discoveries that have increased our understanding of the natural world, from the smallest particles to the enormous universe.
At UCL, innovation is not limited to the laboratory; it also includes entrepreneurial activities that turn research findings into concrete solutions. The university actively promotes and fosters an entrepreneurial culture by offering tools and infrastructure for academics and students to turn their ideas into effective companies.
Furthermore, UCL's global reach is augmented by cooperation with other universities, which establish a network of shared information and experience. Joint research projects, academic exchanges, and collaborative initiatives all contribute to a thriving worldwide research community in which UCL's influence reaches far beyond its central London campus.
In essence, UCL's contribution to research and innovation demonstrates the university's unwavering dedication to pushing the boundaries of knowledge and addressing today's challenging challenges. UCL's revolutionary research activities continue to affect the future as a beacon of intellectual inquiry.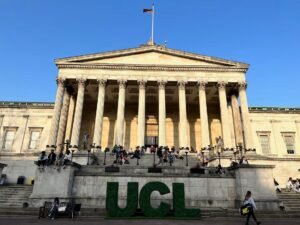 University College London Campus Life
The vibrant and exciting campus life at University College London complements its academic brilliance. The UCL student experience is distinguished by a rich tapestry of activities, cutting-edge facilities, and a varied community that flourishes in the heart of London.
The campus is a mix of antique charm and modern conveniences. Architectural treasures like the renowned Wilkins Building coexist with modern skyscrapers outfitted with cutting-edge technology. UCL's central location gives students access to the cultural, artistic, and professional opportunities that London has to offer.
Student life at UCL is not limited to lecture halls and laboratories; it also includes a plethora of extracurricular activities that cater to a wide range of interests. UCL ensures that students have enough opportunity to interact beyond the classroom, from student clubs and societies that cater to specific hobbies and passions to sports facilities that promote physical well-being.
UCL's lively cultural and social environment is powered by its varied student body. The campus is a melting pot of viewpoints, cultures, and ideas, with students from all over the world. This diversity enhances the learning process by creating an environment in which students are exposed to a diverse range of worldviews and experiences.
Extracurricular activities are critical in molding UCL students' complete development. Students at UCL enjoy the option to pursue their hobbies and passions outside of academic study, whether through participation in theatrical performances, community service projects, or sports competitions.
UCL's facilities are designed to meet the different demands of its students. The resources required for academic brilliance are provided by cutting-edge libraries, research institutes, and laboratories. At the same time, recreational rooms, student lounges, and collaborative places help students develop a sense of community and camaraderie.
For UCL students, the city of London itself functions as an extended campus. Museums, theaters, and cultural events abound, allowing students to immerse themselves in one of the world's most cosmopolitan cities' rich cultural environment. Students benefit from proximity to top sectors and firms, as well as unique chances for internships, networking, and professional development.
In essence, University College London campus life is a complete experience that extends beyond academic pursuits. It is a rich tapestry of intellectual study, cultural engagement, and personal growth that prepares students for a well-rounded and rewarding life, not just a career.
University College London has received global rankings and recognition.
University College London is a global leader, routinely receiving high rankings and distinctions for academic brilliance and accomplishments in a variety of sectors. UCL's international standing demonstrates its commitment to pushing the boundaries of knowledge and creating a substantial global impact.
UCL consistently ranks among the world's top universities in global university rankings. Academic prestige, research productivity, and international diversity are all elements considered in these rankings. UCL's continued participation at the top of these rankings indicates its continuous commitment to maintaining the best academic standards.
Discipline-specific rankings reflect UCL's strength in a variety of subjects. UCL's departments and faculties routinely garner acclaim for their contributions to expanding knowledge and tackling real-world challenges, whether in the sciences, humanities, social sciences, or engineering.
Beyond rankings, UCL's global impact may be seen in its collaborations and partnerships with top institutions around the world. UCL's influence is amplified via joint research efforts, academic exchanges, and collaborative projects, which create a network of shared knowledge and skills that crosses geographical borders.
The achievements of UCL's faculty and researchers have received accolades and recognition. UCL's academic community is known for its contributions to increasing understanding and solving complicated challenges, with numerous Nobel laureates, fellows of prestigious academies, and recipients of international prizes among its ranks.
UCL's global reputation is founded not only on academic achievements, but also on its dedication to social responsibility and solving critical global issues. Sustainability, public health, and social justice initiatives add to UCL's reputation as an institution that uses its expertise to benefit society.
In essence, UCL's global rankings and recognitions demonstrate the university's status as a world-class institution. UCL's influence reverberates globally as it continues to create the future through education, research, and innovation, making it a beacon of excellence in the academic environment.
Recommended
UCL's Community Engagement and Societal Challenges
University College London takes its social responsibility seriously, actively engaging with the community and tackling major societal issues. UCL's dedication to creating a good difference extends beyond the university, permeating the local, national, and global spheres.
The commitment to accessibility and inclusivity in education lies at the heart of UCL's community involvement efforts. UCL's outreach programs aim to inspire and support people from all walks of life to pursue higher education. These activities, which range from mentorship programs to community partnerships, demonstrate UCL's belief in education's transformative power.
UCL's community involvement extends beyond educational outreach to collaborative projects that solve societal concerns. UCL exploits its resources and knowledge for the improvement of society, from cooperating with local organizations to address challenges such as poverty and inequality to offering expertise to public policy discussions.
The institution's dedication to addressing global issues is reflected in its research programs and collaborations. Climate change, public health concerns, and technology breakthroughs are just a few of the issues that UCL researchers are working on. UCL's interdisciplinary approach guarantees that these difficulties are approached from several angles, generating comprehensive and long-term solutions.
UCL's approach to societal concerns is both reactive and proactive. Through projects that foster resilience, creativity, and social cohesion, the institution actively strives to predict new difficulties and prepare society for the future. UCL's innovative approach positions it as a thought leader in developing solutions for the complex challenges of the twenty-first century.
UCL's campus culture is permeated with a sense of social responsibility, encouraging students to actively contribute to their communities. Volunteering programs, community service projects, and student-led initiatives supplement UCL's community involvement efforts, fostering a culture of service and civic responsibility among its student body.
The engagement of University College London with the community and societal concerns reflects its dedication to becoming a positive force for change. UCL actively contributes to a more inclusive, sustainable, and resilient future for communities near and far through education, research, and collaborative initiatives.
SEE ALSO:
Trust you found our article on Gamification in E-Learning: Enhancing Engagement and Learning Outcomes helpful. Follow our website for more interesting articles.