Bringing to your reach the very cool steps on how to build a career while studying in collages, the combination of these two can be distracting most at times, just like its been said "you can serve two masters at a time", but BET me it doesn't apply this this case at all. One can decide to engage in any skill acquisition program, or as a worker who is also a student, and still blend well with the both.
In a developing culture, a modern person need extensive and in-depth knowledge and abilities. However, juggling employment and school in the present is frequently necessary for success in the future. Consequently, the years spent as a student are a time for both academic study and the beginning stages of a profession. Students' chances of continued professional progression increase by double if they land a job in the field of their major.
The opportunity to successfully combine study and practical experience while in college is provided by building a career. So, young individuals do not put off starting a job. Yet occasionally they try to incorporate it with schooling. They have doubts and question their abilities, such as, "How do I develop a career?" How can I balance my career and education? Why should I begin right away? Is it possible to balance a busy life and full-time study? It is largely plausible.
Read Also: 10 Best Service Providers Offering Free Internet For Students
10 Tips On How To Build A Career While Studying In Collages
From Here Down Is The Full Detail On How To Build A Career While Studying In Collages
1. Discuss the potential of combining employment and study with instructors.
Here is the very first step on how to build a career while studying in collages. Inform your instructors that you work in addition to your study. Several academicians have unpleasant reactions to such news. They are certain that you cannot finish a course without consistently attending lectures and seminars.
When a student misses courses and then shows up for the tests and tries to explain to the teacher that he is working, this is a mistake. Conflicts frequently develop in these situations.
It is preferable to speak with the instructor at the beginning of the term, explain the issue, and promise to try to rewrite all of your notes and do your own studying in addition to submitting the necessary writing projects on time. And trust that, 90% of the time, the teacher will comprehend why you want to begin your profession earlier. The most important thing is to maintain your word since chances are you won't get another chance.
2. Ask for help
Another big step on how to build a career while studying in collages, is asking for help where necessary. While thinking about pursuing a career while attending college, one thing to keep in mind is that you will need assistance. Many writing tasks to complete is one of the most frequent difficulties students encounter. Students don't have enough time to create immaculate essays and course papers because they should be concentrating on their professions. They come up with different solutions to essay writing problems.
If you pay for schoolwork, it is not shameful. Don't be afraid to contact EduBirdie in Canada if you need online assistance; it's a terrific way to receive a well-written paper. The best writers are always willing to start from fresh on your job. As a result, you have more time for your profession and don't have to stay up late to complete your homework. Furthermore, if their academic achievement is not impacted by their professions, students experience less strain and worry. Students as a result are more productive, diligent, and self-assured.
3. Continue to be cordial with your group mates.
This is indeed one of the big steps on how to build a career while studying in collages. You should be certain that you can always rely on your group mates. In this situation, you will be able to keep up with the most recent events at your educational institution. Find out what happens during college lectures by asking your group members. Avoid missing interesting and beneficial classes if at all possible.
Meet all deadlines, both for you and the course, and turn in papers on time. As a result, you avoid dropping out of school and wasting time and unneeded emotions by working to advance your job instead.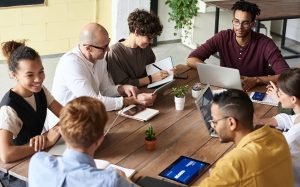 Still On: How To Build A Career While Studying In Collages
4. Search for balance
Businesses are aware that students require study time. To prevent misconceptions, be out front about your needs. For working students, ethical businesses already provide suitable working environments. These are flexible work hours, the ability to work partially from home, and a decrease in workload at exam time.
If they still don't meet you, choose another place of employment. Balance is key to living. It strikes a balance between job and study, leisure and stress, and fun and necessity. Without a doubt, everything will work out.
5. Keep your ego out of it.
Another big step on how to build a career while studying in collages is Eliminating you ego off it. You must be aware that it is difficult to work while studying if you have already started doing so. The quickest way to experience emotional exhaustion is to strive to be the top student in the class, the ideal employee, a social activist, complete a half-marathon, and triumph in a chess competition. Establish priorities and keep in mind the Pareto optimality rule: 20% of effort yields an 80% return on investment.
Read Also: Top 10 Free TV Series Download Sites for Mobile Phones 2023
6. Make a timetable.
And here is another top step on how to build a career while studying in collages. Is it feasible to balance employment and school? Sure, as it's not all that challenging. You must effectively manage your time. You can succeed in making money and growing academically if you follow a specific action plan. Make minute-by-minute plans for everything. Maintain a journal where you can record all of your daily and weekly activities. Limit the scope of your plans. It ought to be as doable as it can be.
7. Set task priorities
At the seventh step on how to build a career while studying in collages, we can see how important it is always to set targets. Sort all of your acts into one of three groups. You must finish the first task as soon as you can because it is especially important. Although the second one is a significant objective, it can be accomplished tomorrow. Should there not be enough time.
The third one consists of incidental issues that can be set aside temporarily. It is a good idea to give each group a different color. Mark off executed plans. Make sure to cross off the completed work in the diary. Therefore, accepting the remaining objectives will be simpler. Nothing is insurmountable, and those who don't try don't succeed.
Your talents have a wide audience. Be brave enough to go after your dreams, make goals, and fulfill them. Obstacles vanish on their own when there is a goal and action.
Still On: How To Build A Career While Studying In Collages
Recommended
8. Permit yourself to occasionally take a break
This is the very last step we need to discuss on how to build a career while studying in collages. Avoid overworking yourself because you risk having a nervous breakdown if you do. Health should benefit from rest. For instance, evening runs will be advantageous. You might consider your plan for the following day while completing them.
The allocation of time to minutes is always necessary for work, which can be combined with study. Relax, but keep in mind that both labor and pleasure have their time.
Do not overlook setting aside the required number of hours for sleep as you pursue a career while attending college. It's also critical to manage your workload and eat well.
SEE ALSO:
Trust you found our article on How To Build A Career While Studying In Collages follow our website for more interesting articles.