In the article today, we have the compiled list of all Global Competitions for Students all around the World to discuss in full.
It goes without saying that academic competitions and other extracurricular activities are essential for today's global student.Participation by students in this can improve their academic prospects.
Since the most prominent international colleges and universities receive hundreds of applications each year, both domestic and international students must stand out from the crowd in ways other than merely having good GPAs and SAT scores.
You might not know that some events, including international high school tournaments, have a higher chance of leaving an impression than others.
You only need to read through to the conclusion of this page to find out about academic competitions for college students, a list of competitions for college students, and international competitions for high school students.
Why

Should

Students

Enter

International

and

Global

Competitions?
Here we talk about the main reason for this Global Competitions for Students and why any student should go for any of these Global Competitions for Students.
To make new Friends
Academic competitions for college or high school students, whether they are national, international, or global, can help you meet new people and form friendships with people from different fields and places.
These new acquaintances will undoubtedly be intelligent people who will aid in your quest to learn more about the many fields and nations to which they belong.
Accumulate a great deal of experience
The average student has few opportunities in life to gain exposure to and a realistic perspective on the kind of accomplishment attainable in real life in such a short period of time as students.
Participants in international student contests frequently engage in a series of brainstorming sessions, quick problem-solving, and completely unique types of learning that aren't typically taught at their school or university.
Show off your skills
Participants will have a great opportunity to display the information and abilities they have acquired over the years through competitions. A knowledgeable jury can offer constructive criticism and feedback on your performance. Through this approach, competitions can be a tool for students to evaluate themselves and help them advance their knowledge and abilities.
Economic advantages
The winner of contests frequently receives hefty financial rewards, some amounting to hundreds of thousands of dollars. Of course, the students put in a lot of work for this, but the outcomes are priceless. A large sum of money can help you further other worthwhile ideas you may have had as well as your future academic or company plans.
Recommended:

List of All Global Competitions for Students 2023 – 2024
From Here Down Is The Full List Of List of All Global Competitions for Students 2023 – 2024
1. Academic Decathlon
The Academic Decathlon center here tops our list of Global Competitions for Students. High school students can participate in this academic competition. Teams of high school students will compete for the top spot in ten various events that will be featured. Nine students will make up each team, with three having GPSs between 3.0 and 3.75, three having GPSs between 3.0 and 3.75, and the remaining three having GPSs below 3.0.
Students will answer a lot of questions and provide presentations during the event. Publish essays and respond to interview inquiries in this Academic Decathlon as one of the Global Competitions for Students.
2. Academic Decathlon: Individual Competition
The Individual Competition at the Academic Decathlon here is the second in our list of Global Competitions for Students.
The individual Academic Decathlon is held online and is geared toward kids who are homeschooled or enrolled in other educational settings. Eight of the original 10 events are available for the individual competition.
Science, economics, literature, math, and the social sciences are among the subjects that will be tested. Essay completion is another requirement for students.
3. Conrad Spirit of Innovation Challenge
This is the third in our list of Global Competitions for Students. This competition might be something you want to check out if you enjoy working in small groups. Conrad's challenge for innovation. Teams of two to five students collaborate to develop solutions to significant global issues. The rewards for graduating students include prizes, scholarships, and investment opportunities.
Read Also: 10 Best Free Cyber Security Courses

4. Davidson Fellows
At the fourth in our list of Global Competitions for Students we have the Davidson Fellow. There are many of opportunities in the Davidson fellowship competition if you wish to work to pay for your college education. Students that are not older than 18 years old are eligible for this chance, This and more makes it one of the top rated Global Competitions for Students.
Students who want to compete in the following categories of the international high school contests are welcome to do so: music, engineering, literature, math, philosophy, and science.
To be eligible for this competition, which has a prize pool of up to $50,000, participants must have performed a "reasonable work" in one of the specified categories.
5. Destination ImagiNation
The Destination ImagiNation here is rated fifth in our list of Global Competitions for Students.
If you enjoy solving problems, Destination ImagiNation will work with you to reevaluate and improve your abilities. Destination ImagiNation is a global academic tournament that teaches life skills and encourages extreme imagination for children from kindergarten through college.
To complete this challenge, you must collaborate with a group of 5 to 7 pupils, using highly critical thinking skills and creativity to overcome team obstacles.
6. National Academic Championship – Questions Unlimited
Here is the sixth in our list of Global Competitions for Students. Whether you are a specialist in language arts or mathematics is irrelevant. The National Academic Championship Questions-Unlimited Challenge is merely a venue for you to assess your abilities and put them to the test in order to have a great chance of winning prizes.
Students that participate collaborate to address issues and respond to inquiries from various subjects, just like any of the above Global Competitions for Students.
Read Also: Discover Top 10 Tips To Starting Your Law Practice Out Of Law School
7. National Academic League
The National Academic League here makes up our seventh list of Global Competitions for Students.
One of the academic contests for high school students that teaches pupils that "being smart is very cool" is this one. The National Academic League is a fast-paced tournament open to all qualified residents of the nation and is only for fun (USA).
This academic competition provides academically motivated high school students with the kind of attention and recognition that famous people, athletes, and artists generally enjoy. The questions are based on the high school curriculum.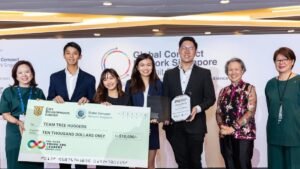 8. Odyssey of the Mind
Here is the Odyssey of the Mind program as the eighth in our list of Global Competitions for Students. Students in high school are inspired to think creatively by this problem. It entails identifying issues and using brainstorming to come up with original solutions.
The tournament is held at the regional, national, and state levels after the school or community has acquired membership, so it is by far on of the top rated best Global Competitions for Students.
9. Quiz Bowl Tournament of Champions
Here is the second to last in our list of Global Competitions for Students. High school students are encouraged to demonstrate their academic prowess and general knowledge in the Quiz Bowl Tournament of Champions. This competition, in contrast to others, includes a triple-elimination format, allowing more high school students to take part.
Recommended:
10. Stemanities Research Competition
Here we seal our list of Global Competitions for Students with this Stemanities Research Competition.
Are you proficient in the humanities as well as STEM fields like technology, science, engineering, and math? You might compete academically in the Stemanites Research Competition.
This is a nationwide academic competition that encourages students to perform research in the humanities and STEM to advance their understanding of a particular subject.
The Institute for Biological Sciences sponsors The Stemanities, which invites the finalized list to visit LA Jolla, California, to exhibit their work and compete for financial prizes, so there is nothing more that can make a top rated Global Competitions for Students aside all said here about the Stemanities Research Competition.
Link To Competition Website Website
See also: 15 Free Tuition Universities in the US for International Students
Trust you found our article on List of All Global Competitions for Students 2023 – 2024 helpful. Follow our website for more interesting articles.