Free Online Content Writing Tools Recommended For Scholarship Students To Avoid Plagiarism.
In academia, the rules of writing assignments, thesis, or any other content are very strictly followed. To score best in assignments and to elevate overall performance, students have to avoid plagiarism in their content.
Copying someone's content is considered a serious offense for students because it blurs the line of honest scrutiny and results in poor checking and evaluation.
Bad evaluation, in turn, undermines the whole educational institution and has severe consequences for social culture.
Thus, teachers check your assignments meticulously to promote meritocracy. However, the burden of assignments drains the energies of students.
So they need the best content writing tools to avoid plagiarized content and to increase its quality.
Before knowing the tools, let's define plagiarism first.
What is plagiarized content?
A content that is deliberately or unknowingly copied from some other sources without even giving due credit to the original writer.
It is also called stoled content because the plagiarizer steals others' words and presents them as their own.
Plagiarism is the name of whole phenomena. This word is derived from the Greek word meaning kidnapping.
Read also: 10 Best Forensic Psychology Schools in the World
What are some common types?
Accidental Plagiarism:
When plagiarized content comes unconsciously in your content then it is called accidental plagiarism.
It may appear when you have read something its words remain in your mind and come in your writing while writing on that topic.
Not every content is plagiarized unintentionally as most of the time the plagiarizer knows what they are copying.
Wrong source Plagiarism:
It appears when there is no agreement between source and copied content. The students sometimes try to deceive their teachers by cheating from some source and providing another citation.
This is called wrong source plagiarism. It is intentional and is liable to strong repercussions from the educational institute.
Mosaic Plagiarism:
When a student copies content from a variety of places without mentioning their sources then it is called mosaic plagiarism.
It is also intentional and is often hard to detect because the content is meshed up with different plagiarized texts.
Self-Plagiarism:
Plagiarizing your own words from an earlier text comes under self-plagiarism. This type of plagiarism is common when a student has to write on the same topic repeatedly.
It can be both intentional or vice versa. It may also appear when a student runs out of ideas and keeps on repeating the content.
Whatsoever the type of plagiarism. It must be removed immediately.
Several tools help students remove such content easily.
Read also: Best Communication Skills Course In 2022
10 best content writing tools for students:
Plagiarism Checker:
It is one of the best content writing tools used by a wide range of people. It is extremely popular among content writers and bloggers as to its exquisite features.
Moreover, students can get a lot of benefits by using this tool. It helps them write unique assignments as it check plagiarism from their content.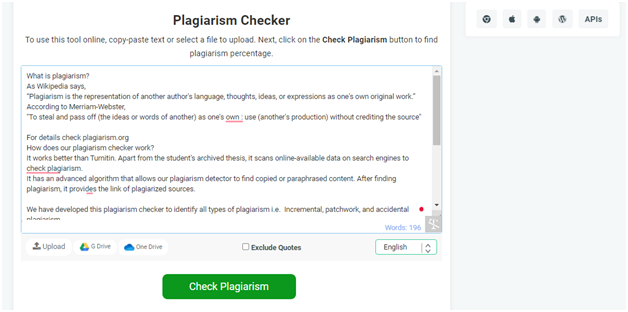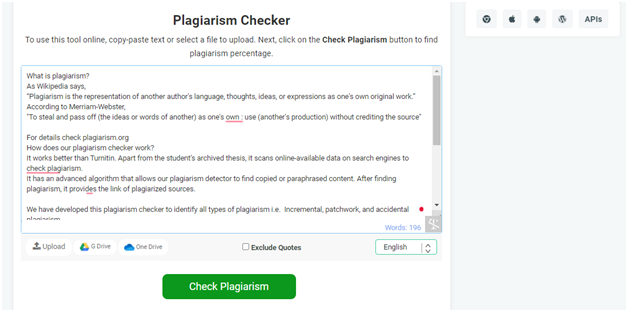 The best thing about this tool is that it provides the percentages of copied, unique, and paraphrased content. In this, it helps students assess their content's quality.
Another major factor behind its wide use is that is it free of cost. You can check 1000 words of your content for free. Moreover, if your want extensive checking, you need to subscribe to paid packages.
After knowing your content's uniqueness, you can also get a detailed report explaining everything at length. In short, this tool appears as a blessing for students who face plagiarism issues regularly.
Paraphrasing tool:
Plagiarism is a menace that sneaks in your content even after definite checks. The current need to write a plethora of assignments forces students to copy content that leads to a decrease in quality.
Often, students know the plagiarized content but struggle with removing it. They lack manual paraphrasing techniques so they find it very hard to remove plagiarism.
For this purpose, they can use this plagiarism remover to make their content free from plagiarism. This tool is one of a kind in changing the wording of the plagiarized text into new content.
There this paraphrasing tool is often used by students and content writers who have to produce plenty of content in a day.
The best feature of using this tool is that it is free of cost so you need no registration to get a paraphrased text.
Moreover, it provides three different modes of paraphrasing so you can use Fluency,Standard and Creative to paraphrase the advanced text.
Plagiarism scanner:
This tool is highly recommended by various teachers and students and is duly used by them. A major reason for choosing this plagiarism checker is its specific uses.
This tool is specially designed for academic purposes. Hence, students use this tool for essay checking and grammar correction.

It checks your essay against billions of webpages and databases across the internet and provides the results in seconds.
Moreover, this tool has a wonderful feature of checking almost 2000 words in one go making it a very different tool.
Apart from fast checking, it makes plagiarism scanning easy it is free to use. Thus many students can't pay the expenses so they can use this tool instead.
Read also: 11 Best Online Sociology Classes for Beginners and Experts
Plagium:
Plagium is a new plagiarism checker that surfaced in the past few decades because of its great features and ease of checking.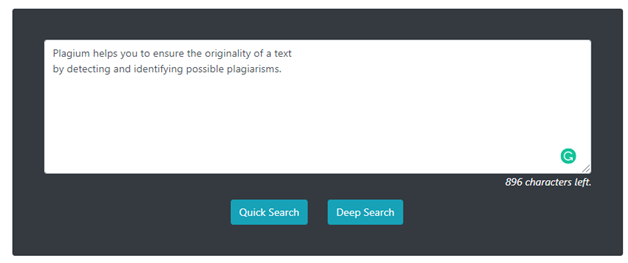 One of the best features that fascinate students is its top-notch results every time it checks your content.
That's why it is a paid tool and can be used as many times as you want after registration. There are two of scanning. One is quick scanning and the other is deep scan.
Its diversity of checking makes it a useful tool places it among other best content writing tools.
Myassignmenthelp:
It is one of the best academic plagiarism checkers that is especially sued to get help in checking copied content in assignments.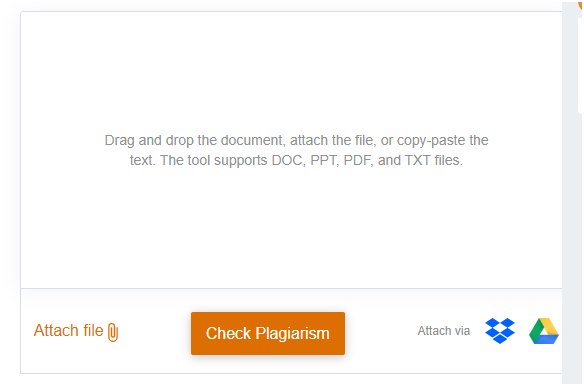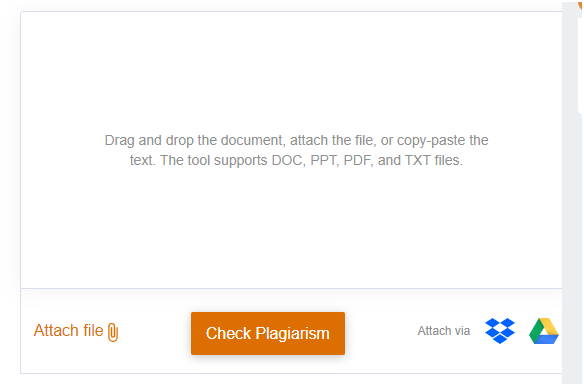 You can upload your content in the tool and click on check to get a detailed analysis of your content.
Most times, your assignments get rejected because they contain copied content. Now you can use this tool to get a duplicate content percentage.
It is a paid tool so you can subscribe to premium packages while using this tool. Being a student, you can get their promotional offers to get a discount on checking copied content.
Interestingly, you can check plagiarism in multiple languages and can upload different types of files.
Plagiarismchecker.com:


It is a duplicate content checker that has a different way of checking plagiarism. It only detects phrases of your text at a time. Therefore, you cannot check bulk text using this tool.
Moreover, it scans all the text present on Google as well as Yahoo. This makes it a unique tool that has a wide range of detection.
They provide two versions of these tools. One is for the teachers and the other is used by students. This makes it a versatile tool worthy of a try.
Linguix Paraphrasing tool:
You can use this tool to remove plagiarism from your text. This tool provides 7 formats of paraphrasing. Therefore, you can get the required rephrasing as you desire.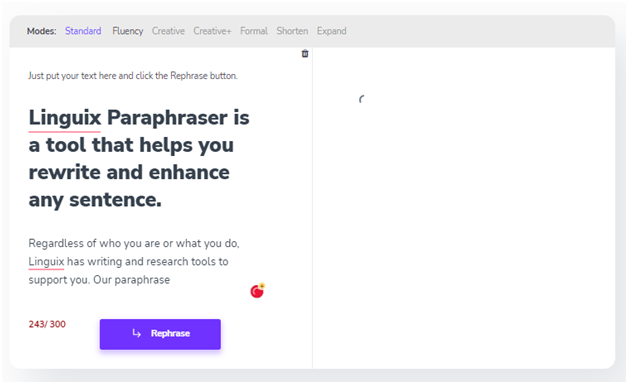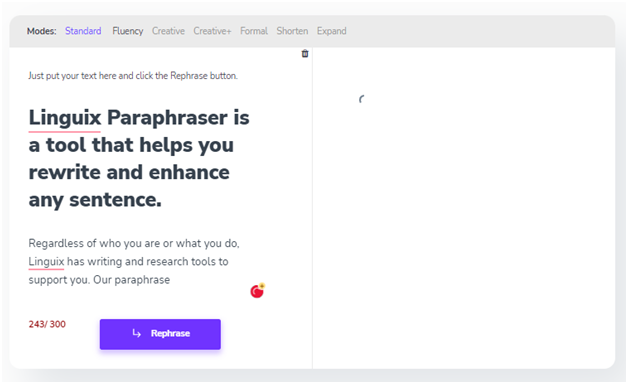 This creates room for changing sentence structure in the 7 best ways. However, this tool is paid which means to unlock deep features you need to get yourself registered on it.
Along with paraphrasing your text, it also provides a grammar checker that removes any kind of mistake from your text by replacing it with the nearest possible solution.
Article rewriter tool—Seo tools center:
As the name suggests, students can get rid of plagiarized content by using this rewriting tool. This tool repurposes your content by substituting new words that totally change the style of writing.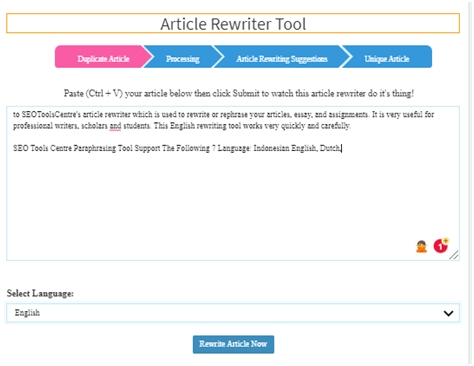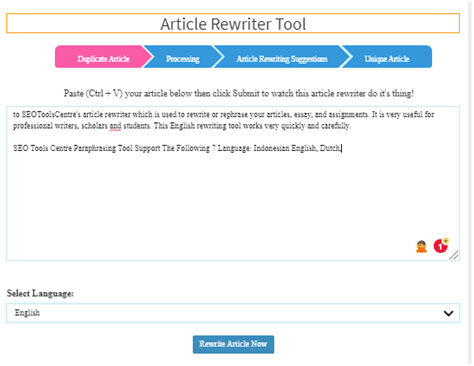 It is totally free to use, so need not worry about paying any money. Moreover, being a student you may get need a simple tool that is easy to use, for that matter this tool works best to provide easy handling of text.
This spinning tool has a large library therefore it gives a wide range of synonyms without any issue. It supports 7 different languages.
Free Paraphrasing tool—Assignment help:
This is a wonderful platform for students as it provides exquisite services regarding assignment handling. Their paraphrasing tool is a wonderful invention because it is AI and removes plagiarism like a real human.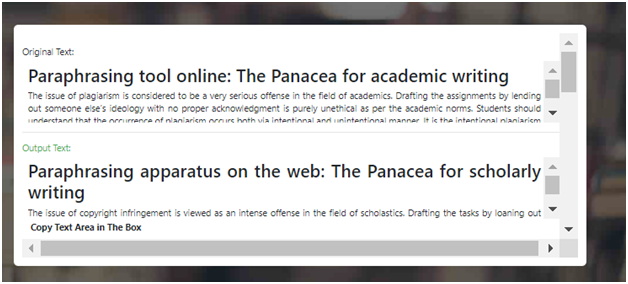 This paraphrasing tool is free of charge so the students who can't afford expensive tools can use this paraphraser to rephrase their assignments.
This tool traces word to word and replaces it with different text thus making it a different class of text totally opposite to the original one.
Read also: Top 20 USA Universities With The Best Campus Life
Paraphrasing tool—Coder Duck:
This paraphraser is a class apart when it comes to unique content creation. Because it uses top-notch algorithms to cater to the demands of students.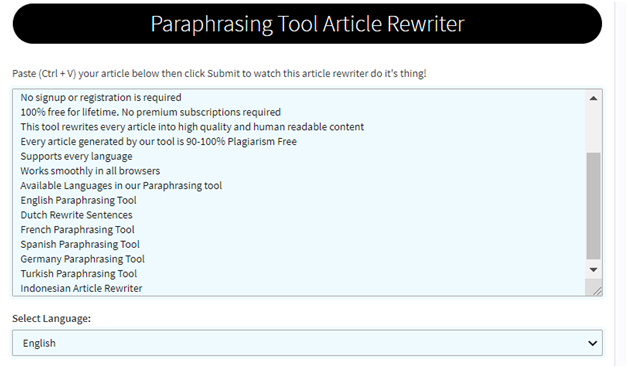 This tool is an example of smooth working and has set a precedent of 100% accuracy. Coderduck presents this great tool that provides multiple language compatibility.
Apart from this, the article rewriter is 100% free of cost and you can use it for a life-time without any registration.
Summing up:
The above-mentioned content writing tools are a holy grail for students to remove plagiarism. Therefore, being a student, you should try these tools to know which one suits you the best.