There are many medical schools in Korea but this article will be focusing on the 10 best medical schools in Korea. Korea is not only known for its K-drama, k-pop, and K-beauty pageant, but also for its superb educational opportunities.
This is reflected in the country's education statistics, which show that 70% of people aged 24 to 35 have finished some type of post-secondary education. Koreans consistently rank in the top ten of the Program for International Student Assessment due to their high-quality and straightforward educational system.
With that in mind, studying medicine in Korea is an excellent option for both Koreans and foreigners. If you are serious about becoming a qualified physician, you should consider enrolling in one of Korea's premier medical schools.
What is the time frame or duration of studying medicine in Korea?
In Korea, a Bachelor's degree in medicine takes six years to complete. Students who have just graduated from high school must enroll in undergraduate courses for the first two years, with the third and fourth years devoted to pre-clinical fundamental science. On the other hand, the remaining two years are dedicated to clinical rotations.
Aside from high school graduates, any bachelor's degree holder can apply to any of the 10 best medical schools in Korea listed below. They only enter medical school during their third year of education, hence this is referred to as a transfer option.
Cost of medical schools in Korea
Before we go into the list of the 10 best medical schools in Korea, let's look at the average cost of the 10 best medical schools in Korea.
In Korea, there are numerous expenses associated with attending medical school. Tuition, which can cost up to $15,000 per year, is one of the most significant expenses. There are also living costs such as rent, food, and other expenses to consider. Despite the fact that this can be a significant amount of money, there are options for overseas students to study for free.
Requirements for international students
If you are an international student thinking of applying for any of the 10 best medical schools in Korea, there are some basic requirements you must meet.
To be considered for most Korean medical schools, international students must take the SAT/ACT as well as the Korean Language Proficiency Exam. Applicants may also need to take a TOEFL or IELTS exam, especially if they were educated in a Non-English curriculum school.
Prospective international students must also apply for a study visa at the Korean embassy in their respective countries.
Let's now take a look at the 10 best medical schools in Korea. Visit Medical board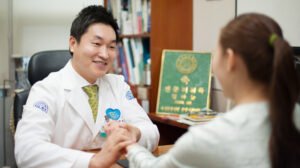 10 best medical schools in Korea
The following are list of best medical schools in Korea, viz;
1.

Yonsei University College of Medicine
The college's humble beginnings can be traced all the way back to 1886, making it Korea's oldest medical school. The college's antecedent – the Che Jung Won Medical School – was founded thanks to the perseverance of Dr. Horace Allen and Dr. J.W. Heron. Despite the war, it remained strong because it was the only medical school run by Koreans for Koreans during the Japanese rule.
The institution was renamed Yonsei University College of Medicine after a merger in 1957.
Yonsei University, as a prestigious private institution, has a strict admissions policy that enables only 100 students to be accepted each year. The elite few are educated through an intuitive problem-based learning system under the supervision of more than 550 full-time academic members. They are then rotated through the prestigious Severance Hospital, which has a capacity of 2,300 inpatients.
2.

University of Ulsan
The 
University 
of 
Ulsan 
was 
founded 
in 
1969 
as 
the 
Ulsan 
Institute 
of 
Technology 
and 
is 
located 
in 
the 
southeastern 
area 
of 
Korea. 
A 
few 
decades 
later, 
in 
1985, 
it 
became 
a 
full-fledged 
university.
The 
renowned 
College 
of 
Medicine 
was 
founded 
three 
years 
later.
The 
college 
has 
450 
instructors 
who 
monitor 
the 
students' 
rotations 
in 
the 
Gangneung 
Asan 
Hospital 
and 
the 
Ulsan 
University 
Hospital, 
among 
others. 
3.

Korea University
Korea University is a private university based in Seoul. Established in 1905 as Bosung College, it was granted its current name 41 years after.
The College of Medicine was founded with the goal of training female doctors in western medicine. Since then, the institution has advanced by leaps and bounds, producing more than merely reputable female physicians.
The college has produced many of Korea's finest female and male physicians, guided by its idea of shaping doctors with high ethics.
4.

Catholic University of Korea
Next on the list of the best medical schools in Korea is the college of medicine, the Catholic University of Korea.
The university's humble beginnings date back to 1855, when St. Joseph's Seminary was founded. The university's School of Medicine, on the other hand, was founded almost a century after it was founded.
The College of Medicine adheres to an OMNIBUS curriculum, in which premedical education is tailored to each student. In addition, the curriculum offers two 6-week competency development classes that include consultations, diagnosis, simple medical procedures, and other treatment options.
Read also: Top 13 Tuition Free Universities in the World
5.

Sungkyunkwan University (SKKU) 
SKKU is one of South Korea's oldest and most famous universities, having been founded in 1398 during the Joseon era. Although the School of Medicine is relatively new, having been established in 1997, it is regarded as one of Korea's premier medical institutions.
Despite this, the SKKU School of Medicine has produced a number of outstanding physicians in Korea. This is due to the school's ground-breaking problem-based learning system. In fact, SKKU was the first in the country to offer a pre-clinical education curriculum like this.
Three hospitals are associated with SKKU, the most well-known of which is the Samsung Medical Center. Medical students can also complete their clinical rotations at the Kangbuk Samsung Hospital and the Samsung Changwon Hospital, in addition to this hospital.
6.

Seoul National University (SNU)
SNU College of Medicine is not only Korea's best medical school, but it's also regarded as Asia's best (according to the US News Rankings). It is located on the SNU Yeongeon campus on Seoul's northeastern outskirts.
The college was founded in 1889, but it wasn't until 1946 that it was granted its current name. With the support of its groundbreaking Lee Jong-wook curriculum, SNU has produced some of the world's brightest doctors.
Students are instructed to increase their skills at the medical school proper after honing their core skill sets for the first two years. Aspiring physicians can choose to specialize in Medicine, Clinical Medicine, or Biomedical Sciences in graduate school.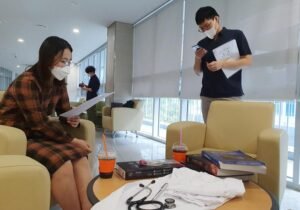 7.

Inje University 
Located in Gimhae, Inje University was established in 1932 as the "Paik Clinic". The Inje Medical College was established in 1979, and it later became a university a decade later.
The College of Medicine was founded with the goal of producing "warm-hearted doctors crucial to the twenty-first century." The Evaluation of Medical Education Accreditation body declared it the best school in 2009.
Problem-based learning and standardized patients are used in the curriculum to assist students become more successful physician-scientists. It also provides competency-based education, which can assist students in improving their problem-solving skills.
8.

Pusan National University (PNU) 
PNU, which is located in Busan, is Korea's second-best public university. It was formed in 1946 as a two-year college and is currently known as Busan National University.
While PNU is well-known for its engineering programs, it is also well-known for its medical school (not to be confused with the School of Traditional Korean Medicine, which is another department in the university).
This medical school in Korea takes pleasure in grooming worldwide leaders in the area of medicine, in addition to producing great doctors. The Medical Research Center for Ischemic Tissue Regeneration, as well as the Research Institute for Medical Science, and Cancer Research Center, all focus on worldwide and specialized research.
Read also: University of New Brunswick Acceptance Rate
9.

Kyungpook National University (KNU)
The KNU School of Medicine, located in Daegu, is Korea's second-oldest medical school. It was established in 1923 and offers MD and MD-Ph.D. programs.
KNU, as one of the country's most elite schools, only accepts about 110 students each year.
The School of Medicine has generated over 8,500 doctors thanks to its high-quality medical education. KNU continues to shape physicians and physician-scientists who excel in their fields with the aid of its 260 faculty members.
10.

Hanyang University College of Medicine
Last on our list of the 10 best medical schools in Korea is Hanyang University College of Medicine, which is a Seoul-based private institution. It began in 1939 as the Donga Engineering Institute, the country's first engineering school. It was later renamed Hanyang, which was Seoul's previous name.
While the College of Medicine was conceived in 1965, it was only three years later that the school opened its doors to its first class of 80 students.
Clinical rotations are available to Hanyang students at the prestigious Hanyang University Medical Center. This system also includes Hanyang University Guri Hospital and the renowned Hanyang University International Hospital.
The College of Medicine is well-known for its regional research outputs as part of a globally renowned research university.
Trust you found our article on 10 best medical schools in Korea helpful. Follow our website for more interesting articles.