Explore the top educational destinations with our article on the 10 Best Colleges in Vancouver. Discover institutions renowned for academic excellence, vibrant campus life, and diverse opportunities, guiding you toward a quality higher education experience in this dynamic Canadian city.
Vancouver is home to some of Canada's top post-secondary institutions, ranging from major universities to career colleges. This article explores the 10 Best Colleges in Vancouver based on academic excellence, student experience, affordability, and graduate outcomes. Discover the premier options for higher education in this vibrant West Coast city.
Why study at colleges in Vancouver as an international student?
Choosing a destination for higher education is a significant decision for international students, and Vancouver, Canada, has emerged as a sought-after destination. With its stunning natural landscapes, multicultural environment, and world-class educational institutions, Vancouver offers a unique and enriching experience for students from around the globe. In this blog post, we'll delve into the reasons why studying at colleges in Vancouver is an excellent choice for international students.
Read Also:  Top 10 Animation Schools in Canada
1. Quality of Education
Vancouver is home to numerous reputable colleges that provide high-quality education across a variety of disciplines. These institutions are known for their rigorous academic programs, experienced faculty, and innovative teaching methods. Studying in this environment ensures that international students receive a world-class education that prepares them for successful careers in their chosen fields.
2. Multicultural Environment
Vancouver prides itself on being one of the most diverse cities in Canada. International students are welcomed with open arms, and the city's multicultural atmosphere fosters a sense of belonging and understanding. Engaging with people from various cultural backgrounds enriches students' perspectives and prepares them for global citizenship.

3. English Proficiency
Studying in an English-speaking environment enhances international students' language skills, a valuable asset in today's interconnected world. Immersed in a society where English is the primary language, students have the opportunity to improve their communication skills and gain confidence in their language abilities.
4. Natural Beauty
Vancouver is renowned for its breathtaking natural beauty. Nestled between the Pacific Ocean and the Coast Mountain Range, the city offers stunning landscapes that provide the perfect backdrop for a well-rounded university experience. From scenic beaches to lush forests, students can indulge in outdoor activities and enjoy a balanced lifestyle.
5. Research Opportunities
Many colleges in Vancouver are engaged in cutting-edge research across various fields. As an international student, you'll have the chance to collaborate with leading researchers and contribute to advancements in your chosen area of study. This exposure can open doors to future career opportunities and academic pursuits.
How much does it cost to study college in Vancouver?
Considering the financial aspects of studying abroad is a crucial step in planning your educational journey. Vancouver, Canada, is an attractive destination for international students due to its world-class education and vibrant city life.
1. Tuition Fees
Tuition fees can vary significantly based on the program, level of study, and the institution you choose. On average, undergraduate programs for international students can range from CAD $15,000 to CAD $35,000 per year. Graduate programs, being more specialized, can have higher tuition fees, ranging from CAD $20,000 to CAD $50,000 per year. It's important to research and compare tuition costs across different colleges to find the best fit for your budget.
Read Also:  World Bank Scholarship for Developing Countries 2023
2. Accommodation
Housing costs are a significant part of studying in Vancouver. On-campus dormitories or off-campus apartments are popular choices. On-campus housing costs can range from CAD $6,000 to CAD $12,000 per year, while off-campus options may vary based on location and amenities, ranging from CAD $800 to CAD $1,500 per month. Sharing accommodations with roommates can help reduce costs.
3. Living Expenses
Living expenses, including food, transportation, entertainment, and miscellaneous items, can add up. On average, students might spend around CAD $800 to CAD $1,200 per month on these expenses. Cooking at home, using public transportation, and taking advantage of student discounts can help manage costs.
4. Health Insurance
Annual health insurance: CAD $600 – CAD $1,000
5. Books and Supplies
Annual costs: Around CAD $1,000
6. Miscellaneous Fees
Additional fees: CAD $500 – CAD $1,000 per year
7. Financial Aid and Scholarships
Explore opportunities for financial aid and scholarships offered by colleges.
Read Also:  Singapore Scholarships for International Students 2023
The 10 Best Colleges in Vancouver
The 10 Best Colleges in Vancouver based on academic excellence, student experience, affordability, and graduate outcomes.
1 University of British Columbia
As British Columbia's oldest university, the University of British Columbia (UBC) is regarded as one of the Best Colleges in Vancouver and Canada. UBC is a global research powerhouse, yet still focuses on quality teaching with over 18,000 international students enrolled. With scenic oceanfront campuses, UBC offers undergraduate and graduate degrees spanning law, medicine, arts, sciences, and more.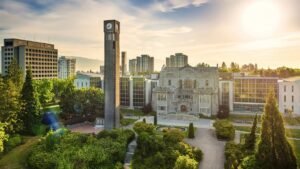 2 Simon Fraser University
Located atop Burnaby Mountain, Simon Fraser University (SFU) is another of the Best Colleges in Vancouver for its tri-campus community. SFU is known for innovative programs in computing science, engineering, health sciences, and business. Undergraduates also appreciate the expansive array of student clubs, intramural sports, and activities.
3 British Columbia Institute of Technology
As Canada's premier polytechnic institute, BCIT provides applied education through bachelor's degrees, diplomas, certificates, and part-time programs. With strengths in technology, trades, and healthcare, BCIT offers on-campus and online programs to prepare graduates for rewarding careers.
Read Also:  100 Inspiring Quotes for Students From Teachers
4 Vancouver Community College
As the largest Best Colleges in Vancouver, Vancouver Community College (VCC) provides diverse educational options from ESL to culinary arts to trades. Dual credit programs allow youth to earn high school and college credits concurrently. With two urban campuses, VCC supports adult learners in developing skills for success.
5 Vancouver Film School
Located in Vancouver's creative Yaletown district, Vancouver Film School (VFS) trains students for entertainment arts careers through innovative one-year programs in film, animation, video game design, VR/AR, and more. VFS students gain real-world experiences working with industry-standard technology and facilities.
6 Langara College
Focused on teaching excellence, Langara College offers students academic, career, and continuing studies programs from its campus along Fraser River. Programs in nursing, business, computer science, and arts leverage small classes and personal attention to prepare career-ready graduates at affordable tuition rates.
7 Kwantlen Polytechnic University
A relatively young Best College in Vancouver, Kwantlen Polytechnic University (KPU) provides diverse credentials spanning trades, technology, science, arts, and horticulture. Work-integrated learning helps students build skills for success. KPU's four campuses offer a close-knit learning community.
8 University Canada West
Focused on professional degree programs, the University Canada West (UCW) offers accredited business, technology, and social services programs at the bachelor's and master's level. With small class sizes of 20 students, UCW delivers personalized support to help students excel in Vancouver's job market.
Read Also: Top 15 Medical Schools with The Highest Acceptance Rates
9 Sprott Shaw College
With four Vancouver campuses, Sprott Shaw is one of the largest career training colleges in BC. Sprott Shaw offers vocational diploma and certificate programs focused on in-demand fields like healthcare, business, education assistance, and tourism. Co-op placements give Sprott Shaw graduates an advantage.
10 Emily Carr University of Art and Design
Located on Granville Island, the Emily Carr University of Art and Design nurtures students' creative potential through degree programs in visual arts, design, and media. With access to experiential learning, advanced studios, and technology, Emily Carr graduates launch careers as successful working artists and designers.
With diverse program options, student support, and connections to Vancouver's thriving communities, these 10 Best Colleges in Vancouver prepare students for success in their careers and lives. Discover how earning a credential or degree from one of Vancouver's premier colleges can launch you on a path to prosperity.
See Also
Trust you found our article about "The 10 Best Colleges in Vancouver" helpful. Please follow our website for more interesting and informative articles like this.