Best Podcasts To Listen To for Personal Development: Everyone has a chance to grow. One of the best ways to grow and improve your life is through ideas and guidance from other people. Podcasts give you a chance to explore new ideas about different aspects of personal development.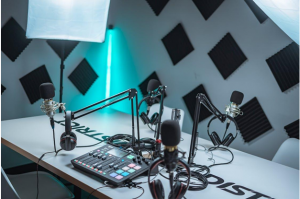 Podcasts support your journey towards self-development because you can listen on the road, when relaxing, or choose a specific time to listen to podcasts. The podcasts also offer a chance to choose topics, personalities, and presentation styles that suit your lifestyle. Here are excellent podcasts on personal development to listen to.
Read also: Top 13 Online Medical Billing And Coding Schools
The Happiness Lab
One of the important aspects when choosing a podcast is to settle for a professional. Dr. Laurie Santos is the brain behind The Happiness Lab podcast. She is a Professor of Psychology at Yale who aims to help college students to improve their mental health. You can use homework help for history websites to reduce your workload and create more time to relax or follow activities that help you to improve the quality of your life.
Dr. Laurie discusses practical solutions to stress to assist students in enjoying their college years and also attain the best grades. The professor is an excellent speaker who will keep you glued to the screen throughout the presentation. She uses simple and relatable language to capture the imagination of every student. The principles shared are also applicable in real life.
Honey, I Blew Up the Business
The podcast target entrepreneurs and their financial management habits. It is hosted by Dan Kirby, an entrepreneur since 2001. His foundation is the collapse of his business empire in 2017 and how he managed to bring the business back to life.
The podcast involves interviews with entrepreneurs who share their journeys through success and failures. Dan wants to help businesses to manage and sustain growth. He also has excellent tips for individuals on financial management.
Read also: 13 Top Medical Billing And Coding Online Courses
Cultivating H.E.R Space
The podcast aims to empower women, especially those of color, through the stories of their peers. It engages listeners in conversations on personal, family, life, and universal issues, among other ideas. The aim is to develop an all-rounded woman who can face any challenge in life today.
The use of experience provides a unique lens through which people view life. It also provides listeners with a chance to view life through such nuances as race and gender. The subjects are practical, helping followers to easily reshape their lives and be inspired to take on the challenges of this world.
Mindset Reset
The podcast targets women entrepreneurs. It seeks to build a community of intentional business persons through practical advice, real-life stories, and powerful mental principles. The stories of women and entrepreneurs who have overcome all odds are inspiring. They will help women see all possibilities and take their chances.
It is especially helpful to women who feel stuck in life. You will realize that you are not alone and that the ideas you are harboring are achievable. It is a practical space to help women unlock their potential and reach higher goals. It is structured into insightful topics, enabling you to choose that which pleases you or applies to your current situation.
The Morning Coach
Performance experts insist on maximum utilization of the morning. JB Glossinger is ranked among the most influential personal development thought leaders. He has helped numerous people to topple their performance and get out of life's rat race.
He uses a principle called The Sacred 6. The formula aims to help followers to find joy, happiness, and peace in their lives. He provides practical tips that will get you through the morning and the rest of the day easily. The focus on the morning has helped many of his followers to make the most of their days and, eventually, their lives.
Read also: Top 7 Best Medical Schools in Pennsylvania
The Daily Mastery Podcast
Robin Sharma needs no introduction in the self-development space. He has provided life-changing routines, models, and ideas for individuals and businesses. Sharma has also worked with leading business CEOs, sports personalities, and entrepreneurs. He will teach you how to live a world-class life by accelerating your productivity.
Podcasts have the power to change your fortunes. Pick a podcast whose ideas and presentations resonate with an area in your life where you would want to see an improvement. Check podcast reviews to help you pick the best based on your self-development needs.
Trust you found our article on Best Podcasts To Listen To for Personal Development helpful. Follow our website for more interesting articles.