The Afrika Kommt Fellowship Program in Germany is not just an initiative; it is a powerful catalyst for growth and development, bringing together the vibrancy of African leadership potential and German excellence in industry and technology.
This distinguished program is a clear reflection of Germany's strategic investment in international relations and human capacity building, aimed at creating a sustainable impact on the socio-economic development of African countries.
Through this fellowship, African professionals are not only introduced to German corporate culture but also become integral parts of a larger movement towards fostering global leadership and cooperation.
Program Overview
This fellowship is meticulously crafted to fulfill its mission of empowering African leaders. The objectives of the Afrika Kommt Fellowship Program in Germany are multifaceted, including the transfer of skills and knowledge, the establishment of long-term networks, and the promotion of mutual understanding between cultures. It is an embodiment of a shared future, with the German business landscape serving as the fertile ground for innovative ideas and leadership philosophies from Africa to take root and flourish.
Key Components of the Fellowship
The structure of the Afrika Kommt Fellowship Program in Germany is comprehensive, providing a robust framework for professional growth. Fellows are immersed in a year-long experience that includes active roles in partner companies, intensive management training, and exposure to German cultural practices. The program is tailored to ensure that each participant receives the support and knowledge necessary to excel, not only within the confines of the program but as leaders who will continue to make significant contributions long after the fellowship ends.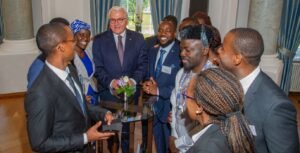 Read Also: Top 20 USA Universities With The Best Campus Life
About the Afrika Kommt Fellowship Program
The Afrika Kommt Fellowship Program in Germany is an initiative of German Industry for Future Leaders from Africa. It was launched in 2008 by nineteen leading German companies with the aim of training young managers from Sub-Saharan Africa. The program has since expanded to invite young professionals from all African countries
The vision of the Afrika Kommt Fellowship Program in Germany is to facilitate young leaders to drive economic and social development in their countries by promoting sustainable cooperation with German industry The mission is to create a globally inclusive business and mutually beneficial relationships between Africa and Germany
Program Structure and Components
The Afrika Kommt Fellowship Program in Germany is structured in three phases: Selection and Preparation, One-Year Stay in Germany, and Alumni Phase. During the Selection and Preparation phase, candidates go through a comprehensive selection process implemented in close cooperation with the participating companies.
The One-Year Stay in Germany is the core of the program. During this time, the fellows actively work in their partner companies where they are trained and mentored. They also participate in German language courses, management training, and networking events organized by GIZ.
The Alumni Phase is where the fellows transfer their knowledge and experience to their home countries where they lead projects, businesses, and change initiatives through German-African cooperation.
Read Also:  10 United Kingdom Scholarships for British students 2024
Eligibility and Application Process
To be eligible for the Afrika Kommt Fellowship Program in Germany, applicants must be young professionals from Sub-Saharan African countries who have completed their bachelor's or master's degree and have at least two years of work experience in a related field.The application process for the Afrika Kommt Fellowship Program in Germany is straightforward.
Applicants must first check the available fellowship placements and required profiles for the new intake of AFRIKA KOMMT! They then register on the program's application portal and fill in the application form in English. In addition to filling the application form, applicants are asked to upload a short presentation about their motivation, an idea for a change initiative, and a photo
Benefits of the Program
The Afrika Kommt Fellowship Program in Germany offers numerous benefits to its fellows. These include a fully funded one-year stay in Germany, including an 8-month practical training in a German company, language courses, management trainings, and networking events. Fellows also receive two certificates upon successful completion of the program
faqs about Afrika Kommt Fellowship Program in Germany
1. Who funds the Afrika Kommt Fellowship, and what costs are covered?
The Afrika Kommt Fellowship Program is fully financed by the participating German companies. Fellows will have all related costs covered, including flights, accommodation, a monthly stipend, and any training or language courses required during the program​.
2. How does the Afrika Kommt Fellowship impact the career trajectories of its alumni?
While specific alumni stories are not cited here, the program is designed to significantly enhance the professional prospects of its fellows. Alumni are expected to return to their home countries as ambassadors of knowledge and skills, further strengthening the fellowship's network and often advancing into roles that allow them to apply and share their experiences from the program.
Read Also:  12 Best Sites to Download Full Albums for Free
3. How does the fellowship prepare participants for the professional environment in Germany?
The Afrika Kommt Fellowship Program in Germany equips fellows with language training and cultural integration courses to ensure they are well-prepared for their corporate experience. Furthermore, management training modules are designed to enhance knowledge of global business practices​​.
4. What networking opportunities does the Afrika Kommt Fellowship offer?
The fellowship facilitates numerous networking events where fellows and German companies share expertise and collaborate on projects. This interconnection is pivotal in establishing long-term professional relationships​.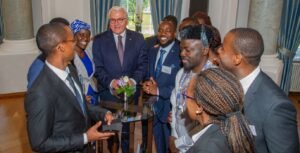 5. What post-fellowship opportunities are available to alumni?
Upon completion of the fellowship, alumni receive a refresher course and become part of a growing network that enables them to continue engaging with and benefiting from the program's resources​​.
In conclusion, the Afrika Kommt Fellowship Program in Germany is a unique opportunity for young African professionals to gain international experience, technical skills, and German language proficiency. It is a platform for them to become change agents for the benefit of both German business relations with Africa and economic and social growth in their home countries and communities. The program is a testament to the commitment of German companies to fostering sustainable economic cooperation with Africa
See Also
Trust you found our article on "Afrika Kommt Fellowship Program in Germany, 2023-2025" helpful please follow our website for more interesting and informative articles like this.