A teacher is crucial to the ongoing development and growth of students. 80% of students say a teacher gave them the motivation to pursue their goals. But how can you improve your teaching abilities so that you can make a lasting impact on the lives of your students?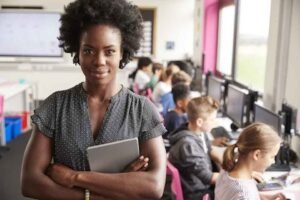 Working consistently to improve your teaching abilities is the key to success as an educator, regardless of your level of experience or recent entrant into the field. You must experiment with cutting-edge teaching techniques if you want to create an environment where your kids can learn effectively. This blog offers some guidance on how to improve as a teacher in a practical way:
Read Also: Asia University Review – Ranking, Tuition, Courses & Scholarships.
Tips for becoming a better teacher
Below is the list of tips for becoming a better teacher;viz
1. Establish your procedure
One of the best tips for becoming a better teacher is by Choose a teaching approach that will engage students. Authority, delegator, facilitator, and other ways are among the five major teaching philosophies used in traditional classrooms. You must determine which teaching approach best reflects your personality and goals for the classroom.
Your teaching approach can be collaboration-based, student-led, or teacher-focused. Every technique has benefits and drawbacks. So when teaching in various classrooms, you can always move between these teaching methods. Never use a teaching method with your students that doesn't fit your personality.
2. Develop your teaching abilities
This is another best tips for becoming a better teacher Education is a field that is constantly developing, thus educators must maintain their skill sets. To keep up with the most recent pedagogical trends and new teaching techniques, continuous learning is required. Online learning gives teachers the flexibility to pursue professional development at their own pace.
To develop your knowledge and improve your classroom management abilities, you should identify worthwhile authorized NCATE online programs in your state and obtain an MA in education. These courses entitle you to accreditation throughout all 50 states. You can select from a variety of concentrations when obtaining your education master's degree online.
3. Recognize your pupils
Recognize your pupils is a nice tips for becoming a better teacher. You need to be aware of your students' talents and limitations if you want to be an effective teacher. This can be achieved by getting to know each student individually and building strong relationships with them. You may begin by getting to know each student's name and some basic information about their families.
As well as learning about their interests, find out what they enjoy and dislike. Utilize all of this knowledge to understand what kind of learners they are and how to engage them for the best possible learning experience.
Your children will feel appreciated, heard, and accepted thanks to this workout program. By doing this, you can tailor each student's educational experience and improve memory retention. Providing a class of students with a tailored experience could seem challenging. Personalization won't be difficult, though, if you are already acquainted with your students.
Read Also: Victoria University of Wellington | History, Admission, Total Review, Programs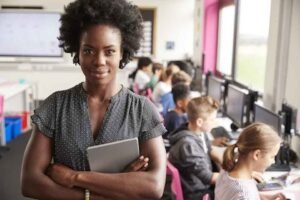 4. Be an example for others.
This is one of the tips for becoming a better teacher. Many children view their professors as great role models who motivate them to develop into their full potential. When pupils believe in them and are inspired by them, educators are successful in communicating their ideas. You must therefore treat your students fairly in order to earn their trust. When conversing with them, you ought to refrain from making sarcastic remarks and using harsh words. Do not insult or yell at your kids. Using the words "please" and "thank you" when speaking to students is perfectly acceptable.
Respect and value your students. In your class, let them freely express themselves. Adopt a nice attitude when conversing with them. Keep a close eye out for harassment and other sorts of bullying.
5. You should be approachable.
This is another tips for becoming a better teacher. The key to a teacher's success is being readily available for academic support. Do not give the impression that you are too busy to hear the problems of your students. Give them a chance to get in touch with you and discuss their concerns with you. The most crucial thing is to let kids ask as many questions as they wish. Make yourself approachable for any academic discussions even in the classroom.
According to a survey, 62% of students refrain from asking questions out of concern that they will be judged by others. They don't want to appear foolish in front of their classmates in class. Making the classroom a secure environment where students can freely express questions is a teacher's responsibility.
Read Also: 4 List Of Best Universities To Study Technology in South Africa
6. Request student opinions.
One of the tips for becoming a better teacher is to request student opinions.  Being an excellent teacher requires receiving student feedback. To identify any areas for development, a teacher needs to get the open input of the students. Students can respond to several survey questions about their sessions and provide an honest evaluation of your teaching abilities. This survey might help you improve your teaching abilities. You might want to add the following in your questionnaire:
Did you enjoy my class?
Is there any topic you found difficult?
What do you want to change in my class?
What was your favorite topic of discussion?
7. Work together with your coworkers
Work together with other qualified educators to learn from their experiences and obtain pertinent insights. By collaborating with other teachers, you can acquire original concepts, top-notch materials, and best practices. Engage in professional learning networks, read pedagogical publications, and regularly update your expertise by going to seminars on education. Hire a mentor to guide you as you develop your abilities and discover how to keep a classroom engaged.
A certain strategy to improve your teaching ability is to ask for advice from your colleagues and superiors. It keeps your abilities current and enables you to view things from a different angle.
Recommended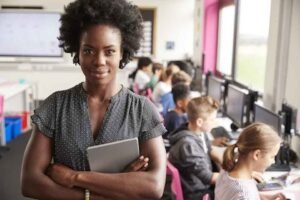 8. Use appropriate visual aids.
This is another tips for becoming a better teacher. It goes without saying that using visual aids can improve pupils' learning. The majority of people learn best by seeing things, or they are visual learners. According to studies, two-thirds of people can efficiently retain visual knowledge; they are most likely to remember things after looking at illustrations and photos. This implies that in order to retain a lot of information, a student needs visual stimulation.
Consequently, you ought to include these visual aids in your instruction. Use YouTube videos that use animation to illustrate a variety of complex concepts to improve learning retention.
Read Also: The Geneva School of Business Administration (HEG-GE)
Students can become more engaged in learning, retain material better, and become contributing members of society when they learn from an inspiring teacher. To be an excellent tutor, you must get to know your students, be personable, and provide each student with a unique learning environment.
Develop your teaching abilities by enrolling in online courses. Work with your colleagues to develop your teaching strategy. To effectively convey your message, use high-quality visual aids, and don't forget to get feedback. You can become a better instructor by paying attention to the advice provided above.
SEE ALSO:
Trust you found our article on 8 Tips For Becoming A Better Teacher follow our website for more interesting articles.